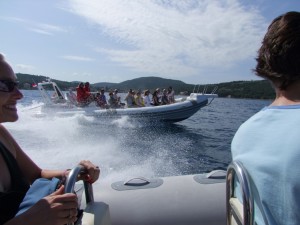 Treasure Hunting in Speed Boats, a programme of the Croatian agency called RINA TRAVEL takes place among 140 islands, rocks and reefs of the Kornati National Park. This amazing adventurous endeavour is embedded into the legends and landscapes of the Mid Adriatic archipelago.
The participants are divided in teams; they follow traces from island to island, resolve enigmas and tasks trying to reach the little cove where the treasure is buried before others can.
This marine adventure enables the tracers to, only in a day, get to know the entire national park, all of the most impressive natural and historical sites, but also to taste the gourmet specificities of the Adriatic. This combination of a cruise and adrenalin is a fast and exiting sea venture. After the deftest team literally excavates the treasure, the excursion continues at a more relaxed pace. Stopovers beneath the sea cliffs or anchorages in turquoise sand bays are simply made for you to jump into the deep blue.
Have a breakfast on one, a lunch on a second, and a coffee on a third little island – who would not find it appealing?