Tourists are increasingly going for hotels and accommodation options as a point of experience and the reason to visit a particular destination. This means they don't choose the destination first and only then the accommodation as a result, but the other way around.
It's nice to visit a city, see the sights, and learn about the culture of the place you're visiting. But there are other ways that can make your trip magical and unforgettable. We found examples of some interesting hotels that are sure to intrigue you, and perhaps even push you to consider some unusual destinations or accommodation establishments.
Kakslauttanen Aric Resort, Finland
If you're a fan of winter, snow, and nature, Finland is the right choice for you. This interesting family-run hotel is situated in the Finnish part of Lapland, and saying that it looks magical would be an understatement. As you're probably guessing, this isn't your typical hotel accommodation, and instead the guests are offered different types of igloo to sleep in. The glass igloos have — in addition to beds — a toilet and a bathroom. Those that are made of a combination of glass and wood also have their own sauna, kitchen, fireplace, and bedroom with a glass roof that allows you to enjoy the starry sky. Of course, you have the option of sleeping in real snow igloos in sleeping bags — while the outside temperature sometimes reaches -40 °C, inside it stays between -3 °C and -6 °C.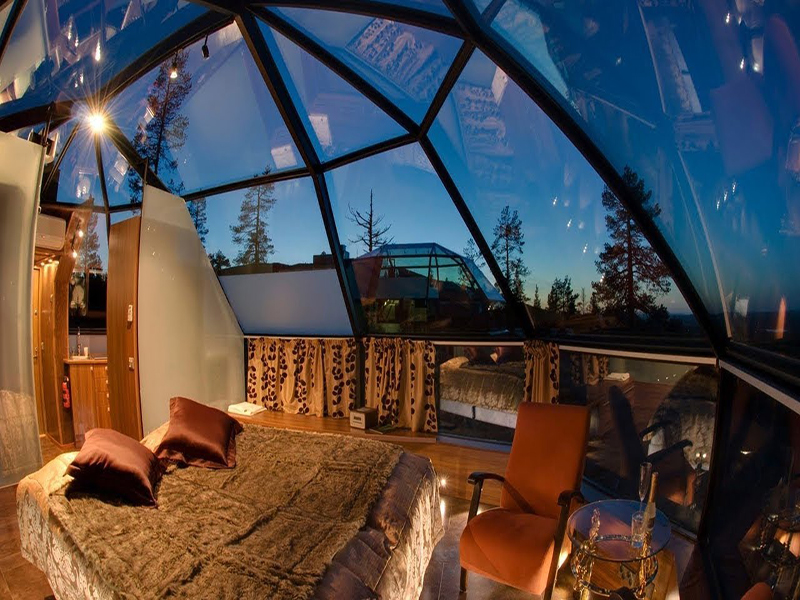 Giraffe Manor, Kenya
OK, Kenya surely isn't a destination you would pick at the drop of a hat. Unless you're a true safari enthusiast. However, you might change your mind when you learn about the Giraffe Manor in Nairobi 🙂 So, if you love animals — especially giraffes — you could visit this urban wilderness, as it is called. The hotel boasts ten luxury apartments with very large windows. Wondering why? So that a giraffe can pop its neck and head through it and join you for breakfast. Quite literally. Unlike zoos, here you're encouraged to stroke, feed, and touch the giraffes, and if you want a kiss from them, the hotel staff will be happy to show you how to get that kiss.
Alcatraz Hotel, Germany
In the very heart of Kaiserslautern, just a few minutes walk from the Japanese Garden, behind walls more than 100 years old stands the one-of-a-kind Alcatraz Hotel. What used to be a German prison has been transformed into a hotel with a prison theme. It has 56 rooms, suites, and its own convention center. Bars dominate the space, and some of the rooms are even decorated like prison cells, very spartan in furnishings and quite small in size. Even the front desk has bars and you talk to the receptionist through them.
Jumbo Stay Hotel, Sweden
If the road takes you to Stockholm, you can spend your nights in an airplane. In fact, a hotel-airplane. A real one. It's near Arlanda Airport. The first guests arrived in January 2009 and spent the night in a real, converted jumbo jet, but on the ground. The used aircraft named Liv (after the owner's daughter) was made in 1976 and now has a brand-new modern interior, offering its guests a truly special experience. There are 33 rooms, each 6 m2 on average, and 76 beds. Even the cockpit itself was converted into a suite! Since it is located near the airport, guests can watch other airplanes take off and land from their rooms. By the way, the last owner of the airplane (while it was used as a means of transport) was the Swedish airline Transjet, which went bankrupt in 2002, and the aircraft was originally made for Singapore Airlines.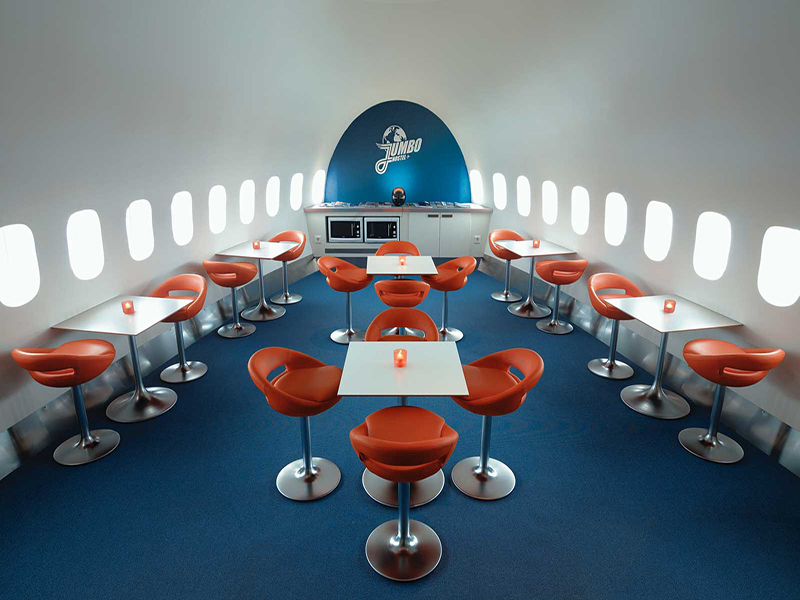 Spitbank Fort, Portsmouth, England
At the end of 1880, a fortress was built in Portsmouth, England, to serve as a defense against Napoleon III's military forces and as an armory. After being privatized in 2012, the fortress was turned into a hotel with nine luxuriously decorated suites, a spa, and beautiful interior. But on the outside, it still looks like a long-abandoned, rundown ancient building in the middle of the sea. It can be reached by boat. Children under 12 are not allowed for safety reasons, and guests are asked to wear flat footwear to be as stable as possible because of the constant rocking on the water. If the weather is really bad, reservations and events booked at the hotel get canceled and the staff do their best to find adequate replacement with their local partners.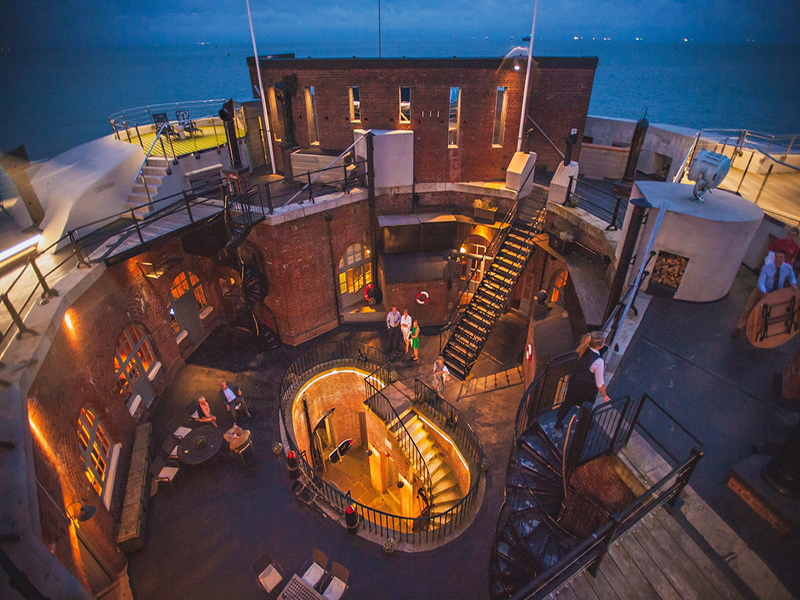 Free Spirit Spheres Hotel, Canada
The Free Spirit Spheres Hotel's mission is to give people a place to enjoy fantastic experiences while staying in a natural forest environment. It is located in British Columbia, Canada, and comprises three spherical wood houses — Eve, Erin, and Melody — which, as you've probably guessed, are on a tree. Each is tied by three vertical ropes to its own tree, which evenly distributes the load to each tree, ensuring stability. The tree houses are accessed by a spiral staircase and/or a slightly elevated sill that connects to the boards where it is safe to step and enter. The interior is specific for the fact that every inch is used, and everything is made of eco-friendly materials because the idea is to make the guests get in tune with nature as much as possible.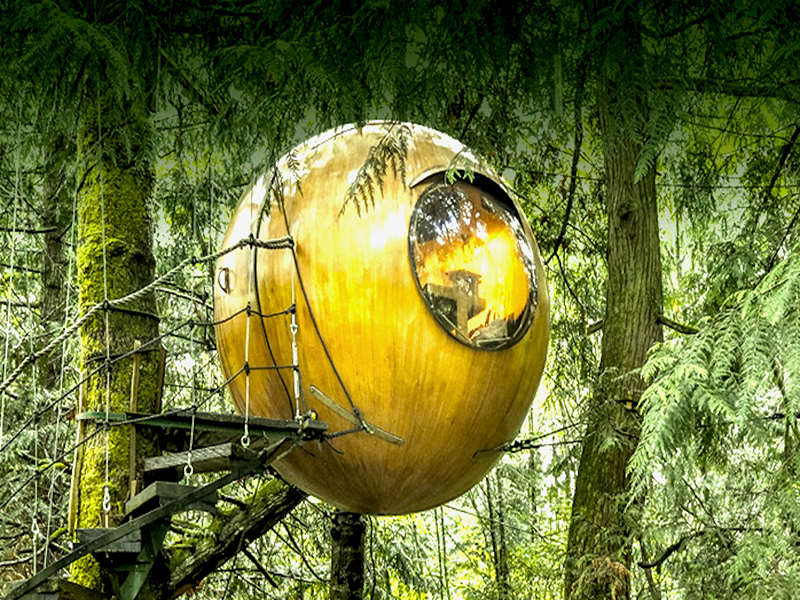 Anantara Golden Triangle Elphant Camp & Resort, Thailand
Spend an unforgettable night observing Thailand's majestic elephants in their natural habitat from the comfort of your very own, fully furnished, transparent room. The stunning resort is gaining major buzz, thanks to its transparent luxury bubble suites, called Jungle Bubbles, which happen to be located in an area heavily trafficked by local elephants. That means guests are likely to wake up each morning with a curious pachyderm or two staring them down. Perched on a wooden deck above the forest, your luxurious bubble offer uninterrupted views of our gentle giants, as well as the stunning starlit sky above. As they say at the Resort, the 60 elephants living on the grounds have been rescued from Thailand's city streets and now get to live out their days in peace.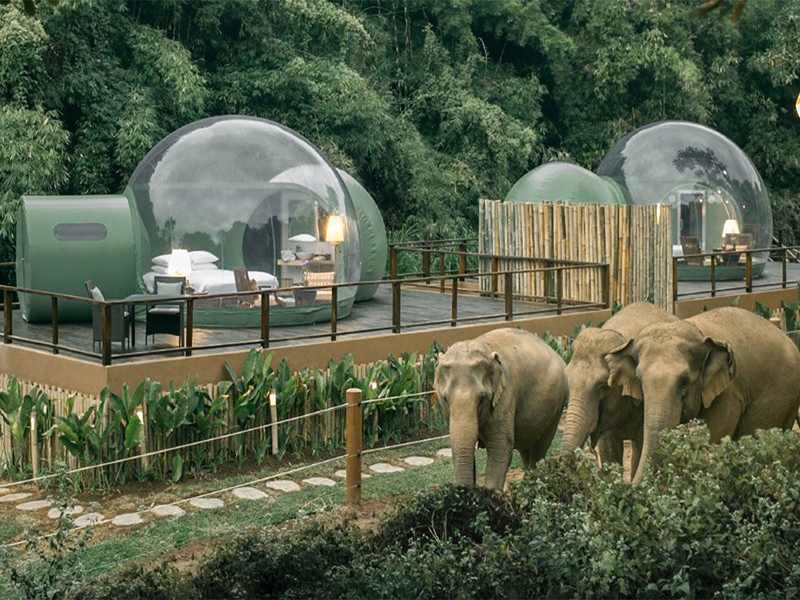 Propeller Island City Lodge, Germany
In December 1997, German musician and artist Lars Strorschen started renting rooms at his house in Berlin to supplement his monthly income. However, he felt that the traditional guest room was clichéd and boring, so he decided to create four unique themed rooms for his guests: a symbol room, an orange room, a castle room, and a mirror room. Since visitors liked this, and more and more of them came, the following year he bought an empty space in the same building and started designing another 27 rooms. Today you can stay in, for example, a room where things are hovering, a room where everything is upside down, a room with beds in cages, or a room for little people that is only 1.4 m high. Each room has a handbook with rules about cleaning and etiquette, and all guests must follow them. It's interesting that the accommodation units don't have TVs or radios, but there is a built-in sound system that plays music selected by Mr. Strorschen himself.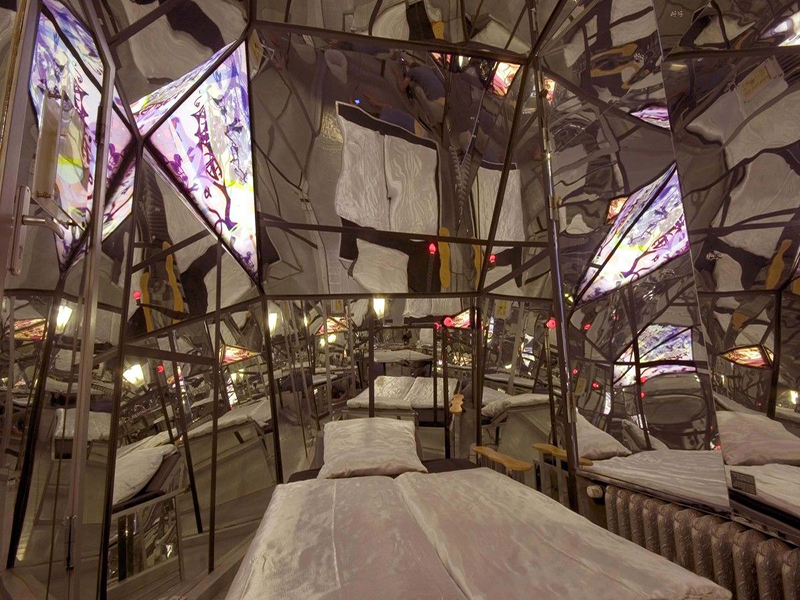 Who says that hotel rooms aren't fun? 🙂 We hope that we sparked your imagination and that next time you plan a trip, you might choose one of these hotels. I certainly would 🙂 The adventurous spirit should definitely be encouraged!
Did you know…?
The first hotel in the world
The Nishiyama Onsen Keiunkan, situated in the small Japanese town of Yamanashi on Honshu Island, opened in 705, and this year marks its 1,315th anniversary. In the Guinness Book of Records, the hotel proudly holds the title of the oldest hotel in the world.
The most expensive hotels in 2020
This year's list of the most expensive hotels includes, among others, the famous Burj Al Arab in Dubai, the Palms Casino Resort in Las Vegas, and the Four Seasons Hotel Ty Warner in New York. Staying at these hotels costs up to USD 50,000. The Lover's Deep Luxury Submarine Hotel in Saint Lucia (Caribbean) was officially named the most expensive in this year. If you want to stay here, you will need to set aside USD 150,000 per night.
A hotel for two
The smallest hotel in the world, listed as such in the Guinness Book of Records, is called the Eh'häusl Hotel, located in Amberg, Germany. It can literally accommodate only two people because its size is 53 m2. The amenities include a bedroom, TV, mini spa, and a beautiful lounge with a fireplace, which makes it a popular choice among newlyweds.