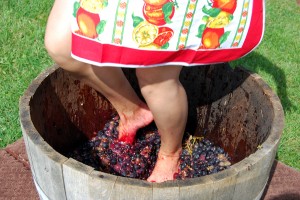 Increasingly larger demand in incentive tours is that for the activities that involve visiting the traditional households and the possibility of experiencing something that is unusual and different from the tourist's culture and traditions.
One of the programmes we are presenting is the programme of the BON VOYAGE tourist agency from Serbia. The participants of this programme have the opportunity to take part in the grape harvest in Vojvodina and, doing this, get to know Sremski Karlovci – SERBIAN CAPITAL OF WINE!
The programme starts with seeing the sights of Sremski Karlovci, the city which, in addition to its cultural treasures, is valued as a city for genuine wine lovers and people who truly know how to have fun. After exploring this baroque little town of Vojvodina and visiting the wine cellar, there follows a unique tractor ride to the vineyards. When they arrive to the location, the participants divide into two teams and the harvest may begin! You will uncover clandestine wine traditions of Karlovac wines and get to know a part of the wine making process. Your host will let you know about the method of work and, in the end, evaluate and award you for your efforts.
After the interesting and exhausting day, the participants go back to the wine cellar for a grape-stomping session and dinner which involves a wine-drinking competition the winner of which is declared the Wine Knight.
This one-day programme may be extended to a two-day experience of household crafts: on the second day the participants would get to know how to make the souvenirs characteristic for the Vojvodina region.