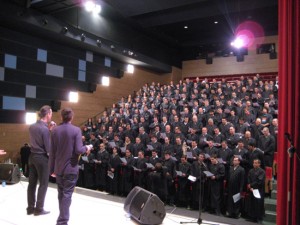 Marmúsica has excellent professional musicians, from classical music to jazz or Renaissance music. They complement their music with actors, dancers, composers, Djs, Vjs and sound and lighting technicians.
In adition, we will share with you one of the Marmusica's interesting ways of team buidling trough musical theatre and gospel musical coaching.
MUSICAL THEATRE COACHING
This activity is carried out by a professional director of modern music and a stage director, also with musicians, make up and other.
There is no place like the stage of a theatre to capture the excitement, the preparation and the energy of a group that has put a lot of effort into rehearsing a small theatrical performance.
Teamwork is essential in the staging of a play, apart from the requirement, enthusiasm and self‐control needed by each member. Music, dancing and singing, are basic engines since the beginning of time.
SIMILAR CHARACTERISTICS OF THEATRE AND COMPANY TEAM
The musical theatre team is a team that works in an environment of maximum tension in which any small variation requires immediate decisions.
Only with the personal commitment of each of the performers the theatre will succeed in the performance.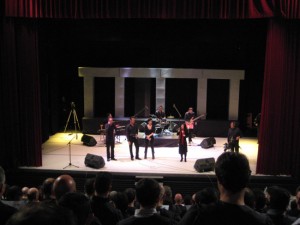 A brilliant performance is the result of many rehearsals.
Without communication there is no passion. Without passion there is no art.
With this musical theatre workshop the group have great fun, work as a team, and disconnect from everyday stress. They are filled with vitality, they are taking risks and experience a change from their usual daily life.
GOSPEL MUSICAL COACHING
This activity will be led by a director of gospel music.
This musical coaching is aimed at groups who want to develop a team project using their own voice as an instrument, and to have fun.
The act of singing in different voices means that you have to pay attention to what your colleagues are doing to achieve a good result. During the workshop several activities is carried out, such as concerts, vocalizations, group improvisations and, especially, singing the classical Gospel style melodies. The repertoire ranges from the classics of Negro spiritual music to the modern adaptations (Soul, R & B and Pop).
The used aspects includes: teamwork, sensitivity, movement skills, respect, trust…
At the end of the workshop the songs participants have learned are performed in a concert with a live band or a pianist and the teachers.