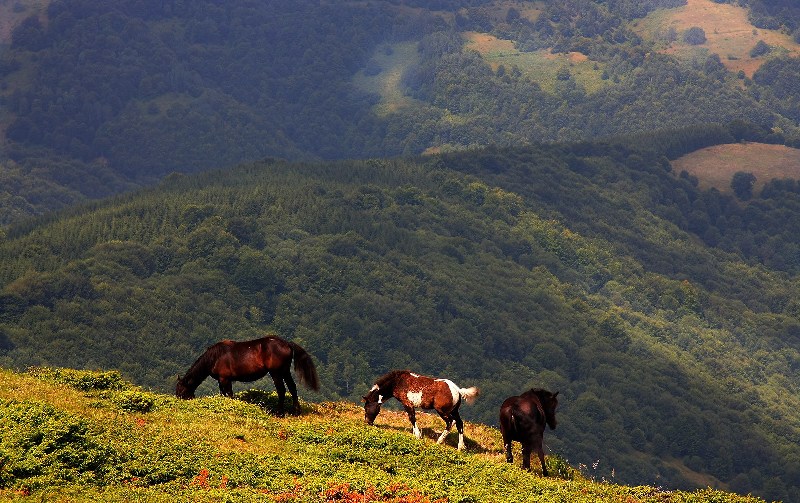 Kopaonik occupies a special position on the tourist map of Serbia. Kopaonik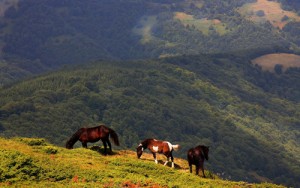 is the largest mountain range in Serbia with 75 km in length and 40 km in width. The highest part of the mountain is the zone called Ravni Kopaonik, around which are Suvo Rudiste with Pancicev vrh (2017 m), Karaman (1934 m), Gobelja (1834 m) and other.
Kopaonik got its name by extraction of ore. Ore had been extracted from this mountain prior to the arrival of Romans to these regions. The mines in which the silver ore had been excavated were especially famous. As it is well known, silver was deemed the most precious metal in the medieval Serbia. In the written documents, Kopaonik is mentioned as: Caponi, Coponich, Coparenich, Copono, etc.
Kopaonik is one of the places which offer ideal conditions for active holiday and enjoyment throughout a year. During winter, the attention of tourists is primarily focused on ski terrains, which are at 1650 – 2017 m above sea level, and are classified in the first-category terrains. The tourist centre disposes of the network of cableways and ski lifts, while in the spring-autumn period Kopaonik is attractive as ideal destination for business tourists and congress tourism.
History – The beginnings of tourism date back in ancient past, and were mostly directed towards the use of thermal waters which are plenty in the area of Kopaonik. The Josanicka Spa has been used since XIII – XIV century. Village gatherings and church festivities, which can be characterized as the beginnings of tourism, were held at the mountain of Kopaonik since ancient times.  The gatherings were held in Metodje, Raskrsnica (at the bottom of Kukavica), Crkvine (at the bottom of Nebeske stolice), in Mramor and other locations.
National Park "Kopaonik" – Due to its natural merits, Kopaonik was pronounced national park in 1981. The National Park ''Kopaonik" comprises an area of 11.810 h and represents one of the most important centres for biodiversity of endemic flora of Serbia by number of endemic species. Important endemic species and relicts in Kopaonik are the Kopaonik houseleek (Sempervivum kopaonikensis), the Kopaonik violet, Pancic's rezuha (Cardamine pancicii), Serbian flax, Pancic's fescue (Festuca pancicii), edelweiss and other. A variety of animal species in the Kopaonik area, out of which Golden Eagle, Peregrine Falcon, Tawny Owl, Shore Lark, Common Crossbill, Eagle-Owl, dormouse, wildcat, fallow deer, and others, deserves a special attention.
What distinguishes Kopaonik from other congress destinations is an extraordinary opportunity for combining business and pleasure. Whether it is about active holiday or just surrendering to the magic of this mountain, Kopaonik is really a unique destination.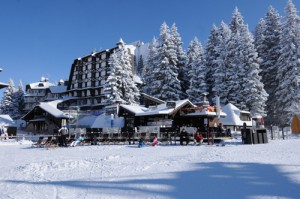 Out of the activities at Kopaonik, there are organised hiking trips (to the Metodje spring and the Semetesko lake), trips by mountain bikes, basketball, tennis, equestrian, English language schools. There are also various programmes for children, programmes for loosing weight and getting fit, and numerous sport fields are ideal for preparations of sports teams, as well as for development of sport spirit and relaxation after a business meeting or a seminar. Due to its versatile forms of relief Kopaonik offers ideal conditions for paragliding.
''Monastery tours'' are also attractive, meaning sightseeing tours of medieval monasteries and sanctuaries in the Kopaonik surroundings: Studenica, Sopocani, Djurdjevi stupovi, Gradac. Then we have wine tours, rafting down the river Ibar and mountaineering – the Pancicev vrh and Siljak peaks, the Kozje stene and Markova stena rocks… the mountain paths lead through beautiful coniferous and deciduous forests, mountain meadows and pastures.
Kopaonik has a total capacity of 3000 beds in the most important hotels and apartments. Beside the accommodation capacities, this small town also has other capacities in form of congress centre and a large number of excellent restaurants, bars, night clubs, casinos, and shops.
What Kopaonik can offer to organizers is a large number of hotels and private homes located near the congress centre. The congress capacities can host smaller seminars, conferences of 80/90 participants, but also large congresses of up to 800 participants. This is also proven by traditional congresses, which are held year after year giving their trust to Kopaonik. The international conference YU INFO is held for the 17th time this year, and represents one of the most important ones, being a conference with more than 500 participants. Besides it, there is also the International Conference of Jurors with the tradition of more than 20 years and the participation of more than 2000 domestic and foreign jurors. Some of more important events are also the Congress of Labour Medicine Congress of Sport Medicine, Congress of Medical and Stomatological Students and other.
Nowadays Kopaonik is one of the most important mountain tourism centres in Serbia which has been significantly modernized in the recent years by investments in its cableways, which significantly accelerated the transport of skiers and by that achieved higher level of satisfaction of the needs of tourists as consumers of services of Kopaonik, but also by large investments in modernisation and renovation of the very congress and accommodation capacities.
Author: S.G.