In the world more and more grows the preocupation on everday activity of a man and bad influence which it has on natural environment and people's health. Construction Industry is one of the biggest pollutants of natural environment and that is why it is very important to have awarness of importance of ecological materials and standards.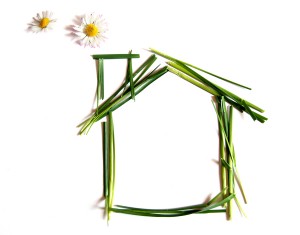 In an age threatened by climate change, energy shortages and ever-increasing health problems it makes sense to build homes that are durable, save energy, reduce waste and pollution, and promote health and well-being.
In the world  law regulations correlated with the standards in construction industry are very strong, especially currents supporting ecological standards in construction are strenghtening. All of that has an influence on companies that are not going to be able to organize event in an object (hotel, congress centre, restaurant…) that doesn't follow ecological standards durring construction or renovation of object, or it will be decided for the ones that follow standards, a lot before.
That's why we'll turn around to the concept of "green" building and what is "eco" hotel, centre, etc., and what are the "green specifications" in construction industry.
What is a Green Building?
The concept of a green building was developed in the 1970s in response to the energy crisis and people's growing concerns about the environment. The need to save energy and mitigate environmental problems fostered a wave of green building innovation that has continued to this day.
Green buildings are not easily defined. Often known as sustainable buildings or eco-homes, eco-hotels etc., there is a range of opinion on what can be classed as a green home. It is generally agreed that green buildings are structures that are sited, designed, built, renovated and operated to energy-efficient guidelines, and that they will have a positive environmental, economic and social impact over their life cycle.
Elements of Green Building
Four main areas need to be considered in green building: materials, energy, water and health.
* Materials
These are obtained from natural, renewable sources that have been managed and harvested in a sustainable way; or they are obtained locally to reduce the embedded energy costs of transportation; or salvaged from reclaimed materials at nearby sites. Materials are assessed using green specifications that look at their Life Cycle Analysis (LCA) in terms of their embodied energy, durability, recycled content, waste minimisation, and their ability to be reused or recycled.
* Energy
Passive solar design will dramatically reduce the heating and cooling costs of a building, as will high levels of insulation and energy-efficient windows. Natural daylight design reduces a building's electricity needs, and improves people's health and productivity. Green buildings also incorporate energy-efficient lighting, low energy appliances, and renewable energy technologies such as wind turbines and solar panels.
* Water
Minimising water use is achieved by installing greywater and rainwater catchment systems that recycle water for irrigation or toilet flushing; water-efficient appliances, such as low flow showerheads, self-closing or spray taps; low-flush toilets, or waterless composting toilets. Installing point of use hot water systems and lagging pipes saves on water heating.
* Health
Using non-toxic materials and products will improve indoor air quality, and reduce the rate of asthma, allergy and sick building syndrome. These materials are emission-free, have low or no VOC content (Volatile Organic Compound)*, and are moisture resistant to deter moulds, spores and other microbes. Indoor air quality is also addressed through ventilation systems and materials that control humidity and allow a building to breathe.
Source: www.sustainablebuild.co.uk
* Volatile organic compounds (VOCs) are gases or vapours emitted by various solids or liquids, many of which have short- and long-term adverse health effects. Household products that emit VOCs include paint, paint strippers, cleaning supplies, pesticides, glues and adhesives, building materials and furnishings. Consequently, concentrations of many VOCs are higher indoors (up to ten times higher) than outdoors[5]. Fuels such as gasoline (petrol) and diesel also release VOCs.
Green Specifications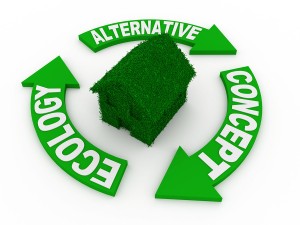 Green specifications are a set of agreements that are recommended for the sustainable building industry. They identify and qualify the specific conditions that property developers, designers and builders must meet to demonstrate sustainable development in practice.
Increasing concerns over environmental issues such as climate change and fossil fuel depletion, have put pressure on the building industry to become more environmentally responsible. This has been accelerated by a growing awareness of the use of toxic chemicals in building materials and their associated health risks. Builders and designers need information about non-toxic, environmentally friendly, and energy-efficient products that not only address these concerns and safeguard against environmental liability claims, but also conform to building codes and regulations.
Green specifications initially developed as guidelines for best practice, but there is now a global movement to standardise these rules into a set of legal requirements. EU directives demand building products that use fewer resources, prevent waste, and have lower impacts and risks to the environment. The UK Government has recently stated that all new development and regeneration schemes must conform to green specifications, and they are working closely with a wide network of organisations to formulate these into policy.
One of these organisations is the Building Research Establishment (BRE), an independent and impartial research and advisory body that has been instrumental in developing sustainable standards for the built environment.
Environmental Assessment
BRE has published the definitive "Green Guide to Specifications" which contains around 300 specifications for different building materials, divided into elements such as: floors, roofs, walls, windows, ceilings, paints, insulation etc. Each material is measured by its environmental impact against key issues such as ozone depletion, climate change, fossil fuels, toxic emissions, pollution, waste, mining and mineral extraction, and water use (including mains, groundwater and surface).
Sustainable Building Standard
Green specifications are constantly changing as new materials are developed and our understanding of what it means to be sustainable evolves. Although the details of green specifications are not fixed, there is a general consensus that for a building to be sustainable it needs to use materials that: improve energy efficiency, reduce waste and pollution, conserve natural resources such as water and wood, are non-toxic, use renewable energies and have a long life-span.