CarePar ("carbon emissions per available room") is the travel industry's first method of establishing, calculating, managing and disseminating usable data on carbon emissions per hotel and venue usage – representing either carbon emissions per available room per day, or function room per half day. CarePar was developed in response to demand for a hotel industry standard solution that effectively and accurately measures carbon emissions.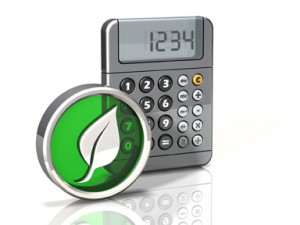 1. A unit of measurement for hotels and venues stating the carbon emission per available room per day, or function room per half day.
2. Name given to the the process of indexation of hotel and venue carbon data and its distribution. Also called The Hotel Carbon Index.
How it works?
The Carepar process takes physical and variable data from an hotel or venue and uses it to calculate the carbon weight generated in a single room night or period use of a function or meeting room.
The data is available in a variety of formats to be used by individual travellers, Companies and Intermediaries (Hotel Booking Agencies or Travel Management Companies) to calculate the carbon cost of their hotel usage and to inform purchasing decisions.
Carepar – working towards a hotel sector standard measurement for carbon output, enabling people to make informed decisions based on accurate audited data.
Source: www.carepar.com
Examples of ECO-calculators:
Bottled Water Cost Calculator
Calculate the cost savings and environmental impact of reducing individual water bottle usage.
Environmental Calculator
Calculate the environmental savings associated with switching to recycled paper.
Greenhouse Gas Equivalencies Calculator
Convert any energy savings measurements into everyday comparisons (e.g., saving 5,000 gallons of gasoline is equivalent to eliminating the energy used to run 4 homes for a year).
Carbon Footprint Calculator
Calculate your carbon footprint from flying, driving, hotel stays, events, and energy usage.
Eco Savings Calculator
Calculate the environmental impact of any printing job.