The development of video-conference systems dates back to 1936, when it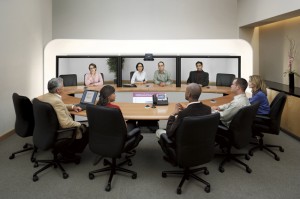 was used exclusively for the needs of the German post-office at the time, while nowadays it is used for business purposes, in education, medicine, entertainment… The accelerated development of electric industry led to fast development of these systems, so that all of them today have HD video resolution, microphones with crystal clear sound, as well as to development of the systems behaving like servers, and requiring only Internet for operation.
Video conferences (or video-teleconferences) represent a cluster of interactive communication technologies providing a simultaneous two-way transmission of video and audio signals from two or more locations. They differ from video telephones, as they can serve for information exchange at a conference level, and not at an individual level or a level with two users.
Video conferences utilize telecommunications of audio and video type, in order to bring the people from different locations into a situation in which they can simultaneously attend a joint meeting. This can be as simple as the conversation between two people in their private offices (point-to-point), or it can include more locations (multi-point) with more than one person in given rooms at different locations. Besides the audio and video transmission of the meeting activities, video conferencing can be also used for exchange of documents, computer presenting of the information such as e.g. slides. The simpler video conferencing based on analogue signals has been established together with the invention of television. Such system usually consists of two closed-circular television subsystems connected via cable. A good example for this would be a German postal network, set in Berlin and several other cities in the period from 1936 to 1940.
A current situation in the field of video conferencing and equipment used in it is marked and determined by competition of two large companies, namely POLYCOM and CISCO. Another giant, TANDBERG, gives its contribution to the world market in offering hardware and software solutions for this type of data transfer. Besides the large companies producing professional and specific-purpose equipment for meetings and video conferences, the alternative, often several times cheaper solutions also appear in the market. Skype certainly leads among the software solutions providing the connection one-to-one, but also the connection one-to-four since recently, as well as the possibility for use in more contemporary HD TV devices. By doing so, Skype and similar manufacturers seriously endanger the positions and strategies of large and leading manufacturers of video-conferencing equipment.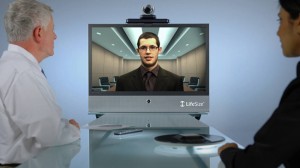 The need for such systems is growing on daily basis. Employers manage to reduce the travel, accommodation and other costs occurring in such situations thanks to video conferencing systems. It is necessary to mention the justified fear of employers from possible travel accidents, as an important factor influencing the decision on buying one such system. Saving of time and money is obvious in such long-term investing. Current users of video conferencing systems are large business centres, hotels, medical centres, educational institutions… Business centres offer new services to their clients in form of renting the equipment for holding intercity, intercontinental meetings. Hotels offer to their clients a constant link to their offices and an interactive presence at the meetings. Medical centres perform monitoring of important operations and surgical interventions via video conferences. Educational institutions use them to create a new form of improvement and constant education for the people ready to invest in themselves.
A further development of this form of communication might be reflected in extensiveness of use and system availability. World trends, led by the USA, set the goals such as making the conferencing classrooms in which the students will have touch screen monitors before them to follow the lectures from foreign universities, do the exercises on virtual blackboards, give suggestions, participate in discussions. Managers already make important business decisions based on the meetings held online without any need for face-to-face contact. Doctors already assist their colleagues in the operations performed in another continent.
Authors:
Vanja Mihailovic
Marko Sarac
Singidunum University