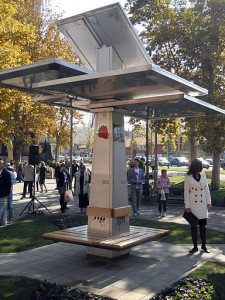 Living in the digitally connected world of constant communication the number of mobile phones and other portable multimedia devices is growing constantly. All those devices require a certain amount of energy to work and when the battery is empty it leads to an unpleasant situation.
The solution to that problem is the Solar Charger for Mobile Phones used in public busy places such as streets, parks and squares, when it is necessary. The invention like this can offer the citizens charge for their mobile devices when they need it most – they are far from home and stuck with a dead battery.
The team called Strawberry Energy invented, designed, and developed the project, and then constructed and installed the Solar Charger completely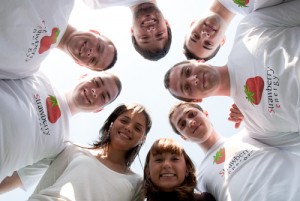 on their own in Obrenovac, Belgrade and Novi Sad.
"Our idea is to help people in a concrete and unique way using renewable sources of energy. If there are no other solutions, our invention can be used easily and directly for breathing life into mobile devices. In that way you can introduce efficiently to people the advantages of clean sources of energy, their good sides and explain people that using such a kind of technology isn't abstract anymore. At the same time the solar charger could have the educative role in the promotion of renewable sources of energy, ecology and energy efficiency." – said Bojana Borković, team member of Strawberry Energy. www.senergy.rs