1. Could you present us Germany as a meetings destination in few points?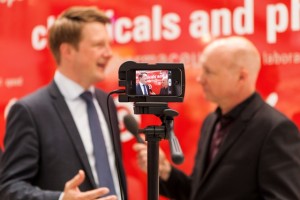 Germany is the leading conference location for international associations in Europe and the second worldwide (according to ICCA). The reasons for Germany's sustained success as a conference and meeting destination is a combination of several factors.
The country has outstanding infrastructure, an excellent transport network and a wide variety of venues.
Many of these venues, in locations such as Berlin, Munich, Hamburg, Frankfurt, Dresden and Leipzig, are award-winning and leaders in their field.
Germany offers superb value for money and local expertise in key economic and scientific sectors.
2. GCB suggests conference locations according to the industry expertise of the organizers. Could you tell us more about this?
According to the Meeting & Event Barometer 2012, 82% of meeting organisers predicted that the availability of industry expertise in the surrounding area will become increasingly important in the future when choosing a conference venue.
F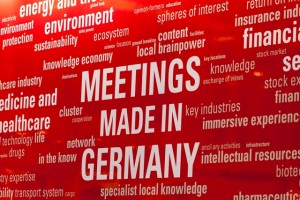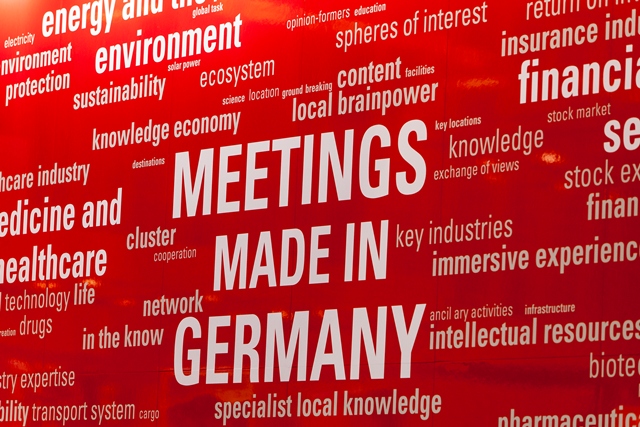 or example, international organisations are increasingly looking for convention locations where their sphere of interest is represented by highly respected companies, research institutes, initiatives and opinion-formers. As well as valuable contacts, this ensures that there is a lively exchange of views and suitable ancillary activities.
In other words, the focus is on conference and convention locations where there is specialist knowledge and industry expertise.
The GCB has identified six main areas of expertise: medicine and healthcare (including fields such as medical technology and the healthcare industry), transport and logistics (including automotive engineering, transport system engineering and aerospace), chemicals and pharmaceuticals (including disciplines such as life sciences and biotechnology), technology and innovation (from mechanical engineering and IT to microelectronics and nanotechnology), energy and the environment and financial services.
Germany's expertise in key industries is a central factor in the country's high ranking as a meeting and convention destination. These areas of skill enable international meeting planners to maximize the impact and effectiveness of their meetings and conventions by sourcing local relevant speakers or organising site visits.
3. What are the activities of GCB in making Germany also a green destination for meetings?
Almost half of meeting and event organizers now prefer suppliers with a certified sustainability-management system. German suppliers are well-placed to meet the increasing demands with almost 40% of venues in Germany having implanted sustainability-management systems.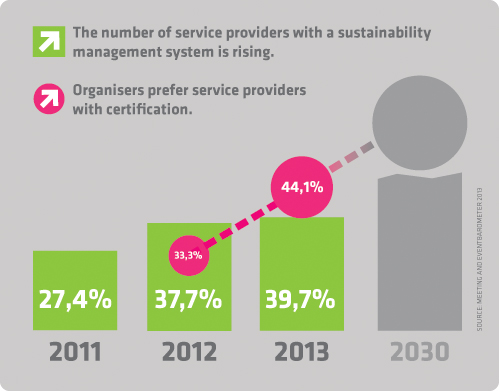 The country has an easily accessible venues, eco-friendly transport and sustainably-run congress centres and hotels. German congress providers integrate climate-friendly measures in their entire preparation, implementation, and follow-up work for events such as eco-friendly travel and accommodation, locally sourced food and much more.
In addition, the GCB has been awarded a grant to train meeting planners in a first-of-its-kind green meeting certification program.
Through a number of initiatives, the GCB and the European Association of Event Centres (EVVC), are ensuring that the sustainability agenda becomes even more established within the events sector.
This was demonstrated at the second green meetings and events conference, founded by the GCB and EVVC, which has already become an important forum for debate between the events industry and government. One concrete outcome already delivered as a result of the conference is a sustainability code for the events industry, drawn up jointly by the members of the GCB and EVVC and available to download as a brochure at www.fairpflichtet.de.
Via this website, "sustainable business leaders" can sign up to sustainable economic, ecological and social business practices, with the option of regularly reporting back on their progress in implementing the code. More than 370 businesses in Germany, Austria and Switzerland have so far signed up.
4. The GCB did a study of megatrends in field of meetings industry until 2030. Could you share with us some of them?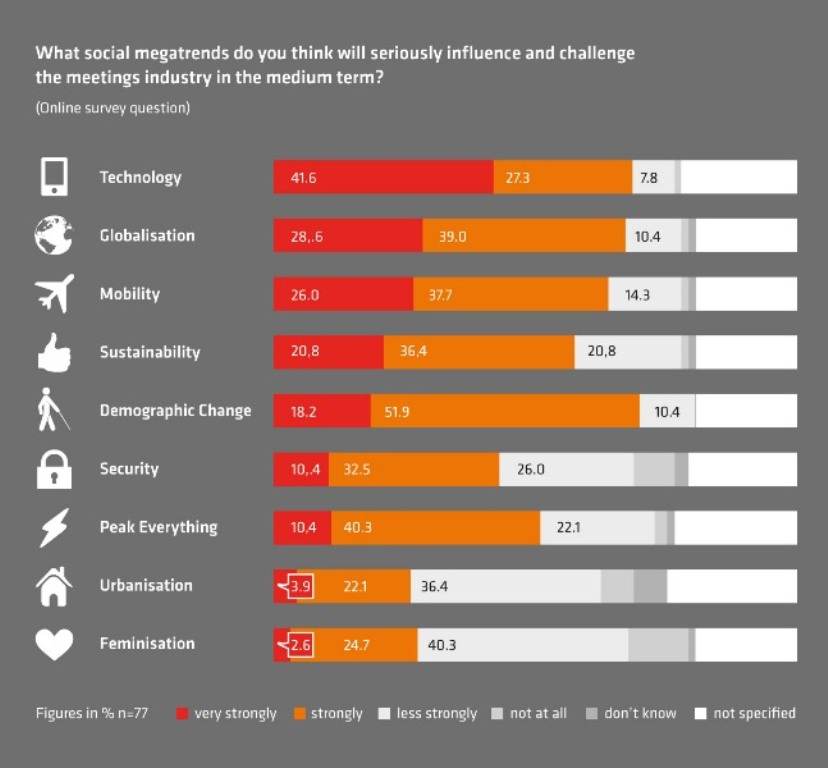 The German Convention Bureau undertook a global meetings study entitled "Meetings and Conventions 2030: A study of megatrends shaping our industry." The findings indicate technology in work and life, globalisation and other major trends which are transforming the meetings industry.
We envision this megatrends study helping players in the industry develop a future-oriented strategy that can generate business and economic success.
The comprehensive study revealed the following top five megatrends:
Technology in work and life: More than 41.6 % of respondents identified technology in work and life to be very influential in the future of the meetings business.
Globalisation and internationalisation: Approximately 28.6 % felt very strongly that globalisation will have a major impact. Individuals will need to be more aware of nuances among country cultures, preferences and lifestyles as well as speak multiple languages.
Mobility of the future: Getting to and from events easily and comfortably and with the smallest possible ecological footprint will continue to be an important aspect of event planning.
Sustainable development: Sustainability will remain a guiding principle to influence all areas of meeting planning, from construction and renovation of venues, to transportation, food and entertainment.
Demographic change, feminisation and diversity: Demographic change was cited by 18.2 % of respondents as "very strong." As more women travel the meetings circuit, features such as additional security for women traveling alone and child care, among others, will need to be considered.
Germany is well placed to meet the needs of the increasing amount of business visitors with a host of new venues and infrastructure in development including Kap Europa Conference center, Messe Frankfurt's new venue in Frankfurt's central Europa district set to open later this year.
GCB's Meetings and Conventions 2030 research ensures meeting and event planners are well-equipped to meet the future requirements of business visitors.
The GCB will be showcasing its huge variety of venues and new offerings at IMEX Frankfurt 2014 (20th – 22nd May). As the largest exhibitor at IMEX and strategic partner for the event, the GCB is set to present more than 200 exhibitors on Germany's stand.