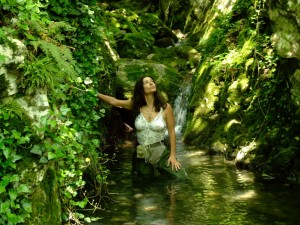 Homolje, this fabulous part of Eastern Serbia, seems as if asleep, tucked in its pre-Biblical beliefs since the ancient time, excluding the Dragašević's travel-writing. An ideal network of transversal roads covering almost all ridges of its mildly wavy peaks; beautiful river valleys whose flows glow with mica under the sun and even more beautiful forests covering volcanic massifs rich in ores which are perhaps in this period of nature awakening the most suitable for nice, inspiring hiking. Headed to Kučevo via Požarevac, our destination was the heart of the 'Serbian El Dorado'. Neresnica, Kučajna, Blagojev kamen – these are all toponyms known for gold-bearing veins, and panning is still used by some families here to earn for living. And the hardship of the panning we realised on the spot. Debeli Lug, a village known as the railway station Majdanpek, was the place where our ride ended and a bus picked us up. The place sunk in oblivion, hiding a lot of very inspiring secrets, and all it takes is little initiative.
Since this was an event intended for mountaineers, a 15-kilometre walk with a mild 500-meter ascent makes no obstacle to gaining an experience, so there were older participants and children as well. What attracted them was not only a premiere tour of landscapes not visited before, but also the fact that gold panners still exist, raising curiosity and representing a novelty for everybody.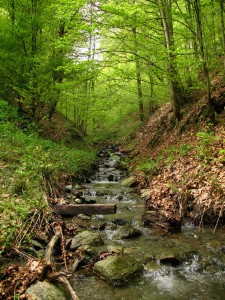 Through the village Debeli Lug, the Veliki Pek river runs. It is mouthed by gold-carrying flows of Homolje. As the most famous rivers are Grabova reka and Todorova reka, they were my choice for a tour walk, and over the hill Dupeš Čoka. We started from the valley of Grabova reka, passing by old pits of the mines of wolfram and gold, their openings being so unusually harmoniously fitted in the surrounding landscape, that you would expect dwarfs to come out of them.  Although long closed, these pits are still being explored. From there, the track ran upwards to the forested peak of Dupeš Čoka, which is in summer, after rains, abundant with delicious porcini. In a village inn, Ljubiša makes delicacy pottage with these porcini, in addition to nettle and many other plants common for these people and a rare pleasure for an urban person, even more considering the fact that this is the area where the consumer spirit is not spread and hosts welcome random travellers as their own guests.
From Dupeš Čoka, the track goes downwards to the valley of Todorova reka. This is the gold panner valley. Nevertheless, as I learned from my previous visits, there are two 'streams' among the local people – the ones claiming Grabova reka to be better and the others claiming the same for Todorova reka. When you see both of them, you notice the former is narrower, curvier and much more tucked under high trees, giving it certain secretive atmosphere. Todorova reka is somehow more open and bright. It even has few barns. There we meet Perica in the middle of his work. Beside some pans and larger plastic vessels on the riverside, there he sat on a small wooden chair, in the water, with rubber boots and gloves on, carefully washing up the river alluvium and picking small grains of the natural pure gold.
It is an exotic experience for us, but gold panners know how demanding it may be, day in day out, with hands and le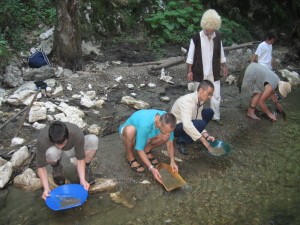 gs in the water; heat or cold. For as little as few grams of gold, you must pan the whole day, since around 500 kg of river deposit must be panned on average to obtain this quantity of gold. Moreover, processing a pan sample is a lasting activity. There, river alluvium is first roughly segregated with plain mud as lighter being spilled back to the river, leaving heavier metals and of course gold on the bottom of the pan. And when in the most sophisticated, washed out sediment golden grains emerge, they must be separated by washing out with subtle circular movements. Sometimes, mercury is used as well. Larger grains are a true prize. The largest Pera has found weighted 10 grams, and the largest lump ever found in this area has been panned in Grabova reka and it weighted 42 grams. Gold is much heavier than other ingredients of river bottom and as such, it will always stay on the bottom of the wooden pan when washing out, no matter how small it is. The traditional panning wooden vessel with oval shovel shape – the pan – is made of basswood, willow or alder. In this region, willow is believed to 'attract gold'. I think that everybody took several pieces of quartz containing remains of various sparkling traces of ores.
Pera was willing to show the procedure to the hikers, at least the basic procedure, considering the time we had, since it entails real skill, knowledge, great patience and above all experience, because in order to know where to seek for gold, you must know the rivers both in spring and autumn. They are the bloodstream of these quartz massifs and their circulation enlivens the massifs by crumbling quartz and carrying away grains of pure gold, which most commonly ties to this mineral in the nature. Of course, in addition to all the mentioned factors and a good eye, you might need LUCK as well. Pera was born in Debeli Lug, he is a locksmith, but seeking for gold he lived on several continents (America, Australia) and being adventurous, he was even a crocodile hunter. Today, he lives in his homeland, and the motivation for gold panning he finds in his numerous family.
Many times I remembered the gold panners going to their secret panning places, since Dušan Jovanović in his book Gold and Copper of Eastern Serbia says that gold is predominantly found in a large number of brooks and small rivers – tributaries to larger ones, such as Mare, Ferizana, Breza, Grabova, Todorova and Veliki Pek itself, especially after rains… I also remembered the myth about Argonauts and the Golden Fleece. According to Diadora, Jason and ancient Argonauts strayed to this region in their quest for the Golden Fleece and the Dragon guarding it as the legend says stil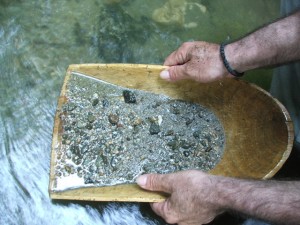 l sleeps 'around there'….
This was not the first time we encountered gold panning during visiting certain parts of Eastern Serbia. For several years, I took mountaineers to the tour of PRERASTI – natural stone bridges – a world rarity, most present in this small piece of land surrounded by the rivers Morava, Timok and Danube. The area towards Debeli Lug contains ancient gold mines (Kraku Lu Jordan), Neresnica, Blagojev Kamen, etc. Nearby Majdanpek, there is the major archaeological-metallurgical site in Europe: Rudna Glava. Considering its age of 7000 years, this is the point where Europe stepped out of the Stone Age and entered the Bronze Age. The appearance of metal influenced the historical course of this area, especially the discovery of gold here, so that the Roman emperors erected their palaces here (Felix Romuliana). There is no cave in Eastern Serbia without a legend about a hidden treasure, and many even lost their lives after discovering those most strictly kept family secrets which are passed on for centuries from generation to generation. One of these caves – the famous Rajkova cave, is considered the most beautiful in the Balkans thanks to its rich jewellery covered by a white calcite layer making it sparkling like strass.
Today, in the close vicinity of huge mining strips around Majdanpek, beside small rivers, there sit gold panners with their pans or wooden pumps, picking small grains for days, months, years, in heat or cold. Ms Radica Gornjak Atanasijević created a project which is slowly taking up. Her idea was the old mining settlement Blagojev Kamen to be protected by the UNESCO and flats to be renovated and used for tourists, promoting at the same time the rich historical, ethnological and natural heritage of this region. Accommodated on the crossroads of millenniums and centuries, guests could feel as belonging to a past time. Until the project is completely realised, there is only the hotel "Golden In" in Majdanpek.  At the same time, there is still the opportunity to tour the area in the mountaineer style with Gordana in a day, the area where the time stopped long time ago, and enjoy the spring landscape of Serbian El Dorado, with adequate footwear of course. She still guides this adventure every year in April and it is organised by the mountaineer association Železničar from Belgrad (www.zeleznicar.org.rs)
Written by:  Gordana Atanasijević