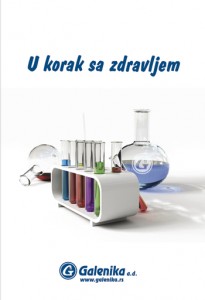 When you have in front of you a company, that has been operating with success for the past 67 years and one that was founded, to the satisfaction of its customers and business partners, at the beginning of the last century and that has since worked and grown in conditions of general progress and incredible technological innovations that have considerably changed the whole world, and a company that always has been and still remains a strong and modern one, then you have to fulfill very high and stringent standards in terms of quality, efficiency, and safety in order to qualify as that company's partner and achieve long standing and successful cooperation with it. So, Serbia's oldest and largest pharmaceutical company, Galenika, has high standards when organizing gatherings of any sort.
Galenika's Public Relations Department is a vital part of its entire corporate structure. Everything our company has achieved would not be fully appreciated if it were not for us who strive to let the general and professional public know what we have succeeded in doing, what we have not done so far and when we expect to do it.
In view of the nature of their business, we consider the representatives of the media to be our foremost associates and partners. As a company known for its focus on nurturing good partner relations, we have invited our friends from the press to meet us at the Belgrade's Hotel Prestige. In our wish to share with our guests the excellent service and refreshments of a first-class establishment and, even more importantly, one whose facilities and capacity does justice to our work-entertainment get-together, we like to organize the majority of our events in this hotel.
I will point to a few aspects that will always influence our choice of hotel for any event we organize. Good references from reputable names of the hotel business and from our business partners who have used the services of a particular hotel. Highly professional and eloquent hotel sales managers who offer excellent terms and provide everything we ask for. The hotel's location is not less important, a hotel of our choice must be close to New Belgrade and to the city center, because our guests arrive from both parts of the city. The meeting facilities must be equipped according to our requirements, in addition to which the hotel must provide other amenities, such as a modern restaurant, with an established tradition and a relaxing atmosphere so our associates, business partners, and customers will remember their time spent in it as a relaxing and enjoyable experience.
Bojana Jankovic, PR Manager at Galenika a.d.