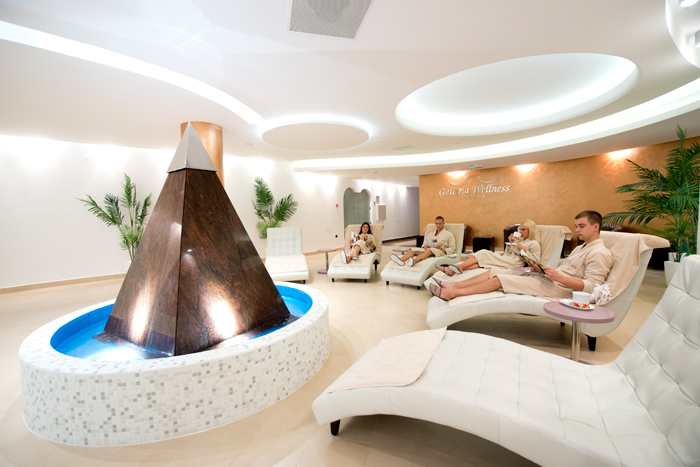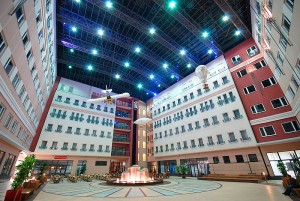 Congress Hotel Galleria is located in the very center of Subotica, the northernmost city in Serbia, in the immediate vicinity of Lake Palić, which makes it the perfect venue for private visits and for the organization of large business meetings. In addition to this, the hotel is only two hours' drive from European metropolises and from the airports in Belgrade and Budapest.
Accommodation in Hotel Galleria is conceived in such a way as to provide a total of 90 accommodation units, of which 78 are double rooms, 10 suites, of which 7 are classic and 3 are deluxe apartments (Presidential, Royal, and Bridal), and 2 rooms adjusted to the needs of disabled persons.
One of the unique qualities of Hotel Galleria is the beauty of the central atrium connecting the business, shopping and hotel part of this venue into a comprehensive whole. With an area of 1,300 sqm and a height of 25 m, it is intended for open-style events and as such is an ideal and unique place in Subotica for the organization of the most exclusive events and meetings.
The areas of Hotel Galleria's congress halls range from 60 sqm to 570 sqm,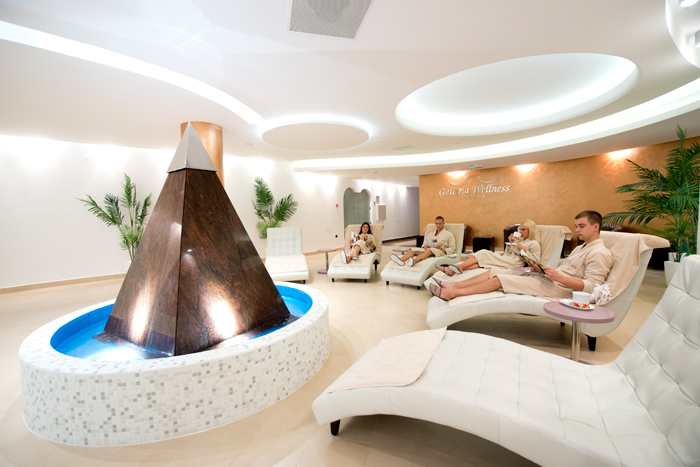 and all 7 halls are fully air-conditioned and provided with high-tech equipment.
Congress Hotel Galleria also incorporates several other facilities. Hotel Galleria is a favorite venue for the organization of formal business events and celebrations because it also provides a ballroom that can accommodate approximately 400 people. This ballroom is among the most spacious and beautiful in Vojvodina. Besides the Ballroom, a choice venue for events of up to 200 participants is Restaurant Panorama offering an exceptional panoramic view of Subotica from the hotel's fifth floor.
The Most Modern Wellness in Serbia
Experience the tranquility and find peace of mind and body in the most modern Wellness center in the region. Galleria Wellness Center occupies an area of 1,600 sqm, with numerous amenities, which makes it the most modern Wellness center in Serbia.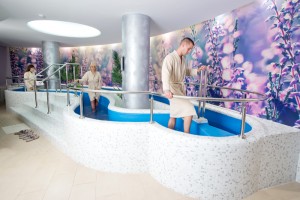 Galleria Wellness Center offers its guests Finnish saunas, Turkish baths, Kneipp water therapy, the salt room, a tepidarium, a relaxation zone, a VIP wellness area, jetted tubs – hydro massage, excellent massage and body treatment programs, the health capsule, and many other facilities.
Galleria Wellness Center has two completely separated VIP wellness areas. The VIP wellness area is scheduled for 1 to 4 people and offers the intimacy of the guests. Whether you want just to spend time with your loved ones, your family or with a narrow circle of people, in the VIP wellness are available Finnish sauna, Turkish bath, cold shower, tepidarium, Kneipp bath and shower with separate toilet.
Since congress Hotel Galleria has facilities which can be adjusted to accommodate the most demanding team building activities, Galleria Wellness Center is there to make any team trip an all-round enjoyable experience.
www.galleria-center.com/wellness
Hotel Galleria****, Subotica, Serbia
Phone: +381 24 647111
On their study trips organized by the Tourist Organization of Subotica, under the hospitality of Hotel Galleria, representatives of professional agencies and the media had the opportunity of getting acquainted with the hotel and enjoying the benefits of Galleria Wellness Center.
This is what guests of Hotel Galleria**** had to say after their visit:
"I like the hotel's architecture and I think it's unique in this part of the country. I especially like the atrium of the hotel and the restaurant on the 6th floor with a view of the city. The staff is very polite, both in the hotel and in the wellness center, and whose facilities far exceeded my expectations. I would certainly recommend Hotel Galleria because in addition to exceptional congress facilities it also offers possibilities for a pleasant wellness weekend with a special person." – Dejan Kosanović, Medibrands.
"I would definitely set Hotel Galleria 4* in Subotica apart from other congress hotels. This is a hotel I have worked with since its opening and one that fulfills every requirement for the successful organization of meetings of any size. As far as I am concerned, this is the best congress hotel in the region, one with a unique charm that comes from harmony of glamour and style, a successful combination of the past and the present, a selection of different sized meeting halls, all providing full technical equipment, professional service, and a highly cooperative staff, ready to fulfill every guest requirement…" – Svetlana Jočić, Celebrina Travel.