A food truck is a large vehicle equipped to cook and sell food. Originating from the United States, the first food trucks are thought to have appeared in the 17th century.
The precursor of today's food trucks was the chuckwagon, made in 1866 by Charles Goodnight, a Texas cattle rancher. After the American Civil War, cowhands herded cattle in remote parts of the country and were in need of food stocks that could provide supplies for months at a time. It occurred to Charles to adjust a military wagon to fit the needs of cattle herders. He added a so-called "chuck box" to the back of a wagon, with interior shelving and drawers for storing provisions, and a board which served as cooking surface. The wagon was also stocked with a water barrel and a sling for firewood.
In the 30s, the chuckwagon was followed by food carts selling hotdogs on the streets of cities and large university campuses (Yale, Harvard, Princeton, Cornell), popularly called "dog wagons". In 1950, the first ice cream carts appeared. This was the start of America's street food industry, which gradually spread to the rest of the world.
Food trucks are a good choice for various types of promotions, presentations, team building activities, and other events, especially those held outdoors.
Today, food trucks are most commonly associated with pop-up restaurants, temporary diners which typically use social media to notify their clients of their movement and their current location. Pop-up restaurants are popular in the U.S., Australia, and Great Britain.
Food trucks are also gaining popularity in event organization. The advantages and possibilities offered by these vehicles in event planning are vast. If, for instance, you are organizing a several-hours-long seminar or lecture at a hotel or some other indoor facility, you can organize lunch in front of the hotel, location and weather permitting. Food and drinks would be prepared in the trucks, providing various means of cooking and creating an outdoor restaurant. Additionally, food trucks allow event organizers the possibility of arranging events outside of hotels and other event facilities, outdoors in natural surroundings or in other locations outside the city.
In this way, participants are offered a concept that is unusual, stimulates interaction, and allows them to leave the meeting room and enjoy an innovative and out of the ordinary way of catering. The event thus gains special significance and becomes something that will stay in the participants' minds long after other gatherings.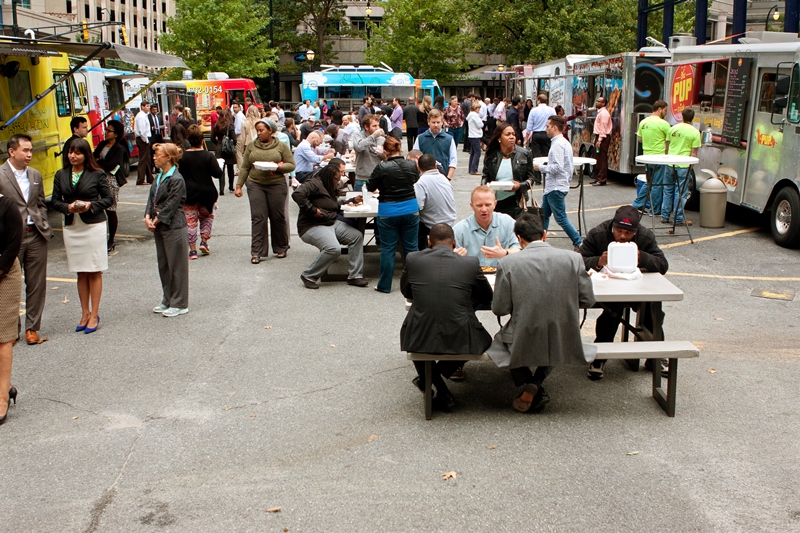 Food trucks are a good choice for various types of promotions, presentations, team building activities, and other events, especially those held outdoors. Trucks can be branded and tailored to suit a particular event and/or company. Other advantages of food trucks are their functionality and their equipment for cooking and serving food and drinks.
In the U.S., food trucks are often used for catering at indoor events, when the theme and branding of the event allow it. There are many instances of their use not only for complete catering of events but also for serving ice cream, desert, coffee, beer, etc.
In recent years, food truck festivals have become part of the big city lifestyle concept. While these festivals are not new in America, in Europe they appeared only a few years ago. Food truck festivals garner large numbers of visitors as they are usually free of charge. The food presented and served there can vary widely, from Asian cuisine, to craft beer, ice cream, various deserts, and standard fast food menus. The biggest and most popular festival of this type in Europe is organized in Brussels. It has approximately 100,000 visitors, who come to enjoy culinary skills presented on about 100 food trucks. The festival grounds spread over 3 km in the center of Brussels. This trend is still unknown in Serbia and while beer and coffee festivals are organized regularly, they do not normally involve the use of food trucks.