Event planning requires a lot of resources – from financial to human – especially today when the limits for special events that need to meet the growing demands and expectations of participants that are increasingly pushed. It's clear that event organizers are facing a great task. One of the ways in which many event organizers manage to cut costs while maintaining standards is by using the concept of sharing economy.

Simply put, the sharing economy is an ecosystem made up of: people, production, values and exchange systems, distribution, the planet, power, shared right, communication, culture, and the future.
People are actually what makes the essence of the sharing economy. They are individuals, as well as companies, organizations, and associations with an established system of sharing – they both contribute and benefit from sharing.
When it comes to production, people, organizations, and communities are producers of certain products or services that can spread around the world through technology.
Value and exchange system are not only in financial gain, but instead there are different forms of exchange, encouragement, and creating value. In the sharing economy, means are never used just one time, but instead they are repeatedly distributed to different parties.
Taking care of the planet is another aspect of the sharing economy, which tries to influence both individuals and communities to reduce harm to the planet.
Power can be reflected in the opportunity of some organizations or associations to help individuals or support an initiative, while shared right refers to mutual trust and respecting agreements and regulations.
Communication is reflected in the constant sharing of information and knowledge that are available to everyone, regardless of whether those that need them are individuals, companies, or organizations.
Sharing culture refers to the business culture that entails efficient use of means or resources, and today it is clear that the concept of the sharing economy will inevitably be impossible to ignore in the future.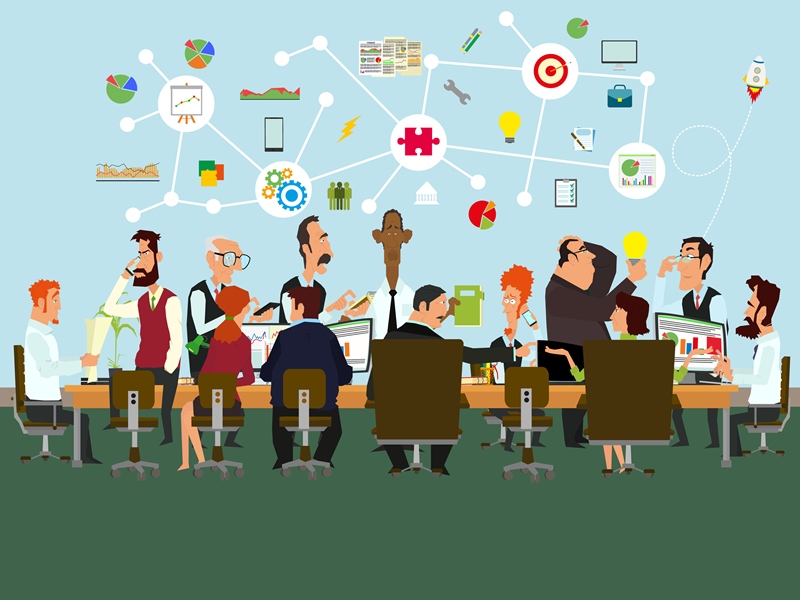 The concept of sharing is nothing new, since we have all shared something – either in business or in private- at some point in our lives (for example, factories used to share equipment). However, when it comes to the sharing economy in the MICE industry, we can say that the concept is relatively new.
How did the sharing economy find its place in the MICE industry?
It's well known that organizing any kind of event requires a budget. Event planners have always been tasked with planning events within the set budget, which is often smaller than the previous one, while expectations get bigger.
This brought about the creation and use of the sharing economy. The sharing economy in the MICE industry can refer to sharing different means, as well as resources.
In organizing an event, the event planner – guided by the theme – can contact certain institutions for assistance, whether in the form of renting the venue or media support for promoting the event. This practice is common, for example, with different non-governmental organizations, but also many others. Of course, this is possible only if both parties benefit from it.
As for renting means such as equipment, event planners have the option to share their expenses with another planner in need of similar equipment for organizing an event at the same venue within a short time span or literally immediately after. In addition, they can also share travel expenses if their rules allow it, of course.
Venue decoration is most certainly another example of the sharing economy in the MICE industry, and so decorations from a previous event can be used for a new event. Alternatively, hotel event managers' networking can lead to organizers' of two non-competing events agreeing in advance and, with a bit of compromise on both sides, arranging decorations that suit them both, with shared expenses.
Airbnb is a trusted community marketplace for people to list, discover, and book unique accommodations around the world — online or from a mobile phone or tablet.
An interesting platform regarding this topic is Showslice, which enables confidential sharing of event organizers requirements for products, aimed at coordinating equipment, reducing costs, and avoiding environmental impact by sharing event venues.
There are websites whose business is based solely on this concept. For example, a person can post an ad about traveling somewhere and invite people who are traveling to the same destination to share expenses.
Although there is not much use for it in the MICE industry, for those who want to cut accommodation or traveling expenses, we have to mention globally successful platforms based on this exact concept – Airbnb and Uber.
Among the examples of applying the sharing economy today are also the popular coworking spaces. These are shared work spaces where individuals – commonly freelancers or the self-employed – share their work space, offices, or equipment with other people who are usually not from the same company. Sometimes even companies use these spaces when they occasionally have increased number of employees and not enough space in their own offices.
Crowdfunding is not directly related to the sharing economy but it is with economic growth and the strong impact of big groups of individuals on a result, enabling development of good ideas and projects with many interested individuals, instead of – as was before – just with the help of big investors. Crowdfunding is by its definition "the practice of funding a project or venture by raising many small amounts of money from a large number of people, typically via the Internet."
The sharing economy is most definitely changing the way people buy products or services and represents a market that attracts investments and entrepreneurs, and this year The Sharing Economy Conference 2016, held on 30th June in London, represents a platform that will gather all interested parties, including big players and start-ups.
The sharing economy is a concept that is going to spread more and more and enable event planners to cut costs in organizing events. For now, we could say that event planners are slightly – but understandably – cautious, but in time, development and implementation of legal and security regulations will probably change this, too.
Still, it's obvious that this concept of sharing is becoming increasingly applicable in the MICE industry, considering the requirements that event planners must meet in order to satisfy expectations and criteria of event participants.
One final advice could be to think about the feasibility of this concept in some aspect of a future event you organize. It could happen that a solution is within reach, or even easy, and that the only thing that is lacking is exploring this direction.