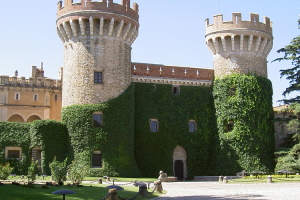 A unique and original event is the one that makes us forget about everyday reality, that enables us to travel into the past or future or simply to places and surroundings which are not easily accessible to us, and are not a part of our regular life.
Unusual and special venues play a particularly important role here, whether it is the case of historic edifices, castles, palaces, fortresses, caves or some hard to reach locations or islands.
In this issue of SEEbtm magazine we conducted a poll related to the question of how much is there a need for such venues in the region of southeast Europe and how much is that need satisfied. The need for such venues surely tells us about the degree of development of the event management, as the attempt to organize an unique and unforgettable event is at a higher level compared to the basic organization of an event (which is, unfortunately, quite often executed in a cliché way), when it is only essential to have the participants gathered, a speech or lecture is delivered, and then everybody goes his own way, with no particular impression or anything that they could keep in memory. Management at a higher level requires events one will remember.
The poll participants were the regional agencies specialized in organizing events (PCO/DMC/Event and marketing agencies).
Asked how often do they have a request for the organization of an event in unusual venues by their clients, 35% of respondents answered that such requests are rather frequent, with about 40% of requests involving a need for an unusual venue. The remaining 65% respondents answered that they didn't have such requests or that they are quite rare, up to 20% of all requirements. Still, judging by these results, it is evident that the trend is rising and that the agencies have more and more requests for such sort of venue, which goes together with the development of meetings industry.
The opinions given by the agencies vary as to whether our region lacks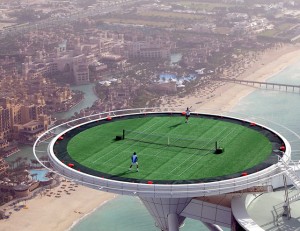 unusual and special venues or if there is enough of such venues around. Approximately one half of respondents are of the opinion that there are not enough of such venues, and the other half thinks those are sufficient considering the demand. Generally, all agree that clients should be educated about the positive impression the unusual venues offer, and that in fact they should be the ones who would propose the idea of organizing such special events to a client.
There is also an idea that the tourist organizations in each town should start doing something about it and begin to search for venues that could be adapted for special events from time to time. Certain agencies consider there is enough of inspiring venues, and that a good idea by the organizer-agency along with a good will on the part of the client is mainly all it takes to use any sort of space in an original way. The agencies also emphasized the problems related to acquiring permits and clearances or those in connection to finding proper owners of certain special venues.
Unusual venues where the poll participants organized their events are varied. We shall cite some of those.
Gulliver travel from Dubrovnik pointed out events on an uninhabited island and in a cave, and the ADRIA D.M.C. agency from Budva singled out a wedding on the charming island of Gospa od Škrpjela, the experience in the countryside where guests are present at brandy distilling and wine brewing, and a junket – meeting with descendants of a noble family from Boka Kotorska in their old stately home. CRAFT Marketing d.o.o. from Belgrade organized a press conference in a city transport bus. Some unusual events were also organized by the City Hall deputies in a square (the Strip) in the very centre of the city. HRG Serbia & Montenegro from Belgrade organized special events in the White Palace, in the High school in Sremski Karlovci, in the Presidency Hall, in the street on the occasion of opening a building, and similar. New Media Ideas from Belgrade cited a costumed team building, with synthetic cobweb and artificial fire, combined with strong beverages, as an unusual request they received from their client, and the most interesting setting was – a villa in Voždovac, Belgrade. A shepherd's barn is the most unusual venue where Pac sports & Hostel pod Voglom from Bohinj Lake organized an event, while SKILLS from Belgrade pointed up an event in an unfinished building.
Accommodation talked about
Request for travels is becoming more and more interesting. Modern tourists chose not only exotic destinations for their holidays. The requests for other sorts of accommodation are increasing lately, as it offers a unique and unrepeatable experience. Here are some examples of unforgettable experiences from around the world: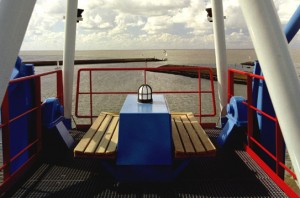 A hotel called "Harbour Crane" for those who want to "live at high level" was built in the vicinity of Amsterdam. The hotel was erected in 2003 after a massive crane was adapted. The rooms are at height of 60 feet, and the most amazing thing about this offer is that the guests can enter the central crane booth and rotate their own room for the complete 360 degrees.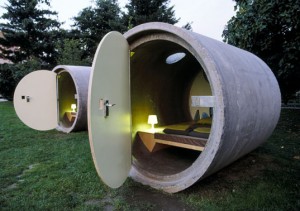 In Austria there is a hotel which represents a blend of simplicity and recycling. Das Park Hotel is composed of concrete sewerage pipes out of which mini suites are constructed. The "room" contains double bed, clothes closet, electrical fittings, woollen covering, and a sleeping bag. Other amenities – restrooms, a restaurant – are located in nearby public premises. As for payment, the hotel operates on "pay as you wish" basis, and the valid currency is Euro.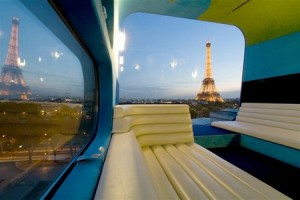 Hotel Everland, as its name indicates, is unique as you can always stay at the hotel, but not stay in the same town. Every few months the facility is moved to another city, and presently it is situated in Paris. The hotel contains a single room arranged as an ultramodern suite with one giant bed and one bathroom.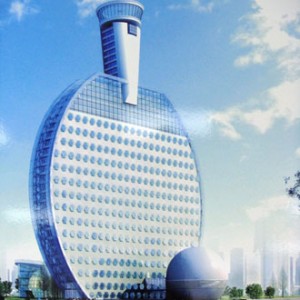 A 150-metre high hotel is under construction in the east of China, shaped as a table tennis racket. This unique building, which will be completed in five years, will be part of the new sports compound in the town of Huainan. The design plans for the top of the hotel with a belvedere to be in the shape of a racket handle, the middle part will contain guest rooms, and the ground floor will house conference halls. The design also plans a table tennis ball to be built beside the racket. And that is not all. In the forthcoming years the sports centre will also encompass facilities shaped like a soccer ball, basket and volley balls.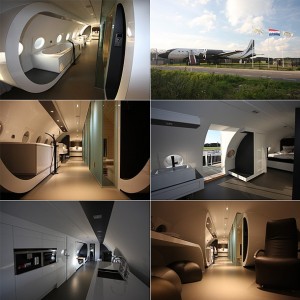 For the true lovers of unusual accommodation, planes and altitudes, there is a hotel – airplane Luxe Hotel Suites – Airplane Suite, at the "Teuge" airport in the Netherlands. This unusual hotel-airplane offers luxury accommodation in a fully equipped 40-odd metres long deck cabin, where you can feel as your own personal pilot. There is a grand view onto the airport runway from the airplane seat. Guests can also book a ride on a plane or helicopter, they can jump with a parachute or take flying lessons for those who want to soar in the air and feel the adrenalin rush in their blood. What makes the stay comfortable and luxurious are the sauna, Jacuzzi, mini – bar, flat television sets, wireless internet free of charge, and many more.