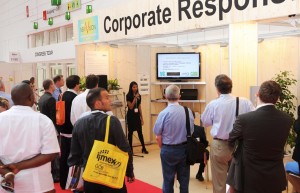 The IMEX Green Awards have been developed to ensure that organisations within the meetings industry who are making an effort to minimise their environmental and social impact are given recognition within the industry. IMEX is one of the most important worldwide exhibition for incentive travel, meetings, and events, which takes place in Frankfurt, Germany.
The annual awards, which have become increasingly popular as environmental awareness in the industry grows, include three category prizes and the Commitment to the Community Award, which recognizes an outstanding contribution to a local community.
The Green Meetings Award, the first category, is attracting more and more entries each year as corporations and agencies worldwide embrace the principles of green meetings and thereby demonstrate detailed environmental improvements and savings.
The IMEX Green Exhibitor Award was launched to educate and encourage exhibitors to employ a "reuse and recycle" strategy for their exhibit stand design and build.
The IMEX Green Supplier Award was launched last year as a way to publicly acknowledge meetings industry suppliers who play a critical role in helping the rest of the industry to achieve environmental objectives.
An independent judging panel made up of industry representatives and environmental experts chooses the winners.
The US Green Building Council (USGBC), was presented with the 2009 IMEX Green Meetings 'Gold' Award at the IMEX Gala Dinner in Frankfurt. The Award was made in recognition of an outstandingly "green" event – the Greenbuild Convention held in Boston in 2008, in which the USGBC demonstrated a deep understanding of both how to track and measure environmental targets and also how to enthuse and motivate new suppliers to support its event ambitions. USGBC is also the first North American organisation to have their entire meeting management department BS 8901 certified*. This is the second time that the Council has accepted this honour, having previously triumphed in 2006.
The Silver Green Meetings Award 2009 was given to the Oracle OpenWorld Conference 2008 in San Francisco. Judges were once again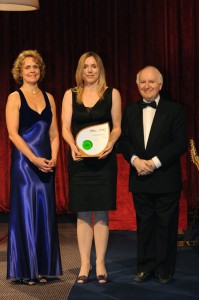 impressed by the high standards that Oracle set itself across the whole enterprise and its long-term commitment to improving sustainability within its global meeting division. Oracle OpenWorld is an annual trade show with 40,000 participants. The event uses five separate meeting venues and a total of 85 hotels. In the judges' view, the company achieved some impressive energy savings, especially regarding power consumption.
Awarded the 2008 IMEX Green Meetings 'Gold' Award were Scandic Hotels for their Swedish Environmental Coordinators Meeting which took place in Scandic Ariadne in Stockholm in October 2007. Scandic has 130 hotels in 9 countries and each hotel has at least one person with the role of environmental coordinator. The meeting was impressive not just because of the environmental work within the hotel where the meeting took place but because the same work applies to all hotels. This is due to Scandic's top management being deeply engaged in sustainable business. A "Compass for sustainable business" has been developed. All business within Scandic relates to the compass's triple bottom line, e g Purchasing policy and Supplier's declaration and guidelines for construction.
How do they do that?
– Use of energy efficient/natural lighting, occupancy sensors in meeting/hotel rooms, reduced use of air conditioning …
– Provision of group shuttles, carbon offset programmes for air travel, promotion of car pooling/transit services, purchasing locally grown, organic food…
-Using of green cleaners and 65% of hotels used recycled content bathroom tissue..
-Completely online and paperless registration and scheduling process. Name badges and holders were collected for recycling and reuse as in previous years.
– Exposition materials, including flooring, building substrates, signage, giveaways and office supplies were donated to local charities. In addition nearly 2,000 water bottles, 500 recycled content grocery bags and over 5,000 conference bags were provided to 21 local groups, donating of food to local shelters.
…
For more detailed information, you may go to :
http://www.imex-frankfurt.com/documents/USGreenBuildingCouncilCaseStudy.pdf
http://www.imex-frankfurt.com/documents/Scandic.pdf
Sources: http://www.imex-frankfurt.com
* BS 8901 is the sustainable event standard of the British Standards Institute, providing specifications for how to manage the environmental, economic and social aspects of events and conferences.
SGBC engaged an independent third party to review and assess the event management systems operated by the organization's Meetings and Events Division. Verification included desktop review of management processes, request for proposals and contract documents, interviews with staff, vendors and stakeholders and on-site inspections at the Greenbuild event. The final outcome of the BS 8901 process will be available in Spring 2009.
____________________________________________________________________________________
The Green Meetings Award was launched jointly by IMEX, the International Hotels Environment Initiative, and the Oceans Blue Foundation at IMEX 2003. The award is now partnered by GMIC** (Green Meeting Industry Council).
The award recognises environmental awareness amongst meeting organisers, highlighting the opportunities that now exist to stage business tourism events in 'green-minded' venues, whilst also planning an agenda in which sustainability issues have been taken fully into account.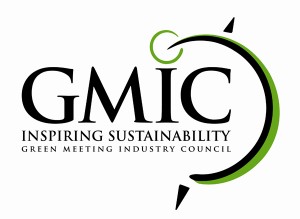 **GMIC is IMEX's official partner for its New Vision Corporate Responsibility project including the Corporate Responsibility Centre, the Green Meetings Award, the Commitment to the Community Award, the Green Exhibitor Award and the Green Supplier Award .
Green Meeting Industry Council was formed to improve meeting management practices by promoting environmentally responsible strategies through the collaborative efforts of the hospitality industry, corporations, government, and community organisations. The Green Meeting Industry Council is committed to supporting economic, environmental and community objectives as they relate to the meeting industry. For additional information see www.greenmeetings.info