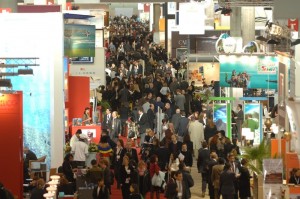 EIBTM (European Incentive and Business Travel and Meetings) is the leading exhibition for the international global meetings and incentives industry held in the vibrant business and tourism destination of Barcelona. Guaranteeing the attendance of top level global decision makers, EIBTM provides a time and business efficient matching service for buyers and sellers through the appointment driven Hosted Buyer Programme.
An opportunity to extend your business network and participate in thought-provoking educational seminars, EIBTM offers a dynamic business environment where thought leadership and emerging trends help shape the future of the meetings industry. EIBTM 2008 was very successful show – with record numbers of Hosted Buyers and Trade Visitors, Exhibitors representing over 150 countries worldwide, and over 50,000 appointments between Hosted Buyers and Exhibitors.
Combining the latest industry issues and trends, the launch of exclusive research findings and a range of the best international speakers and experts, EIBTM strives to provide the highest standard of education through an extensive, free seminar programme run over the  three days of the show. One of the hot issues is the growing importance within the industry of Generation Y. Commitment to future talent through Forum for Young Professionals
One of the hot issues to be tackled at  year's  EIBTM 2009 –  is the growing importance within the industry of Generation Y.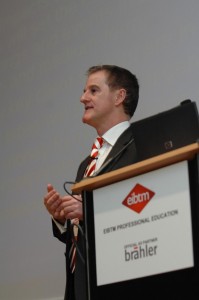 The three-day event in Barcelona, 1-3 December 2009, is dedicating sessions within its Professional Education to look at the needs of this dynamic generation and is also working with ICCA to continue the search for the future of the industry through its Forum For Young Professionals.
Generation Y – those born between 1977 and 1995 – are already seeing organisers look at meetings and events in different ways particularly with regard to technology; making organisers think seriously about what technologies can be used to entice them to attend and engage with their conferences, meetings, incentives and events.
With a commitment to providing best professional education, Rob Davidson, expert on the subject, Senior Lecturer in Business Travel and Tourism, University of Westminster, will be facilitating a seminar entitled "Motivating Generation Y – how you can design meetings and use technology to involve them?" This forms part of EIBTM's Technology Hour, taking place daily.
A further Technology Hour session, led by Corbin Ball, CMP, Corbin Ball Associates will tackle the subject of 'Social media for meetings: What are the best choices?  Web 2.0, Twitter and social media are key words and products that Generation Y understand and acknowledge as useful marketing tools. This workshop reviews current social trends and helps work through the technology maze. More details are provided on www.eibtm.com.