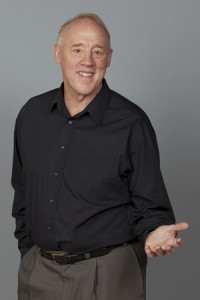 Recent data from MPI's FutureWatch 2011 Survey and others indicate that more than 80% of meeting professionals are using smartphones and other mobile devices in their jobs. Yet, with this high adoption, relatively few have used mobile applications yet for their own meetings. This is about to change.
Meeting professionals and attendees are crossing the chasm of early adoption and are entering into the early majority phase.  We will see a very rapid adoption of mobile applications for events during the next two years.
There are many ways that mobile applications can assist events. Here are some of the features found in many of the full-featured mobile applications for events and tradeshows:
Agenda management, building and sharing for attendees
Alerts / conference messaging  / updates
Analytics (tracking attendee interests and activities for business intelligence)
Appointment scheduling for attendees
Attendee list distribution
Audience polling
Concierge and local area information
Conference program and schedule
Content distribution —  paper replacement (session handouts, course notes, exhibit literature)
Content distribution — video (YouTube, conference streaming media)
Cyber café replacement
Evaluations of speakers, sessions, overall conference and other activities/services.
Exhibit guide with interactive floor plan
Hybrid and virtual meeting access
Marketing and advertising of events and sub-events
Meetings logistics management while onsite (including attendees management, housing management, budget tracking, meetings specifications, and meeting spend tracking)
Membership management
Messaging for events (SMS, e-mail, group announcements,  etc.)
Networking  / social media / friend finding (event and location – based)
Product and merchandise sales with micropayment capabilities
Registration
Revenue generation from exhibitor, sponsor, and local business advertising
Mobile team building exercises at events
Show contractor / supplier communication and logistics
Site inspection check-list
Social media onsite integration (for white label apps, Facebook, LinkedIn and Twitter)
Sponsor ad revenue (with full tracking)
Surveys
Ticketing and access control
Transit tracking (flight tracking, light rail times, etc.) and other business travel tools
Treasure hunts and other games to stimulate exhibit hall flow
Way-finding and mapping (through exhibit hall, venue, nearby attractions, city)
Beyond these features, however, there many tangible benefits that mobile technology will bring to event organizers, exhibitors and attendees. Here are a few of them:
Real-time distribution and access to all conference information:
Paper conference programs, exhibition guides, and announcements go out of date almost immediately after they are printed – conferences are fluid and things change! Mobile guides and other conference information can be changed on the fly assuring that attendees have instant access to the current information in a manner that is faster, lighter and easier to access. Event managers can send alerts of significant program changes as well.
Better way-finding through interactive maps, floor plans and location-based services: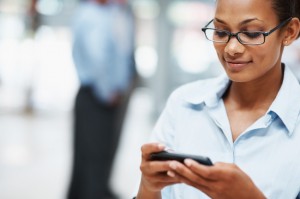 Attendees often need assistance in finding their way around a venue, an exhibit hall and the neighborhood surrounding the meeting venue. There are a range of mapping and GPS tools that can help. Some of the advanced mobile exhibit applications (such as Core-Apps.com and Sherpa-Solutions.com) can even pinpoint attendees locations in the exhibit hall and guide them through the hall finding the most efficient path between exhibit booths. Adding to this will be augmented reality applications (such as Google Goggles) which will layer additional information on phone-cam screens simply by pointing the phone camera at places where attendees want to know more information about.
Environmentally friendly:
Events are often awash in paper: program guides, session handouts, course notes, exhibit directories,
exhibit brochures, surveys, events specifications and more. These documents can be accessible more efficiently in mobile platforms. With the upsurge of iPads and other tablets, people will annotate these documents as well. Mobile devices documents are lighter, easier to use, quicker to access, cost nothing to print/ship and are much more environmentally friendly that paper documents.
Enhanced onsite networking:
Social mobile networking apps (meeting industry-specific apps such as Pathable.com and Dub Events), the big three social networking sites (Facebook, Twitter and LinkedIn) and the location-aware apps (such as Foursquare, Gowalla and Facebook Places) provide completely new networking channels for events. One good contact can often be worth the entire price of the meeting, and these tools will help bring people together to make these contacts.
Also, savy meeting planners and venue managers are now monitoring the event tweet stream (Twitter comments around a specific event) as the fastest way of being notified of a problem during an event.
Real-time feedback through surveys and polling:
Paper surveys for speaker and meeting evaluations are laborious to tally – so much so that they usually are done after the event. Web-based surveys sent via email links also are usually sent after the event. In either case, the data received is too late to make mid-course corrections during an event. Mobile surveys are automatically tallied in real-time while the information is fresh. If a session bombs, or if there are other problems, there are opportunities for corrections during the rest of the meeting by using this survey feedback during the conference.
Audience polling keypads, although they are very helpful feedback tools, tend to be expensive ($3-12/person/day). As mobile polling apps (such as PollEverywhere.com, Validar.com, Zukuweb.com, and others) move into this space, attendees can use their phones to vote or respond to speaker questions via text messages, mobile-web based polling tools or even Twitter. Additionally, there is the ability to send questions to the speaker, allowing input from audience members who are not "brave enough" to ask questions aurally. Often, these tools are at a fraction of the cost of keypads and sometimes for free.
Enhanced branding:
Mobile apps are hot and give the impression of being up-to-date technologically — they are a great way of event branding!  It won't be very long where, if an event does not use mobile applications, attendees will be wondering why the conference is behind the times.
Cost reductions and new revenue streams from sponsorships and advertising:
As has been mentioned, there are many ways mobile apps can cut costs while providing enhanced onsite services. In additions, there are many potential revenue sources from exhibitor and sponsor advertising. Several mobile companies have business models where there are no direct costs to the show/event organizer. They rely instead on revenue from exhibitor sponsorship.
Better analytics:
Mobile apps have the ability to track page views and other attendee activity. Some mobile application provide extensive data analytics of attendee behavior, which can be invaluable for improving future events. Page view data regarding specific exhibit products can also be invaluable for exhibitors providing connections to attendees who are specifically interested in a product or services.
Better onsite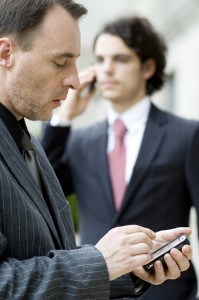 management tools
Gone soon may be the days where you can identify the meeting planner as the person who is carrying around a 4" 3-ring binder full of paper specifications and event orders at the event. Event-related apps for iPads and tablets may change this. Ootoweb.com offers  a "paperless meeting binder" for meeting planner to carry around related documents converted to .PDF files on an iPad and iPhone. Future versions will include other tablet operating systems and will have ability to change, annotate and easily share these files.
Better CRM
The current barcode lead retrieval model used at many tradeshows is broken. It is one way (attendee to exhibitor); location based (at the booth); it costs the exhibitors substantial sums; and is not standardized in terms of data collection. Other methods, such as business card exchange have paper-based inefficiencies.
Why can't all attendees collect important contact information from any other attendee in a standardized method electronically anywhere at  the event? There are several mobile apps providers (such as Dub and BusyEvents) that are working in this direction. The next generation of iPhone, it is rumored, will have near-field communication (NFC), a cross-mobile platform that will allow quick, standardized exchange of contact information as well as micro-payment and mobile commerce capabilities. This will likely push this technology to wide-spread usage providing much more efficient ways of business contact exchange at events and tradeshows.
Enhanced attendee and exhibitor experiences
The bottom line is that mobile applications are offering a wealth of new capabilities that will increase the business value of events. It will make the lives of meeting planners easier; it will reduce costs; and will provide richer experiences for planners, venues managers, exhibitors and attendees alike.
Corbin Ball, CMP, CSP is a professional speaker and consultant focusing on meetings technology. With 20 years of experience running international citywide technology meetings, he now helps clients worldwide use technology to save time and improve productivity. He can be contacted at his extensive web site: www.corbinball.com and followed on Twitter: www.twitter.com/corbinball.