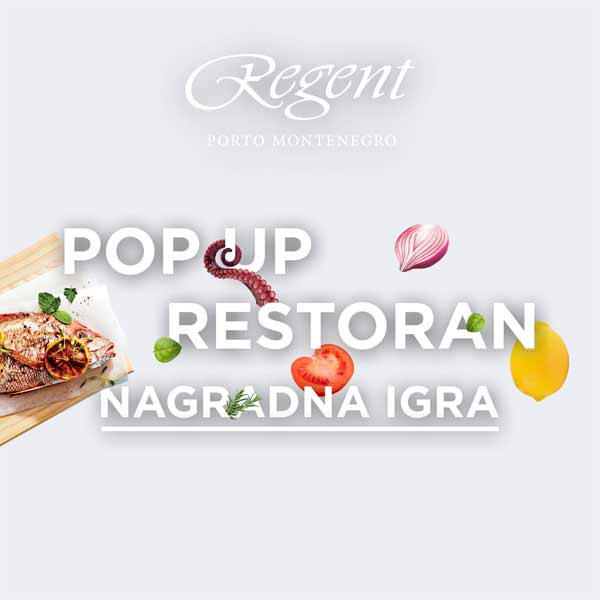 Regent's Pop Up Restaurant Opened on January 19th on the first floor of the hotel.
The guests of the hotel and restaurant visitors will be able to be part of hotel's innovative gastronomic concept every day between 18-22 h until March 15th, during which the gastronomic heritage of Boka Kotorska will be in focus.
"We are announcing a contest for the best recipe and we invite all passionate chefs, gourmets, and especially outstanding cooks who are real virtuosos in the kitchen to share their culinary secrets with us. Send the original recipe of your favorite meal (appetizers / main courses / salads / desserts) by February 1st to the email address fb.pm@regenthotels.com and become part of the new gastronomic dimension of the Regent Hotel. The three best authors will be signed below their meals on the official pop-up restaurant menu, "said Zeljko Knezović, F&B Manager at Regent Hotel, and added:
"We want to give the importance of autochthonous cuisine and tear protect it from forgetting recipes of your grandmothers and mothers and meals that are less and less prepared. This is a call for culinary gathering because we will prepare special dinners with the authors of the best recipes in which the guests will have the opportunity to taste the creations of the local community and Regent's culinary team. "
"Inspired by Boka Kotorska, Regent is harmoniously packed with elegant architecture, nautical interior design, exceptional service that relies on the hospitality of these areas and is crowned with exceptional gastronomy. On this occasion, we invite the public to jointly create a gastronomic postcard in the center of the autochthonous culinary story of Boka", said Kai Dieckmann, General Manager of Hotel Regent.