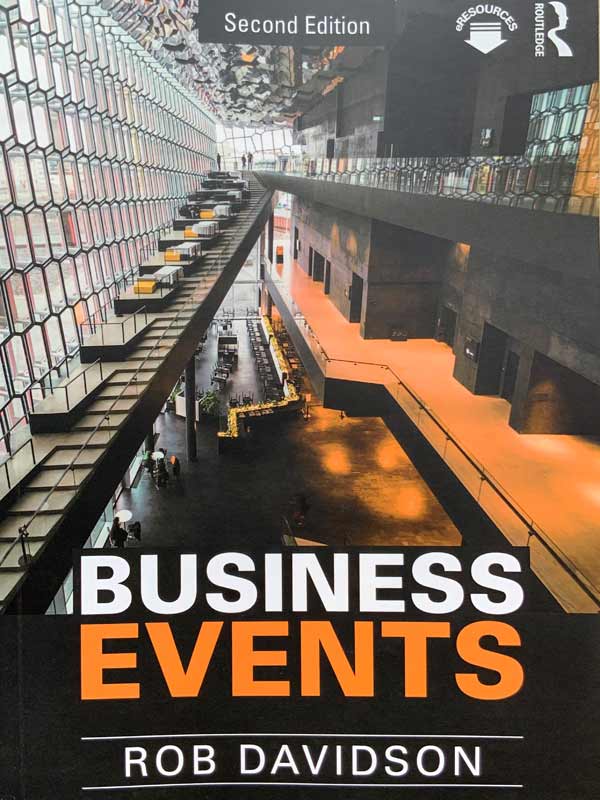 Business Events, a new book by Dr Rob Davidson, the Managing Director of MICE Knowledge and Professor of MICE Management in four European universities, was launched at IBTM World in Barcelona.
The 450-pages book brings together for the first time a complete analysis of all the principal sectors of our industry: corporate meetings, incentive travel, association conferences, political events, awards ceremonies, exhibitions and the important SMERF segment of the market (social, military, educational, religious and fraternal events). Each of these chapters looks in depth at the particular characteristics of each sector and offers expert advice on how such events should be planned in order to ensure their success.
These chapters are followed by others focusing on destination marketing (the role of convention bureaus), sustainability, technology, ethics, education and training for business events. In each chapter, there are detailed case-studies from all over the world, offering examples of best practice and valuable insights from experienced managers working in each type of business event.
Business Events has been written for managers in all sectors of the MICE industry, as well as for university students taking courses in this subject or considering the MICE industry as a career option. It is Rob Davidson's fourth book on this subject. The other titles are:
* Marketing Destinations and Venues for Conferences, Conventions and Business Events
* Winning Meetings and Events for Your Venue
* Business Travel
Rob Davidson said: "In many ways, this book is my gift to the industry that I have devoted my life to for 20 years. It is based on my own knowledge as well as guidance from respected professionals who are active in each of the sectors covered. This book could not have been written without their valuable advice and support. It is ideal for people seeking new ideas and a fresh overview of this industry – the 'big picture' of all the opportunities for planning successful business events that achieve their objectives in a sustainable, ethical way, while making full use of the latest developments in information technology. It was fun and fascinating to research and write Business Events, and I hope that those preparing for a career in our industry, as well as those already employed in it, will enjoy reading it as much as I enjoyed writing it".
The book is available here.