The Convention Centre Dublin (CCD) Official Opening was on 7th September 2010.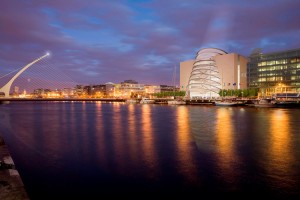 As part of a unique Public Private Partnership with The Office of Public Works, The CCD, is being built on the banks of the River Liffey, and provides Ireland with its first world-class, purpose-built convention centre. This enables Ireland to compete in the lucrative international convention circuit. The contract was signed to build and manage the convention centre in April 2007, The CCD sales team has been successfully selling in key overseas markets and has confirmed over 24 events, which vary in size from 10 to 4,500 delegates. This represents an additional €76.8m in economic benefit for the Irish economy.
Ireland's first purpose-built international convention and event venue is positioned to become the leading premium mid-sized convention centre in Europe. The venue is configured to accommodate conferences from 8 to 8,000 participants in 22 purpose-built meeting rooms. Offering the latest technology, this sophisticated venue includes advanced audio-visual equipment and lighting systems as well as Wi-Fi enabled halls and meeting rooms. The venue will employ approximately 250 full-time staff when operational.