At the very edge of the Fruska gora National Park, surrounded by beautiful nature are the Hotel Premier Aqua and Ethno Complex, a true eclectic blend of tradition, history, and modern achievements intended for people who want to spend their time in an authentic natural oasis.
The luxury five-star hotel Premier Aqua is located in Banja Vrdnik, only 45 minutes' drive away from Belgrade and 30 minutes from Novi Sad.
The hotel boasts 41 luxury rooms, four suites, seven luxury apartments, and the exclusive Premier suite. Each room offers a calming se􀆫ng and a view of the beautiful Fruska gora scenery.
AQUA MEDICA is a specialist clinic for physical medicine and rehabilita tion that offers – along with services designed to improve health– a range of spa, beauty, and fitness programs. Coupled with the expertise of its medical team, all these features add to creating a balance of the body, mind, and spirit. The medical and spa treatments are inspired by upliftiing nature.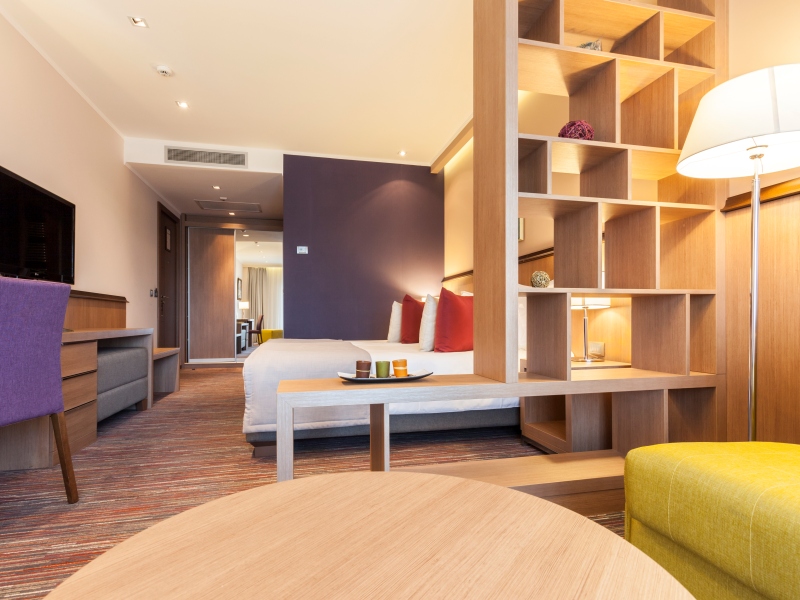 The swimming pools and spa treatments use thermal water, and clean air rich in ozone and a high number of sunshine hours provide an extra balneal-climatic effect on tissue regeneration.
The hotel's KATARSYS center offers a wide range of luxury treatments, the soothing ambiance of saunas and the relax zone, as well as indoor and outdoor pools with
thermal water. The Premier Aqua's sports complex features three tennis courts and a multifunctional recreational area, all meeting the highest standards.
The Hotel Premier Aqua is one side of the Health Path, connecting it to the Vrdnicka kula Ethno Complex, which can be reached by a 30-minute walk or 5-minute drive.
The ethno complex consists of ten ethno suites and a four-star ethno hotel, which has 22 ethno rooms and one luxury suite.
When its guests want to unwind and relax, they can pick from packages and programs designed for their stay, or enjoy the wellness and spa center amenities.
The facilities also include a fitness center, games room, playroom, and a large open-air playground.
Every detail has been carefully designed and developed with a lot of love in a desire for everyone to enjoy the wealth of amenities: An ethno restaurant that offers a variety of traditional gourmet dishes, and a wine cellar that serves only the best Fruska gora wines and the homemade Premier rakijas, which are made from 100% fruit of superior quality.
This complex also offers a number of possibilities for corporate events, conventions, and weddings – the new hall in Vrdnicka kula can accommodate up to 500 guests with full technical support and professional staff.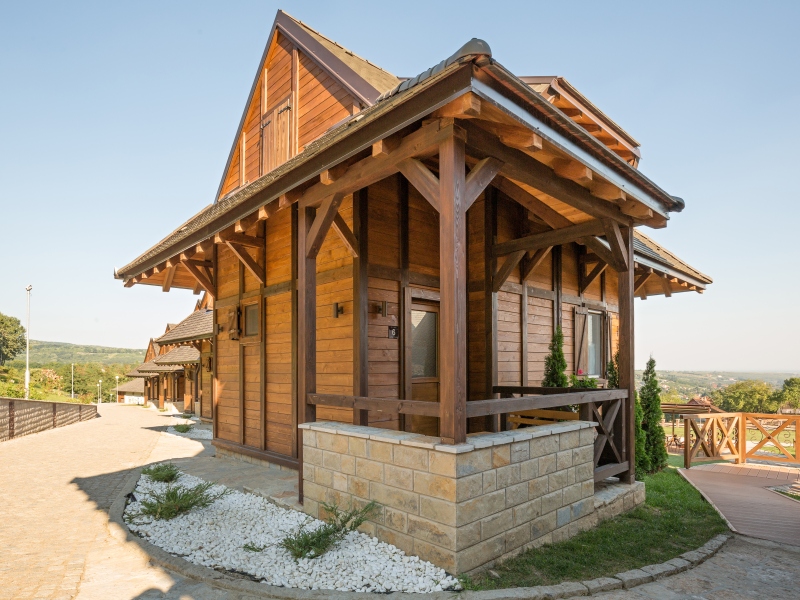 Fruska gora itself is also known as the Holy Mountain since it is home to 16 Orthodox monasteries. Tours led by licensed guides or bike rides are great ways to get to know the surroundings.
This complex is expanding, and its visionary owner has great plans.   For example, a new complex with a large Olympic-size swimming pool at the very edge of the mountain that will create a feeling of floating between the sky and earth, an adrenalin
park that will be something truly special and different, or a ski lift that will connect the two buildings.
The complex has received numerous awards, such as SEEbtm's 2016 Best Wellness and Spa Hotel, Quality Service Ambassador, and Gates of Success – which prove its quality and continuing growth.