Zepter hotel, located in the center of Kozarska Dubica on the river Una, has set new standards for hotel accommodation and services, quality and style. A light, airy environment is true refreshment to the area where the hotel is located, attractive exterior and interior comfort are just some of the reasons to visit this hotel.

Since the hotel is located on the border with Croatia and near the Belgrade-Zagreb highway, for business people is an ideal place to escape from the city and the stress of everyday life, and for tourists site that presents a whole new opportunity for investigations in cultural
and natural resources environment. Zepter hotel is categorized with four stars and accommodation facilities are divided into three levels. The hotel has 8 double rooms, 5 bedrooms with double beds (French bed), 5 suites and 3 de luxe suites. The rooms are equipped with the system of "smart room", and for the perfect atmosphere rooms have custom made furniture, mini-bar, plasma TV, Wi-Fi and cable internet, air conditioning and terrace.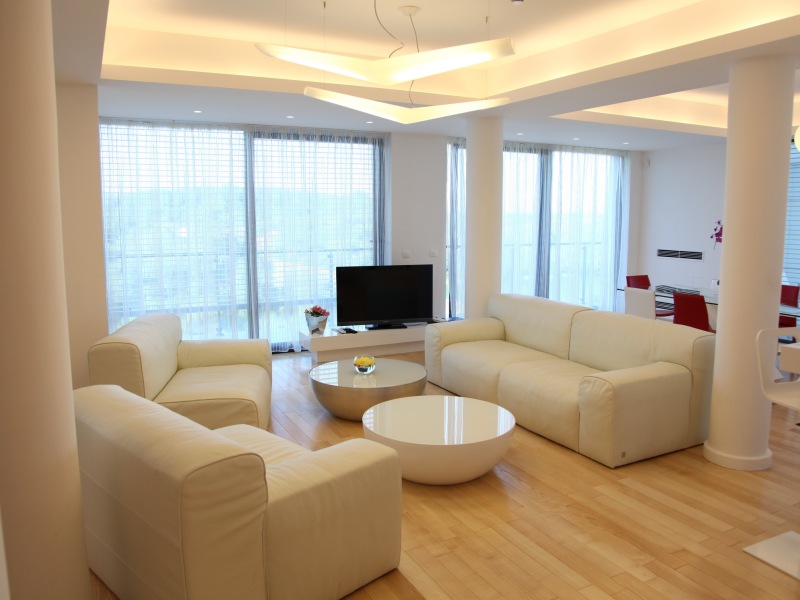 In Zepter hotel, complete and professional service is one of the imperatives of business, and guests have access to the reception service 24 hours, parking, room service and a panoramic elevator. Rich and content offer is adapted to the needs of tourists, business people, athletes… The gastronomic offer is contained in two restaurant spaces. In the Zepter restaurant club, seats up to 100, A-la-carte menu offers a wide selection of dishes from the local and international cuisine and a rich offer of wines, while in Italian restaurant Lido, with up to 50 people, guests will enjoy a wide selection of pizzas and Italian pasta. Beautiful terrace with panoramic views on the river Una, with seats up to 150, is perfect place to relax and rest.
Business meetings in the form of team building, workshops, seminars, conventions and conferences in the conference hall of the hotel Zepter, for your business meetings and needs, it will be in perfect working space equipped with up to 50 seats and space for up to 200 people. For the perfect combination of vacation and fun, relaxation and health care services the hotel offers Wellness and Spa center.
Modern Wellness Center is located on two levels, and besides saunas, steam baths and Jacuzzi, professional team offers a variety of massage, facial and body treatments, waxing,
manicure, pedicure, and guests have at their disposal gym. If you wish for a wedding of your dreams, the perfect birthday party, baptism, a wellness weekend or some other cultural and entertainment event in an unusual ambience in the hotel Zepter you can get a completely
different experience. Professional team, individual approach and technical support in organization, will make your every step special.
One of the Zepter objects in country side is Hotel and Vila Drina in Bajina Basta in Serbia. And if You plan to visit Belgrade, be guest of Zepter Hotel Belgrade.