When organizing an event many planners have to make important and not easy decisions, such as choosing a right destination, hotel, venue or an agency, checking out are there direct flights from their delegate's locations to those destinations, and so on. Of course, they need to negotiate and make agreements with local suppliers.
During the whole process event planners also have to make sure to stay within the budget and time frame. We can all agree that this is not an easy job.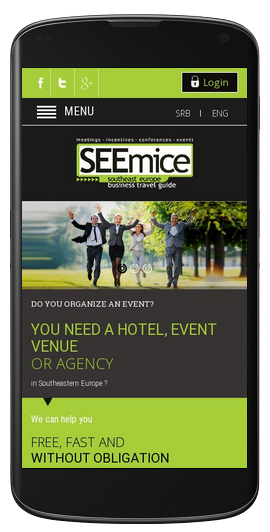 In order to help event planners with choosing the best destination and  finding the right venue in Serbia, Croatia, Slovenia, Montenegro, Bulgaria, Romania,… – in South East Europe in one word, portal www.SEEmice.com was established 9 years ago. And today, www.SEEmice.com, with over 230 meeting suppliers, remains the leading online tool in South East Europe for event planning.
SEEmice.com, together with its sister website www.kongresniturizam.com, for almost 10 years successfully connects event organizers – buyers with meeting suppliers in South East Europe. Today, many of the respective companies, such as Astra Zeneca, Henkel, Bosch, Berlin-Chemie, Strabag etc., are regular users of this websites.
Search is everything, just looking is nothing
In order to fulfill the needs of #eventprofs SEEmice.com was continuously improved during the years, and latest was at the end of 2015, when it was completely redesigned and made responsive on all devices.
Presentations of destinations, hotels, venues and agencies are enriched and made according to the event planners standards.
With all-time updated and all-in-one-place presentations of previously checked hotels, venues and suppliers, finding the best location and venue for the event is very easy.
Thanks to multi-criteria search options, every user of the portal has the easiest way to find the best choice, according to their needs.
Organizers can use QUICK SEARCH to find what they need in just one click. For fine tuning, they can go to the DETAILED SEARCH.
Also, on HOME page there is an option to just click on type of the venue or service that they need, and the results will be shown in broad listing.

After the search, users may add their favorites to MY SELECTION and SEND them RF (separately or one RFP for all selected). Those RFPs goes directly to the suppliers, with notification that they contact them via SEEmice.com. This gives them benefits with obligation of fast response and guaranteed best-price at the moment. And for SEEmice.com team this gives the evidence that they are doing job right.
Thanks to the SEARCH FLIGHTS planners can find out in which country of South East Europe exists DIRECT FLIGHTS from delegate destinations!
If planners don't have time to search suppliers by themselves, they can always contact the team of SEEmice.com on office@seemice.com, which will help them and provide the best offers which will satisfy their needs.