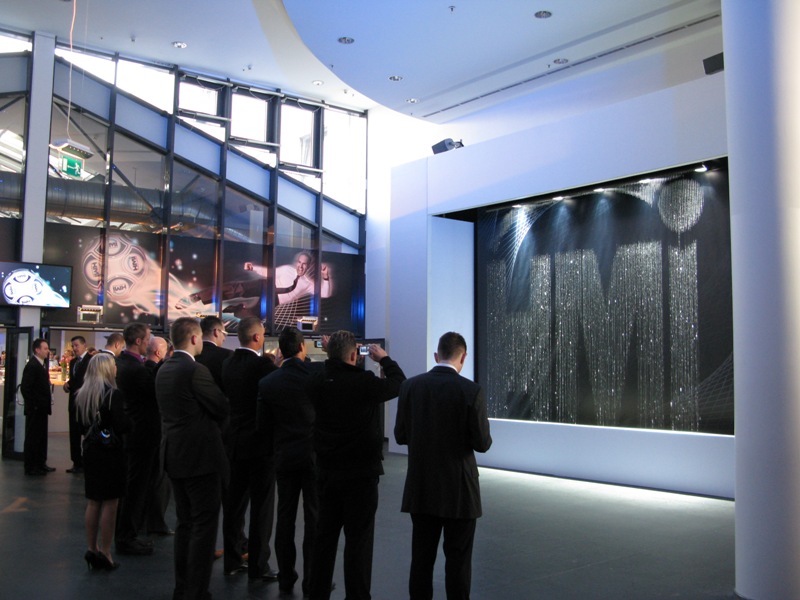 One of the aspects that an event planner needs to consider when organizing a corporate event is how and where to incorporate company logos in a way that will really grab attendees' attention.
As audience expectations grow and clients demand bigger and better experiences for their delegates, so event planners are expected to "think outside" the box in today's corporate events industry. Producing events that are unique, thoughtful and introduce exciting ideas are a must; and that includes the display of corporate logos.
The reason that many businesses host a corporate event is to promote and reinforce a brand or product, so the use of creative concepts to display logos is essential. Here, we look at inspiring ways to display company logos throughout a corporate event.
Logos to Greet Guests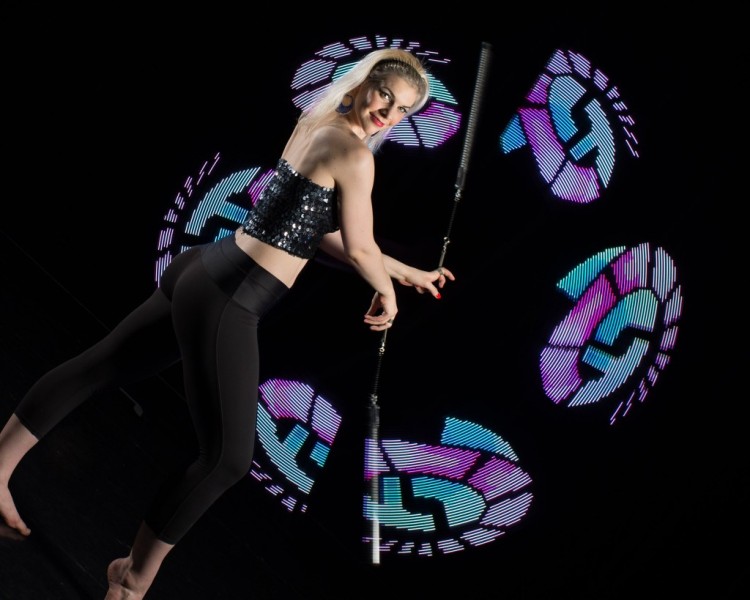 One area that is very often overlooked by event planners is the arrival of guests at a corporate event. Banners and flyers have their place, but in order to really stand out from the crowd event planners need to tailor every aspect of their event to individual clients.
Don't waste this opportunity to emphasize and reinforce company logos and branding as attendees arrive.
* PIXEL POI
This is an eye-catching and visually stunning LED display that can incorporate logos or images. Pixel Poi LED illumination offers event planners a completely bespoke design that is guaranteed to get plenty of attention!
* SAND SCULPTURE
A beach is not needed to create a stunning 3D sand sculpture to greet guests at an event. High profile brands around the world have used teams and individual sand artists to create bespoke sculptures of logos and products to great effect.
* ROBOTS
This option offers clients a walking, talking logo display that will meet and greet guests on arrival. Walk-around robot acts are a high tech option to display company messages or logos, whilst interacting with delegates. A real talking point for any event.
Eye-Catching Logo Displays
As more event planners ask for innovative ways of revealing logos and branding at corporate events, so specialists in event displays have been quick to respond with ever-increasing creative and high tech options. From lasers and LED to water holograms, there is a plethora of eye-catching ways to display logos and grab attention.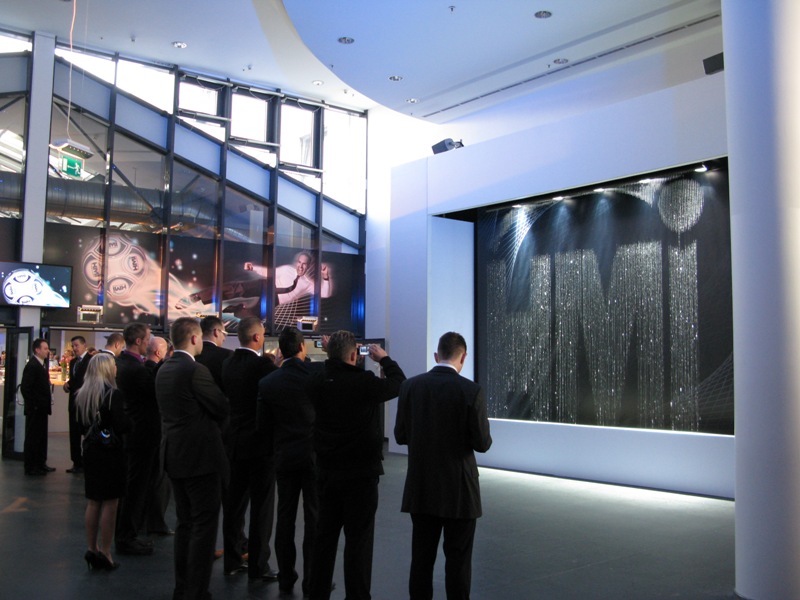 * BUILDING PROJECTION
Video Mapping Wow your guests on arrival with a projection of your corporate logo, branding or message on the venue building itself. This is guaranteed to impress guest and is an exciting way to display logos on a large scale.
A form of video mapping that uses technology and unique customised graphics to stunning effect on buildings and structures.
* GLASS ARTIST
Don't waste valuable space on which to display company logos at your event. Did you know that windows, mirrors and other glass surfaces can be used to display branding to great effect?
A live glass artist can be used to create logos, messages or even caricatures of CEOs at your event venue.
* INFORMATION WATERFALL
Dare to be different and pull out all the stops with this information waterfall. A water feature with a difference, Aquascript create stunning spectacles using technology, water and special lighting. Your guests will be left inspired as they watch in amazement as words and images are captured by droplets of water.
Edible Logo Displays
Event planners and caterers are increasingly using food as a means to showcase logos and satisfy their corporate clients' appetites. But apart from customised cupcakes and branded menus, there are a new generation of artists, caterers and performers who offer more unusual options.
* COFFEE ART
Using just a coffee machine and years of creative experience, a coffee artist creates little cup size works of art that will dazzle guests before being drunk. Impress your attendees with a cup of coffee that has company logos or images on top.
* ICE CREAM GIRLS
Serve up a delicious, branded sweet treat with a troupe of bespoke ice cream girls. This option comes with fully customised ice creams, trays and outfits for an unforgettable, and tasty, experience.
*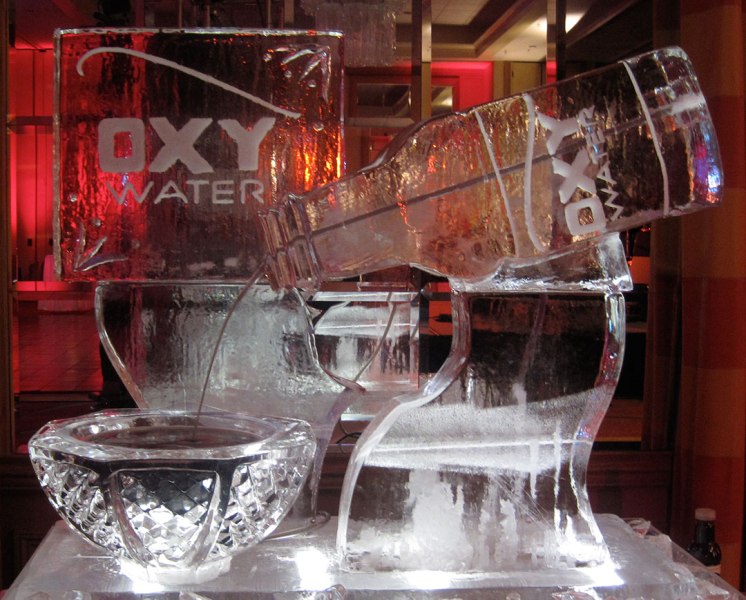 ICE LUGE
Not only will guests be able to watch a master ice sculptor at work, but the end creation can be used as a drinks Luge. This is the perfect way to customise your event and showcase a logo in a "refreshing" way. Ice luges are a "cool" centrepiece that can chill drinks and engage delegates.
To Conclude
Hard pressed event planners sometimes struggle to source unique or innovative ways to display logos in order to capture the imaginations of guests and inspire attendees. Fortunately, the creativity of those supplying the corporate events industry means that there are some exciting concepts to be found if you have the time to look.
The ideas mentioned in this article are just a few of the more unusual ways that logos can be displayed at events that have the added bonus of creating a real talking point amongst your guests and ensuring that brands and businesses get as much exposure as possible.
By: Amy Capron
---
Amy is a former journalist and a recent award winning Events blogger. She is Media Manager for Scarlett Entertainment, a destination entertainment specialist representing more than 5,000 acts in hundreds of locations around the world. Scarlett Entertainment provides entertainment for corporate events, product launches, trade shows & exhibitions and more!