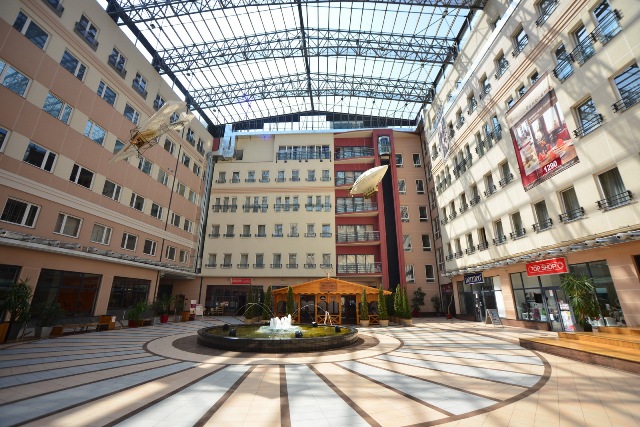 Hotel Galleria is reputed to be the best, most aesthetic and cleanest hotel in Subotica with a total of 90 accommodation units, there of 78 double rooms (30 sqm), 2 rooms for persons with special needs (30 sqm), 7 standard (60 sqm) and 3 deluxe suites (presidential (120 sqm), royal and honey-moon (90 m2)).
The hotel houses 7 conference halls of various sizes in order to respond to its client demands from small-scale seminars to large-scale conferences.
In addition to conference and accommodation capacities, Hotel Galleria is home to one of the nicest Wellness centres in the region – Galleria Wellness centre covering 1,600 square metres.
Galleria Wellness offers Finnish saunas, Turkish baths, Dr Kneipp water therapy, tepidariums, a relax room, a salt room, hydromassage tubs, a top-class body massage and treatment programme, tanning beds, a brand new modern beauty salon, as well as many other services available both, to hotel guests and to non-hotel guests.
Since 2013, the hotel has featured the state-of-the-art TVs and the latest hotel TV system.
The hotel also houses several catering facilities:
Pavillion restaurant, at 6th floor on the roof top, serves buffet breakfast to its guests who can enjoy the view of the whole town of Subotica.
Panorama restaurant, at 5th floor, is a board restaurant for the hotel guests, but also an ideal venue for business lunches or celebrations with a 200 people capacity. The restaurant also offers a magnificent view of the town.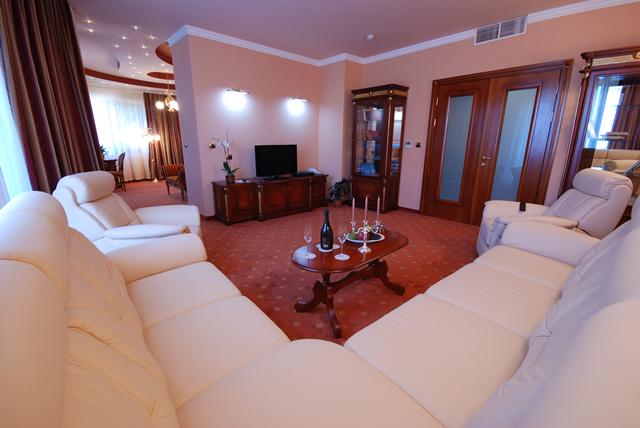 Ballroom, at 5th floor, with capacity for 350-400 people, is one of the nicest staterooms in this part of Serbia. With round tables, a dance floor and a magnificent ceremonial interior, this is the favourite room for weddings and corporate celebrations in Subotica and its vicinity.
Restaurant Munich – Bavarian Ale House, close by the hotel reception, is an authentic Bavarian cuisine restaurant. In addition to Bavarian specialties there is also a special selection of Bavaria's best beers.
Fast food restaurant Atriums place, in the hotel atrium, includes a restaurant with a self-service line, a daily offer of fast, always fresh and quality meals.
In addition, the hotel owns 200 parking spots at levels -1 and -2, also a fitness centre with more than 30 apparatuses, a hairdresser and a supermarket. The entire hotel is WiFi covered. On the social network Facebook, hotel Galleria is one of the most active hotels in the region, and if you want to make sure for yourself, visit facebook.com/hotel.galleria
+381 24 647 294
Matije Korvina 17, Subotica