This year ibtm world will be held from 29th November to 1st December, at convention center Fira Gran Via in Barcelona. For this number of SEEbtm magazine we talked with Mr. Graeme Barnett, Senior Exhibition Director, who gave us some insights of the ibtm world, as well as his opinion about new trends in MICE industry.
SEEbtm: How many exhibitors and buyers do you expect this year at ibtm world?
Graeme Barnett: ibtm world is the leading international annual event for the meetings and events industry and is also the flagship of the ibtm events portfolio. Thousands of products and services that support the sector come together in Barcelona each year.
On average there are 3,000 exhibitors representing international DMC's, hotels, destinations, CVB's, venues, event services, technology companies, PCO's and brands that are integral to the industry.
With Hosted Buyers and trade visitors, ibtm world creates a community of some 15,500 industry professionals doing business, networking and joining the education sessions.
SEEbtm: Can you tell us something about the profile of the buyers? Are buyers mainly corporate or Associations, the average size group and similar?
Graeme Barnett: To be accepted onto the ibtm world Hosted Buyer programme all applicants are required to demonstrate that they have responsibility for placing international business.
The profile of the buyers include association, corporates, PCO's and agencies and have a number of job roles but they all have to qualify their eligibility based around a set of criteria including their annual budgets, purchasing authority and future business objectives.
ibtm world does work with selected Group Co-ordinators who commit to recruit 10 or more senior level buyers to attend with them at the event. Equally over 20% of the programme is based on individuals who prefer to create their own timetable at the show. With some 4,000 places available the international team behind the creation of the Hosted Buyer programme looks to qualify attendees from all over the world.
Those wanting to apply to attend ibtm world 2016 or find out more about the programme can email ibtmworld.hosted@reedeco.uk
SEEbtm: If you could single out one current trend with the deepest influence (by your opinion) in the meetings industry, what would it be?
Graeme Barnett: Probably the one that seems to dominate the most right now is the continuing advancements and innovation that technology brings to this sector.
Technology has been the number one driver of change for this industry with so many influencing factors that require event planners and producers to think more about how best to engage audiences.
Meetings planners all across the globe are placing more and more emphasis on incorporating the latest technological inventions into their meetings and events.
Rob Davidson, Managing Director of MICE Knowledge predicted in his 2015 Trends Watch Report that communications technology was one of the top sectors to experience growth in 2015 and that as technology continues to advance, cyber security is becoming an increasingly important issue among MICE professionals; over 44% of technology company CEOs regard information security (cyber) risk as the biggest risk to their organization.
Davidson's research also concluded that fostering innovation and implementing disruptive technologies are the top strategic priorities and seen as a key strategy for growth.
For example, over 50% of technology CEOs are devoting significant capital to new product development and the same percentage are investing in machine-to-machine technologies, industrial intranets and other aspects of technology.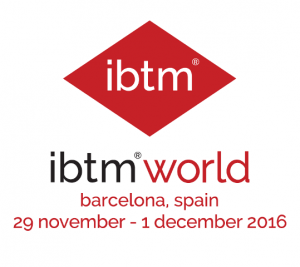 To support this sector and the need for the industry to keep up to date with it all, we have focused on showing technology "live" in an area we call ibtm world Innovation Zone. It is here where attendees can experience, interact with, and learn about the latest technology innovations and revolutionary solutions.
Each year our independent panel of judges shortlist ten applicants for the Technology and Innovation Watch Award who are then given the opportunity to conduct live demonstrations of their "winning" products to attendees.
Applications for the ibtm world Innovation Zone will go live this summer and we can't wait to see who the next 10 rising event technology stars will be at this year's show!
SEEbtm: And one short question for the end, why did EIBTM changed its name to ibtm?
Graeme Barnett: The change took place 2 years ago and was part of an overall re brand for the global portfolio of events.
It became crucial that each event had a clear position in the market, locally, regionally and internationally, ensuring that our flagship event in Barcelona was positioned and branded as the "world event" – hence ibtm world.