SEEbtm: We welcome Goran Vlasic, Council Chair of the Innovation Institute from Zagreb. We can start with what is Innovation Institute and what does it stand for?
Goran Vlasic: Innovation Institute is a non-profit organization aiming at value creation at individual and organizational levels, by nurturing creativity, innovation, unorthodox thinking and dogma questioning.
Since its foundation, Innovation Institute has been a disruptive force developing and delivering programs that facilitate genuine intellectual and creative growth of its participants thus enabling new value creation.
Through various educational programs Institute strives towards mindset- changing experience that will make a strong impact on individuals and companies and deliver results in the long run.
SEEbtm: What makes Innovation Institute's programs different, especially for regional managers and entrepreneurs?
Goran Vlasic: Innovation Institute's programs focus on delivering A Different View® on pressing business challenges.
Focus is on understanding the underlying principles that drive different business-related phenomena. Therefore, we are working only with regional and global top professors who significantly impact their disciplines. Such professors include prof. Barnett (Stanford), prof. Bradley (Harvard), prof. Deighton (Harvard), prof. Chandy (LBS), prof. Carpenter (Kellogg), prof. Gultekin (Wharton), prof. Sitkin (Duke), prof. Massa (INSEAD), prof. Troilo (Bocconi), etc.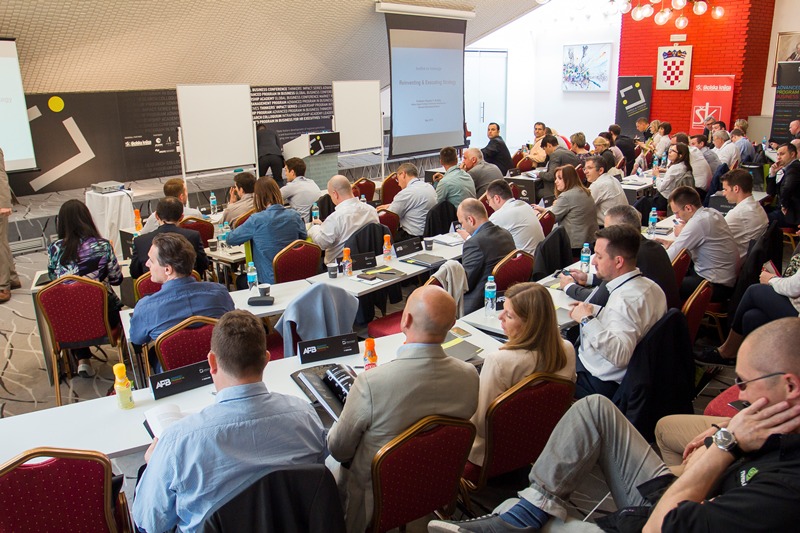 Institute's programs expose participants to key global trends, cutting edge research, and best global practices allowing them to be creators of best practices, rather than mere followers.
Besides immense personal development opportunities, Innovation Institute's programs enable valuable networking opportunities as regional top managers intensely interact to address each-others' pressing issues.
SEEbtm: Why should managers and entrepreneurs (especially if they are highly successful) engage in education? Their time is highly scarce resource – why "waste" it on education?
Not every education program is the same. That is why Innovation Institute focuses on delivering underlying principles that challenge dominant dogmas of companies, markets and industries. As one becomes better in a certain industry/ job he/she faces the "curse of success" increasingly exploiting existing competences, focusing on processes and optimization, but potentially dooming the company in the long run.
Try to name 15 companies globally older than 150 years. It is rather difficult since as companies and managers become more successful, their short-term results enhance but generally limit their future potentials. While education focused on skills and known knowledge is truly a "waste of time" for top performers, education that Innovation Institute delivers focuses on higher-level mindset-changing programs.
Although knowledge and skills can be learned via books, on-line courses and videos, Innovation Institute's mindset changing programs develop foundation for an immense individual and company growth balancing the short-term and long-term results. Innovation Institute's programs are focusing on value creation where innovation and growth become logical conclusions of well-developed mindsets and systems, rather than random events (which is what one usually thinks of innovation).
SEEbtm: We can see that some of the best and biggest Croatian companies have recognized the value Innovation Institute's educational programs provide. What are your plans for further expansion in the region?
Goran Vlasic: The key to achieving persistent value-creating disruptions lies in Innovation Institute's close partnerships with great companies which recognize the importance of innovation and new value creation.
Our goal is to extend cooperation with regional companies and bring even more managers outside Croatia to engage in our programs and to excel competitiveness and innovation potentials in the region. We are now in the process of partnering with great partners in Slovenia and Serbia and we are convinced that we will engage in many successful and long-term partnerships.
SEEbtm: Let`s go back to value-creation. How does Innovation Institute specifically engage in value-creation for regional companies?
Goran Vlasic: In order to enhance innovation based value creation:
a) Innovation Institute works closely together with companies to:
1. Create innovation culture grounded in the value-creating mindsets of everyone involved that are instilled through a set of values, principles, practices and problem-solving approaches;
2. Implement Innovation Institute's proprietary InnovationChecklist® approach that enables structured step-bystep approach to creativity and innovation thus maximizing organization's innovation potentials;
3. Develop innovation system that creates a systemic development, nurturing and implementation of ideas into commercial successes.
b) Innovation Institute works closely together with value-creating individuals and teams to:
1. Challenge and develop their intellectual and creative potentials, through programs that aim primarily at developing individuals' mindsets and knowledge.
2. Challenge and develop their productive potentials, by jointly enhancing their idea's potential and facilitating its development into a plug-and-play project solution.
SEEbtm: Lastly, what do you believe is key for regional development?
Goran Vlasic: As long as we only observe what others are doing and aim at "implementing the best practices", our region will always be a follower.
While it is a relatively safe position in the short run, in the long run such strategies lead to competition based on price. This can be seen in many industries in our region.
While this can seem like a good strategy – there is always someone somewhere globally who can deliver at lower costs.
To become relevant globally, our region's top thinkers must be exposed to the underlying principles that drive economics and business in order to be able to deliver global innovations which have a power to change industries. This is the value creation that Innovation Institute aims to achieve in its programs. For example, as platform economics are entering increasing number of markets and industries, it is paramount that managers understand the underlying principles of such new market realities.
Therefore Institute's next program is Leadership Program focusing on Business and Tech, which aims to expose participants to principles behind businesses that compete on a platform vs. as a platform (e.g. Booking.com, AirBNB, etc) and how to integrate consumer lifetime value as one's strategic goal instead of market share and such traditional measures of performance.