Filled with traces of crossings of different cultures and religions, Bosnia and Herzegovina can be distinguished by her magnificent heritage such as the mediaeval tombstone – Stećak, the Old Bridge – Mostar, the Vjetrenica Cave, the Hutovo Blato National Park, the European rain forest – Perućica, Bosnian pyramids, and many other monuments.
As for special venues for corporative events organization, we pointed out several of those which can attract attention in every respect, providing for an unforgettable experience to those who visit them.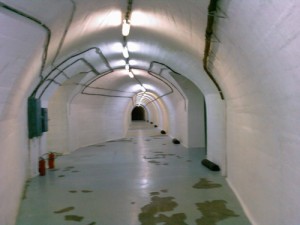 ATOM WAR COMMAND (military code name D-0) is located near Konjic, inside a hill, at the foot of Mt. Zlatar, constructed by former YNA (Yugoslav National Army) on the surface area of 6.500 sq. m.
Situated at the depth of 280 metres below ground level, the bunker was erected with the intention of having it operational in case of (atomic) war as the centre of military operations (bomb shelter for the Supreme Command HQs.), and as a shelter for president Tito, his family and closest associates.
The construction, reminiscent of a labyrinth with more than a hundred rooms and fully preserved inventory (consisting of numerous residential apartments, conference halls, offices, and a presidential block of rooms), was designed to provide space for unobstructed living to 350 people for 6 months. Until the '90s the construction (lasting from 1953 to 15 September 1979, with 4.6 billion US dollars invested) and existence of this bunker was a top secret. Some interesting points concerning the building are:
– Over 20.000 tons of earth dug out mostly by hand out of Mt. Zlatar
– There are 6015 neon lamps inside
– Only 19 persons knew about the existence of this construction and they kept the top state secret for 37 years
– The building has its own potable water, ventilation, cable system, and 2 tanks with 25 tons of fuel
– General Headquarters – Supreme Command rooms are 275 metres below ground level in reinforced concrete
– Tito's office is 220 metres below ground level, it measures 5.57 m. x 3.20 m.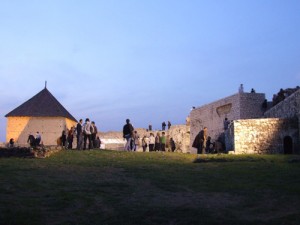 TEŠANJ TOWER – Tešanj is a combination of past and modern, and it has a fortress dating back from the Illyrian period.
In the mediaeval times the fortress was largely reconstructed and enlarged, later on it was annexed by a clock tower which is operational even today. The fortress has two ramparts and a catering facility.
Beside the fortress with its numerous cultural-tourist manifestations, guests in Tešanj can also visit Ferhad-bey's mosque from 17th century, constructed by Ferhad-bey, relative of Sultan Suleyman the Magnificent. Tešanj Fortress houses a stage situated at a 'plateau' within the Fortress, a very interesting venue for seminars, conferences, and similar.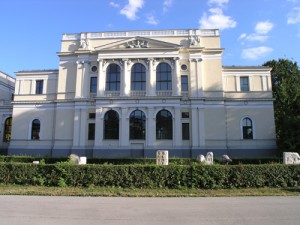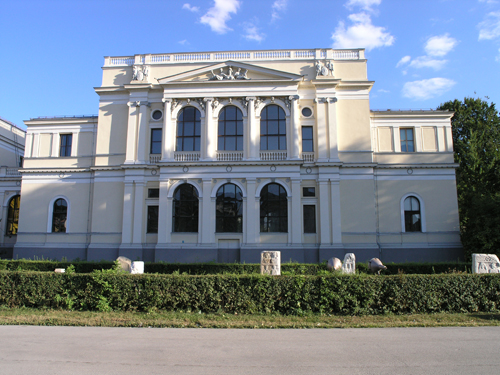 THE NATIONAL MUSEUM OF BOSNIA AND HERZEGOVINA – Capacity of 200 – 300 people, can be a good choice to organize various manifestations and cultural-entertainment programmes, balls, and receptions.
Beside the indoor facilities, there is a magnificent open space, the Botanical Garden, with the capacity of 500 seats. www.zemaljskimuzej.ba
BOSNIAN INSTITUTE – A particular place within the Bosnian Institute complex is occupied by the Gazi Husrev-bey Hamam.
It is the space where Oriental architecture is complimented in a unique way with modern arrangements, creating a beautiful and cosy ambience where vivid cultural activities are nurtured and developed.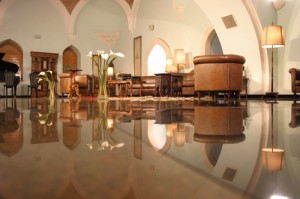 Hamam, with its capacity of 100-120 seats, is a venue for numerous cultural events, such as book promotions, literary evenings, concerts, exhibitions, but also a spot where people can socialise and meet one another.
The work and overall activity of the Bosnian Institute is developed according to the highest standards. So, inter alia, the Institute also houses multi-media rooms used for exhibitions, promotions, concerts, symposia, round tables, lectures by distinguished professors, scientists, and so on. www.bosnjackiinstitut.ba
Cultural Event of Europe
Biennial D-O Ark Underground Time Machine was held on 27th of May 2011, when it was ceremoniously opened. A Finnish artist, professor at the state Academy of Arts, Villu Jaanisoo, renowned for his large-scale installations, aided by four Finnish students of fine arts and five students of the Sarajevo Academy of Fine Arts, as well as twenty young volunteers from Konjic, organised an exhibition of his artistic works in Bloc 9, that is in the energy bloc of the Atom Shelter. www.bijenale.ba