This new city hotel is in Belgrade's vibrant business and entertainment district, close to the city centre and with a great connection to the airport.
Hotel offers a modern design, comfort, excellent service and a high level of conference space functionality.
Perfect for business travel and conferences as well as for sightseeing trip to this booming metropolis in the Balkans.
1. Falkensteiner Hotel Belgrade****s operates since December 2012. Could you look back on current business and tell us what are the plans for the future?
Falkensteiner Hotel Belgrade has celebrated its second birthday in December last year. We are very satisfied with the results we achieved which are quite good for the first two years of business. With its modern design, excellent service and teamwork above all, hotel has been a real novelty among the other city hotels and we are very pleased that the guests have recognized it.
So far, the hotel has been visited by many guests from all around the Europe and Serbia. We are very satisfied with the positive response from all the guests who stayed in our hotel.
However, there is always space for further development. As for our future plans, they have been clearly specified in the business strategy of the hotel.
The main goal of Falkensteiner Hotel Belgrade is to develop itself as the market leader in the segment of corporate guests.
That means that our attention will be turned mainly to business travellers and conference industry, but our offer will certainly include all the comfort that the foreign enthusiasts of the city tourism require.
Therefore every month, we are trying to attract individual guests, with new and attractive offers.
2. You mentioned that the main objective of the Falkensteiner Hotel Belgrade is to become a leader in corporate guests segment and conference industry. What are the main advantages of the hotel on the basis of which you implement these objectives?
When it comes to the meeting and events, in such a short time Falkensteiner Hotel Belgrade has taken a competitive spot in Serbian capital with its excellent service in congress tourism.
Our hotel offers first class conference facilities spread across 700 square meters.
All clients can choose between four conference rooms with the capacity up to 150 people, and which, upon the wish of our clients, can be combined by moveable walls.
There are also two boardrooms with the capacity up to 12 and 16 people, and each room is equipped with the most modern technology, such as LED screen, video projector, flipcharts and other necessities.
Besides, Falkensteiner Hotel Belgrade is situated in the heart of business and commercial zone of New Belgrade, near the city centre and big shopping centres, with great connection to the airport, which is at the same time a great advantage of every business hotel.
Compared to our competitors, our hotel offers a wider selection and higher quality of services with an excellent combination of the traditional hospitality and the modern world trends. Belgrade, as the regional city, has strong needs for such hotel especially now, with omnipresent increasing trends of new investments.
From small business meetings, press conferences, seminars and congresses to weddings, Falekensteiner Hotel Belgrade provides a "turn-key" service where our expert sales team takes over organization of the events from the idea to the realization, in accordance with the wishes and the requirements of clients.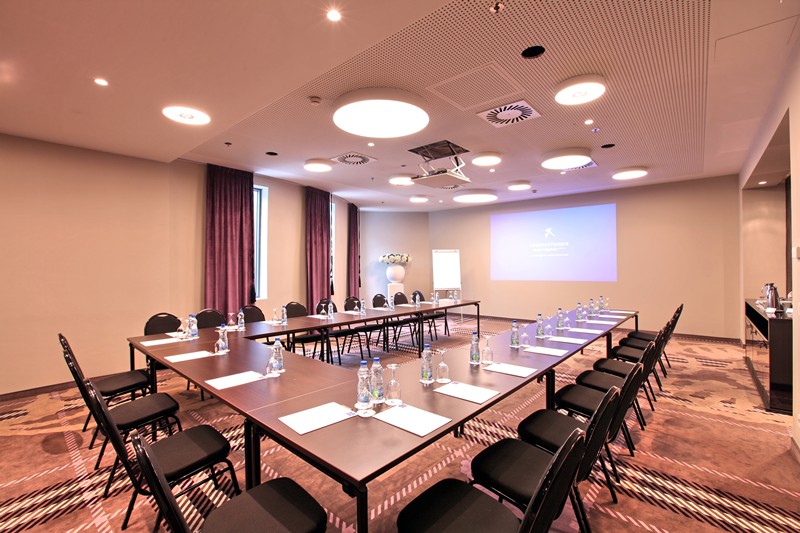 3. Could you point out some of the events organized in your hotel that you are particularly proud of?
One of the biggest events held in Belgrade was the Third Meeting of Heads of Government of China and Central and Eastern Europe in December 2014.
Falkensteiner Hotel Belgrade hosted 15 Prime Ministers and delegations of countries participating the meeting, during which bilateral meetings were also organized in the hotel.
Falkensteiner Hotel Belgrade is also known as a host of many sport events in the country.
Beside tennis national team during Davis Cup and national teams of World Women's Handball Championship, hotel hosted national teams of European Rowing Championship in 2014.
Falkensteiner Hotel Belgrade is a superior four star hotel which enchants with its impressive futuristic exterior furnished with the supreme equipment and warm atmosphere. 170 rooms and suites, out of which 28 Luxurious Royal rooms, 7 Junior Suites and 1 Senior Suite, with the saloon for cigar lovers, business saloon with a balcony on the 9th floor, the City SPA centre, as well as the conference space with banquet hall on 700 square meters, these are all key elements of the hotel.




The entire project and modern design with its various purposes in the business zone of Belgrade, was created by Boris Podrecca, the worldwide famous architect.