Medical industry is said to be recession-proof. In 2009, a historically bad year for exhibitions, government/nonprofit conventions and m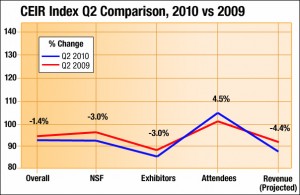 edical exhibitions were among the best performing industries measured in the CEIR Index annual report, released by the Center for Exhibition Industry Research in April. (www.ceir.org)
The overall rating is based on four metrics that the CEIR Index tracks. The government, public, and nonprofit services (including associations) sector performed best, remaining flat overall. Attendance grew 6 percent and the number of exhibitors climbed 3 percent. However, revenue and net square footage of exhibit space were both down 5 percent.
Medical exhibitions declined just 4 percent overall. Revenues were actually up 1 percent, but attendance and number of exhibitors were both down 6 percent. Net square feet of exhibit space was down 4 percent. Medical exhibitions remain the largest single chunk of the exhibition industry, representing about 23 percent of all shows.
Other sectors that performed relatively well were industrial, raw materials, and transportation—each down 6 percent. The worst performing sector was consumer goods, down 16 percent. Building/construction and food were each down 15 percent.
What's in Store for 2010?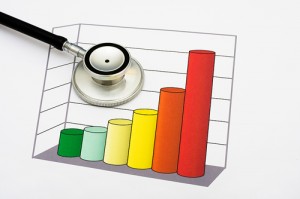 The government/nonprofit sector is expected to outperform again this year, thanks in large part to federal government stimulus spending. However, the sector will once again be challenged to see revenue growth as corporations and individuals have less money to donate to charities.
Healthcare reform is expected to have a positive impact in the medical expo sector. "The industry is expected to continue growing in the coming years, and medical and health care exhibitions are projected to continue growing and producing revenue as well, outpacing all other sectors," states the report. "In addition, exhibitions will remain an important venue for training, education, and certification."