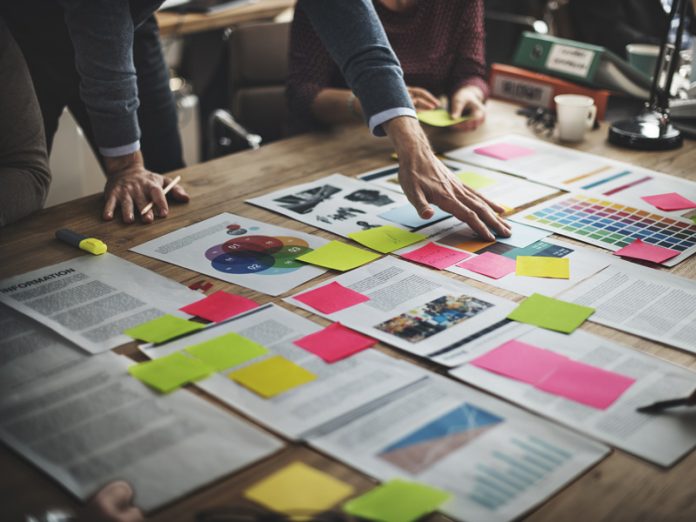 Every business is characterized by the key attributes and skills that one need to possess and improve in order to perform such a business successfully. This edition will be focused on our research of which attributes and skills make a successful event organizer.
How to avoid common mistakes? And if those occur, how to solve them? What advice to give to young colleagues? We asked these questions the experienced regional event professionals from companies, hotels and agencies.
If you are wondering what features you need to be successful in the business of event organizing, most importantly, for a start, is that you are kind and patient. Sociability, understanding of needs, attentiveness and a skill of establishing good relations with people
are, in general, important in all aspects of event management. Participants in the survey emphasize the passion, enthusiasm and energy in this business. Without these qualities, it can happen that you quickly "burn out". Almost equally important is that you are reliable, consistent and self-confident, confident in your abilities and your performance, which will further help you to be able to make decisions quickly, which is one of the skills that the participants in this survey indicated as a priority.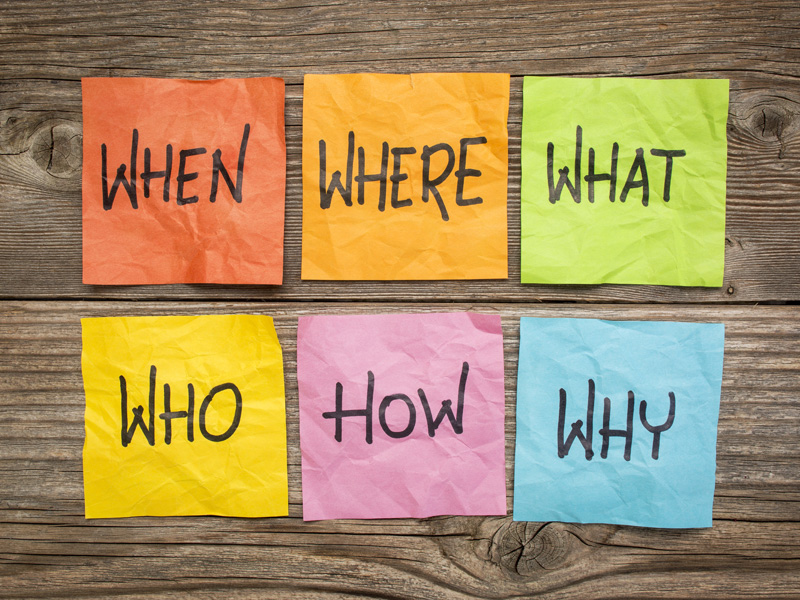 If you work in a company and you are responsible for the event organization, it is necessary to handle all the information related to the event, to know its goal, to understand it – so as to make sure of what you are doing and requiring further in the chain of the organization processes. Also, if you work in a hotel or some other venue, it is necessary to know the premises themselves as "your pocket", their surface, capacities, possibilities of adaptation and the like. The more detailed, the better.
The next issue of importance is that you are flexible to the requirements and adaptive to the current or newly emerging situations, which further has to do with empathy and needs understanding, but also patience, as mentioned at the beginning. In order to be engaged in this work, you certainly need to be creative as well, which you will often need for the purpose of creating something unique, or perhaps for solving some problems, or to offset the budget deficit. Precision, accuracy, being organized and skilled are some of the qualities without which you will not stay long in the business of event planners.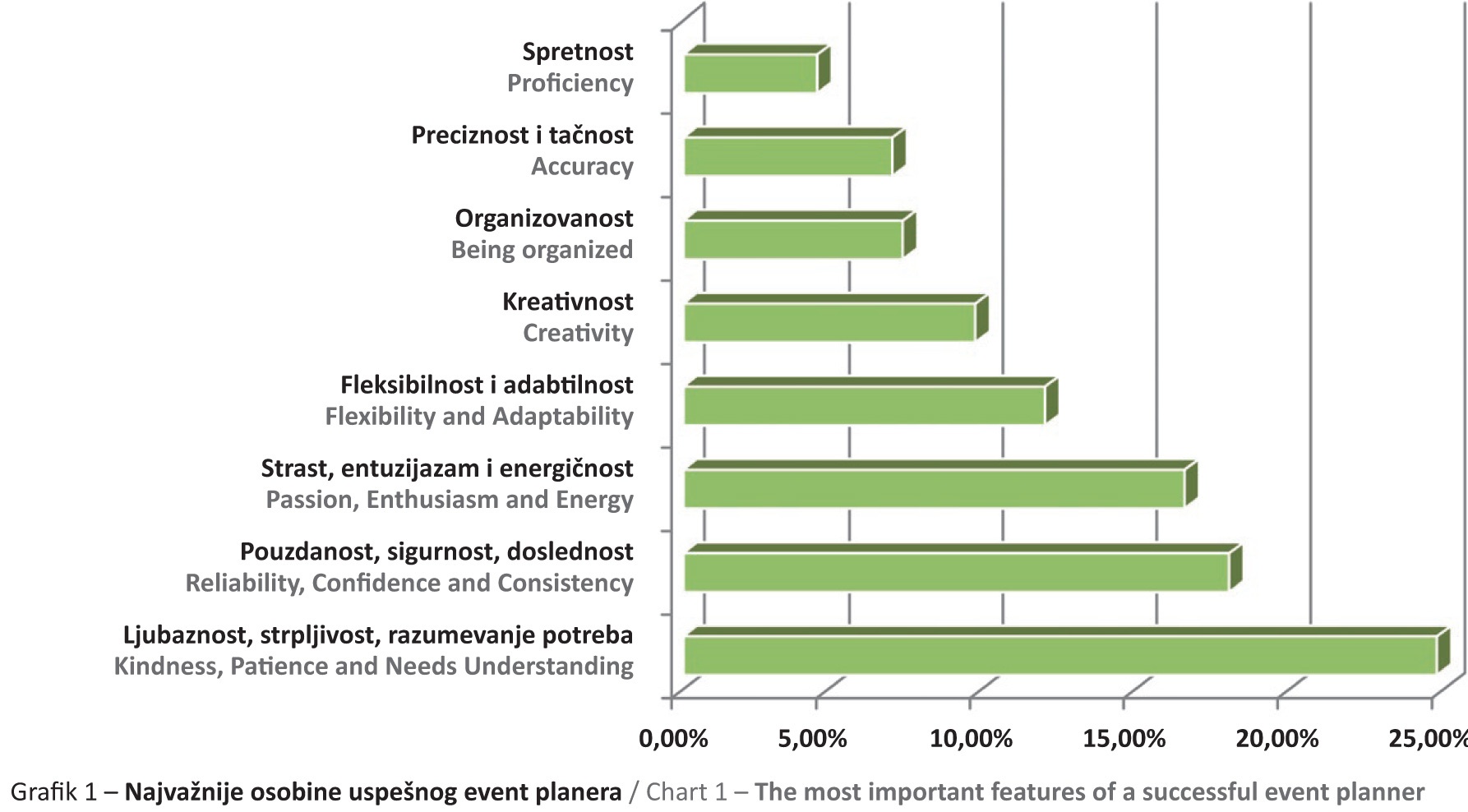 As for the skills, the highest position belongs to the communication skill, listening to speakers and accurate transmission of information. The next important one is the resourcefulness, as well as the ability to set and then achieve the goals. Without organizational skills, those would be difficult to achieve. Negotiating skills are also important in this business, as well as the ability to take all parts of the business as a whole, or, in sport terms, it is necessary to have a good overview of the game, but also to be a team player.
When planning the event, which usually lasts longer than its realization, the event professionals who participated the survey believe that the most important is to well
design and set up a goal, and, accordingly, create the content, make a strategy and plan, as well as well choose the associates, then clearly define the offers, service and conditions. Timely agree on and confirm the venue as well as the list of participants, and always have a plan B. A detailed plan and the overview of all activities with precisely defined deadlines for each phase of planning the event, but, at the same time, one should take into account not to miss to keep the track of the general picture.
The most common errors of the event planners
As stated by the event professionals who participated in this survey, the most common mistakes result from a poor communication, failure to envisage a risk, insufficient
elaboration of the event or necessary details and timely manner. Therefore, the most common mistakes are the following:
· Lack of understanding with the client – the client thinks of and considers included some of the services or conditions, while the planner does not check those or is not sufficiently clear during the bidding (verbal and/or written)
· Failure to envisage a crisis situation or risk
· An unknown number of people attending the event
· Lack of knowledge about the target groups
· Inattention to details
· The information not being forwarded in due time
· Do things at the last minute
· Managing the activities orally, without a plan
Unforeseen situations in practice, even with the detailed planning, yet occur from time to time. In such a case, resourcefulness, calmness and flexibility comes into play, and we convey to you a couple of examples from personal experience of event professionals from a hotel.
Vesna Vlatkovic, Marketing & PR Manager, A Hoteli
I was a guest speaker at a meeting where the technique "failed", and, instead of a planned PP presentation, I said to the listeners: "As I know that, when communicating with the customers, you have nothing but yourself, I will turn off the computer now and show you that I can convince you with only the words". It was one of my best speeches because my adrenalin phase "forced" me to give my best.
Bojana Kuzmanovic, Manager of the Sector for Congresses and Meetings, MK Resort
Problems are solved by a quick reaction and finding an alternative solution. For example, when a video screen in a hall broke, guests were invited to a cocktail while the other hall was set up, in order to continue the smooth running of the program.
Ranka Gismondi, Event Manager, Milenij Hotels
In the midst of a great outdoor event, it unexpectedly began to downpour and a heavy rain; with a very professional and capable team of colleagues who were involved in the event, I quickly reacted, and the event was moved into the interior, and, within 10 minutes, I agreed an alternative (plan B) with the performers in order to get the whole thing done the best possible in almost the worst possible circumstances at the moment.
Tips for young colleagues
It is said, for a reason, that a good advice is gold worth. Experienced event professionals who participated in this study were kind enough to share with us the tips they have for young colleagues. We bring you some of those.
· Patience ☺
· Continuously improve your listening skill. Not just to find out what the client is saying, but what he wants as well.
· There is no second chance.
· It can never happen to have them ALL satisfied.
· Patience and knowing that people are different.
· Take great care of details and make sure that a lot of things are not meant to be accompanying the event.
· It is important that, in addition to a good event, one should know whom it is intended for; how to get to the target group, and in which manner to measure the effects of the event.
· Make sure you are well informed before you start the project realization and be persistent with your strong attitudes, but certainly do not let your ego and inflexibility slow down your personal and professional development.
· Consistency and fairness to people you work with will maybe be of use for you ever more than the budget you have.
· This is a very stressful job (and to find out how to fight the stress, read the article How to Deal With Stress in the Event Planning Industry) and people often do not understand that, and take the business of an event manager as a kind of "entertainment". This is a job where you are satisfied only after the event on which all other have a good "fun", as a result of your work.
· Every mistake should be taken as a lesson learned. You should not let mistakes discourage you, but you should take those as a lesson to learn from.