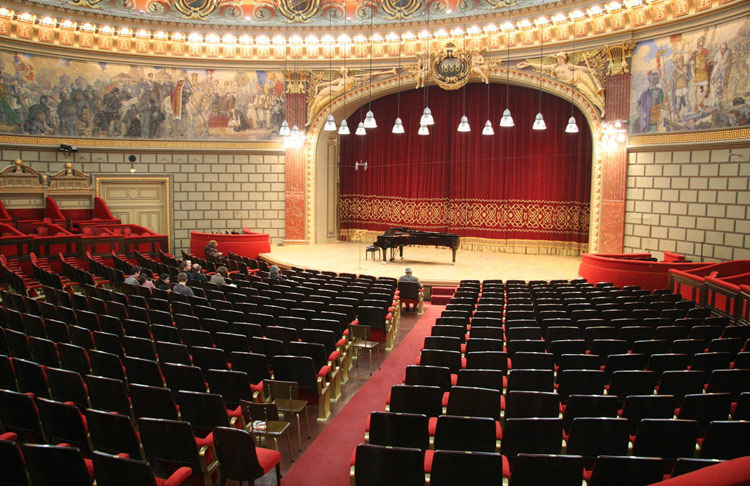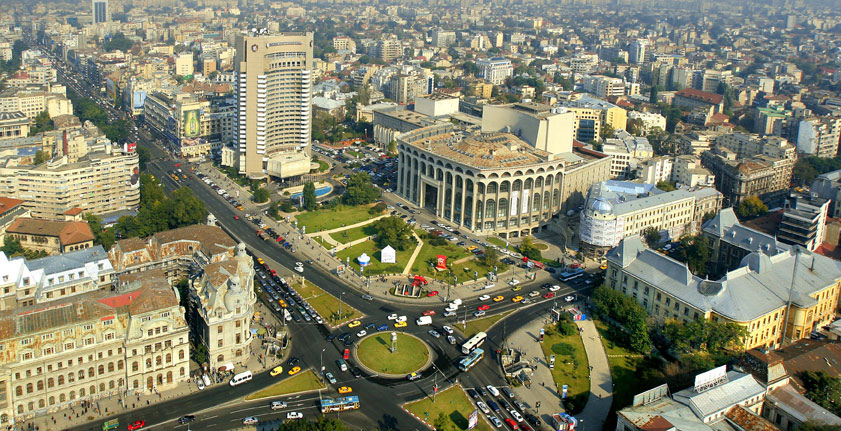 Known for its wide, tree-lined boulevards, marvelous Belle Époque buildings and reputation for the high life, Bucharest was once called the "Little Paris". However, there's nothing little about the scope of Bucharest's attractions, starting from museums, art galleries, parks, and myriad architectural delights.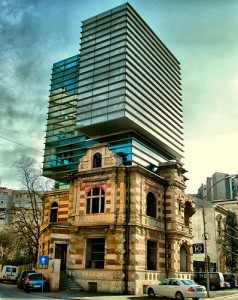 Today, Bucharest has become a very interesting mix of old and new that has little to do with its initial reputation. Finding a 300 year old church near a steel-and-glass building that both sit next to a communist style building is commonplace in Bucharest. Bucharest offers some excellent attractions, and has, in recent years, cultivated a sophisticated, trendy, and modern sensibility that many have come to expect from a European capital. Bucharest has been undergoing major modernization programs in recent years and is still going to continue with these projects in the years to come.
THE MEETING VENUES ARE LANDMARK BUILDINGS AND MONUMENTS
Romania's capital city is home to 37 museums, 22 theaters, 2 opera houses, 3 concert halls, 18 art galleries and a wealth of libraries and bookstores. Many of these are housed in buildings that are attractions in themselves, sporting architectural styles influenced by both eastern and western cultures.
Historical buildings, such as the Romanian Athenaeum, the National Museum of Art, the Cantacuzino Palace, the Military Club and the Patriarch's Palace, can host functions for up to 800 guests. Facilities for large meetings includes the Parliament Palace, the Exhibit Centre – Romexpo, the conference centre of the Chamber of Commerce and the World Trade Centre.
The Universal Postal Union Congress (2004), the Francophonie Summit (2006) and the NATO Summit (2008) are the most prominent of the many major, international events successfully hosted by Bucharest over the past few years.
Parliament Palace (Palatul Parlamentului) is the world's second-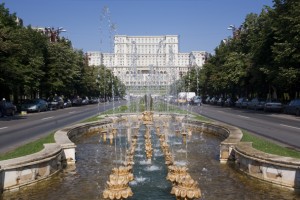 largest office building in surface (after the Pentagon) and the third largest in volume (after Cape Canaveral in the U.S. and the Great Pyramid in Egypt). It took 20,000 Bucharest workers and 700 architects to build. The palace boasts 12 stories, 1,100 rooms, a 328-ft-long lobby and four underground levels, including an enormous nuclear bunker.
Construction started in 1984, and today it houses Romania's Parliament and serves as an international conference centre. Built and furnished exclusively with Romanian materials, the building reflects the work of the country's best artisans. The interior is a luxurious display of crystal chandeliers, mosaics, oak paneling, marble, gold leaf, stained-glass windows and floors covered in rich carpets. The crystal chandelier in the Human Rights Hall weighs 2.5 tons, and some of the chandeliers have as many as 7,000 light bulbs.
The Romanian Athenaeum (Ateneul Roman) was completed in 1888, financed almost entirely with money donated by the general public. One of the preeminent public fundraising campaigns ever in Romania, the "Give a penny for the Athenaeum" campaign saved the project after the original patrons ran out of funds. With its high dome and Doric columns, the Athenaeum resembles an ancient temple.
The lobby has a beautifully painted ceiling decorated in gold leaf, while curved balconies cascade in ringlets off a spiral staircase. A ring of pink marble columns is linked by flowing arches where elaborate brass lanterns hang like gems from a necklace. Inside the concert hall, voluptuous frescoes cover the ceiling and walls.

The National Museum of Art of Romania (Muzeul National de Arta), the imposing building which used to be the Royal Palace, is located in the Revolution Square. It hosts three art galleries and has a short, but impressive royal past. The European Art Gallery, the Romanian Medieval Art Gallery and the Romanian Modern Art Gallery bring together art works exhibited in an attractive, modern manner, thus turning a visit to the museum into an enjoyable and instructive way of spending time.
The Village Museum (Muzeul Satului)
Heading over towards the northern part of Bucharest will lead you to one of the larger, most well known parks in Bucharest, Herastrau Park. Herastrau Park sits around Lake Herastrau which is nearly three-quarters of a square kilometer in area. On the shores of Lake Herastrau, The Village Museum was established in 1936 and it contains over 300 wooden houses, windmills, churches etc. from all over the country.
The Village Museum features a collection of 50 buildings representing the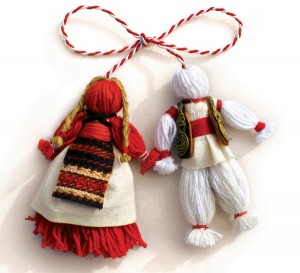 history and design of Romania's rural architecture. The oldest houses date as far back as the 17 century. Steep-roofed peasant homes, thatched barns, log cabins, churches and watermills from all regions of the country were carefully taken apart, shipped to the museum and rebuilt in order to recreate the village setting. Throughout the year, the Village Museum hosts special events where delegates have a chance to witness folk artisans demonstrating traditional skills in weaving, pottery and other crafts.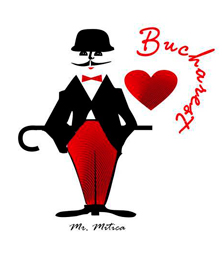 THE MASCOT IS SKETCH CARACTER
Bucharest's Tourism Association presented new mascot, named Mr. Mitica (Mitică). The mascot will appear on various souvenirs that will be merchandised as being representative of Bucharest.
Mascot is a modern day representation of Mitica who appears in several sketch stories by Romanian writer Ion Luca Caragiale and considered to be representative of Bucharest and Romania, on account of his typical Romanian humor and inventivity. Mitica was first introduced to readers in an eponymous sketch of 1900.
THE SHOPPING IS ALWAYS UP-TO-DATE
In the past years numerous modern shopping centers have sprung up in the city. Shopping in Bucharest is an experience not to be missed out by any visitor of the capital of Romania. There are plenty of shopping centers, supermarkets, open-air markets, fashion boutiques and stores, antique, art and souvenir stores, malls and bookstores which cater for a large range of shopping tastes and needs.
Traditional and state-of-the-art at the same time, Bucharest puts forward a shopping platform rich enough to keep busy all sorts of keen shoppers, from fashion victims to visitors in search of picturesque souvenirs to bring back home and to remind them of their stay in the capital of Romania.
Bucharest is the second "coolest" city of Europe
Bucharest ranks second among Europe's "coolest" cities, according to a top published by the online magazine slate.fr. The coolest city was chosen using several criteria, such as the price of beer, the number of students in the city and the number of neighborhoods where tourists and residents can have fun.
THE CITY'S NIGTHLIFE IS "CLUB-HOPPING"
In Bucharest there are clubs, pubs, bars, discotheques, night clubs, and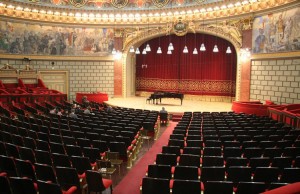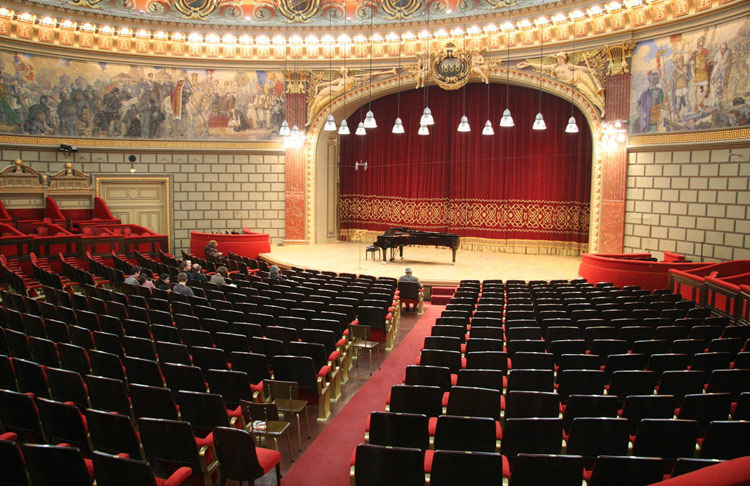 casinos everywhere, and with something for everyone. These places are mostly open all night and with great music, drinks and a friendly and welcoming atmosphere. Many nightclubs are concentrated in or around the historic centre, making club-hopping perfect choice.
Bucharest has thriving scenes in the fields of pop music, hip hop, heavy metal and rock and roll. Also, jazz is popular in Romania and Bucharest has very good jazz clubs. Further, latino music is trendy and salsa-dancing couples invade the dancefloors of certain clubs.
* "Club-hopping" is a modern term for visiting a multiple nightclubs, in short visits, for short periods of time in one night.