[quote_box_center]The surface area of 2,500 m2 for over 5,000 visitors, the flexibility of the space without any supporting walls, and the state-of-the-art technology allow for the Belexpocentar Hall to be transformed according to all creative concepts of event organisers. An additional feature beneficial for event organising at the hall is also the direct connection with the Hotel Holiday Inn Belgrade.[/quote_box_center]
Corporate dinners for over 1,000 guests entirely organised by Hotel Holiday Inn Belgrade and Belexpocentar (www.belexpocentar.rs) never fail to impress.
The venue settings for banquet or cocktail, a stage with a sound system and lighting open up space for countless ideas.
A car, a truck and an airplane in the hall
The Belexpocentar Hall was turned into a huge studio for the filming of a commercial. In addition to the usual requests, the filming also required an airplane to be placed inside the venue, which is a truly challenging task.
However, the very technical features of the venue enable streamlined organising of such events. The maximum floor load is two tonnes per square metre, two tonnes per load- bearing beam (8 beams in total), which makes this venue unique in the entire city.
The access and entrance allow easy installation of big car fleets and large vehicles, as well as smaller airplanes.
Football Pitch
This year, an international company organised a football competition for its employees from branches across Eastern and Western Europe.
The many teams were staying at the hotel, while the venue was used for the football matches played on two
pitches.
The event was two days long, and the preparations of the venue and the installation of the pitches also took two days.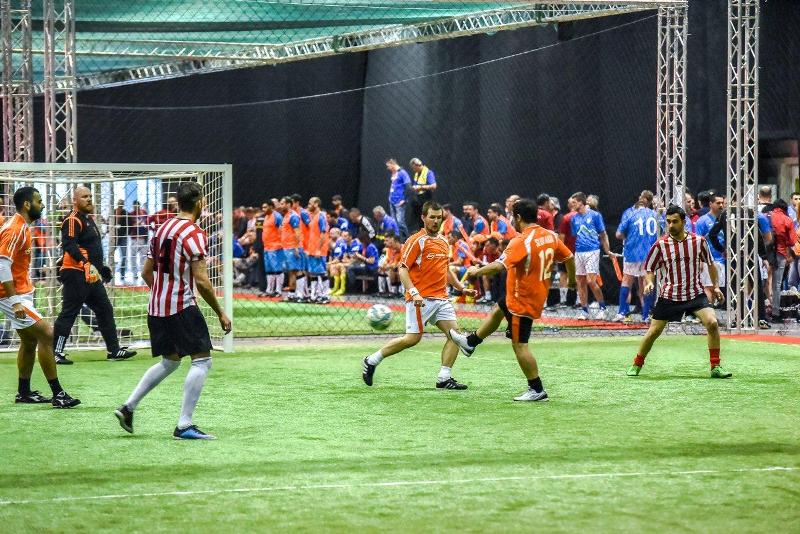 An event as unique as this one required the venue to be divided into sections – one section was reserved for the football pitch and the other was used for serving food and drinks. The football matches took place during daytime, and the evenings were reserved for entertainment.
The quick changes to the venue's features and interior from an official to a leisure setting and the full support provided to the organisers through technical services, accommodation, catering, transportation and organisation make Holiday Inn and Belexpocentar a winning team.