Drinking coffee is a day-to-day – it's free to say – ritual, which most of us enjoys even several times a day. Enjoying coffee mainly depends on its taste, but there are some additional details that complete the feeling of pleasure. One of such details is decorating coffee with milk foam, for which the "guilt" belongs to the barista.
The decorations that the barista can make in a cup of coffee can be true miniature works of art, they can have a theme in line with an event or be a result of the barista's momentary inspiration.
The decorations in the cup of coffee are what makes the first impression and – if they are made by a top-notch barista – they will surely put a smile on our face and make a lasting memory.
As the coffee drinking culture evolved, the profession of the barista also gradually started to evolve with it, getting more and more attention.
This is a relatively young profession, considering it has been around for only some thirty years.
Who is the barista?
Barista is the name of the person who prepares and serves coffee at an exceptional level.
The word, as well as the profession itself, comes from the Italian word bar, which refers to the person who prepares and serves coffees based on espresso.
The barista can be simply defined as a true master of coffee, whose job is not at all simple and requires great attention, patience, and, of course, practice.
In order to make an excellent espresso, the barista must know every step of growing and serving coffee, as well as the machine used for it.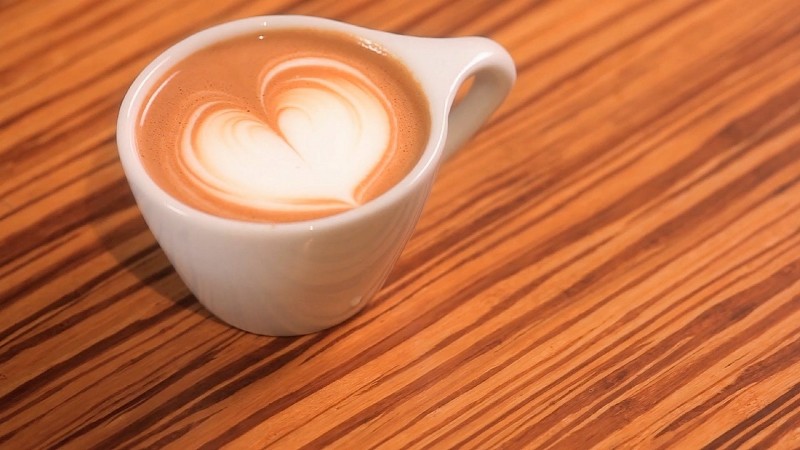 The barista must know the origin and types of coffee beans, the processing method, and the way certain types of coffee are mixed with other tastes and spices. In addition to mixing with other tastes and spices, the barista must also know how to prepare various types of alcoholic and non-alcoholic coffee cocktails.
Latte art
Today, latte art is another skill that is important for the barista to possess. Latte art refers to the art of decorating coffee with milk foam, or, more precisely, to painting decorations and pictures. A barista who keeps up with global trends and constantly improves professionally will surely know to put a smile on your
face with this skill and provide extra enjoyment in drinking your perfect cup of coffee.
For the barista, latte art is a way of expressing the artistic gift to make an excellent cup of coffee.
The importance of the barista is also reflected in schools opening all over the world, and there are several of these in Serbia, as well.
The World Barista Championship was first held in Monte Carlo, as late as in 2000.
Barista competitions
In time, as the barista profession became more specialised and started to impose requirements, baristas began competing between themselves. They competed in making the best coffee, having more original decorations and serving methods, preparing as many coffees as possible within a given time, etc.
These competitions lead to creating national and international barista competitions, gathering the most well-known baristas from the region and the world. So every year, the World Barista Championship takes place in a different city.
The World Barista Championship (WBC) is an international coffee making competition, organised by World Coffee Events (WCE).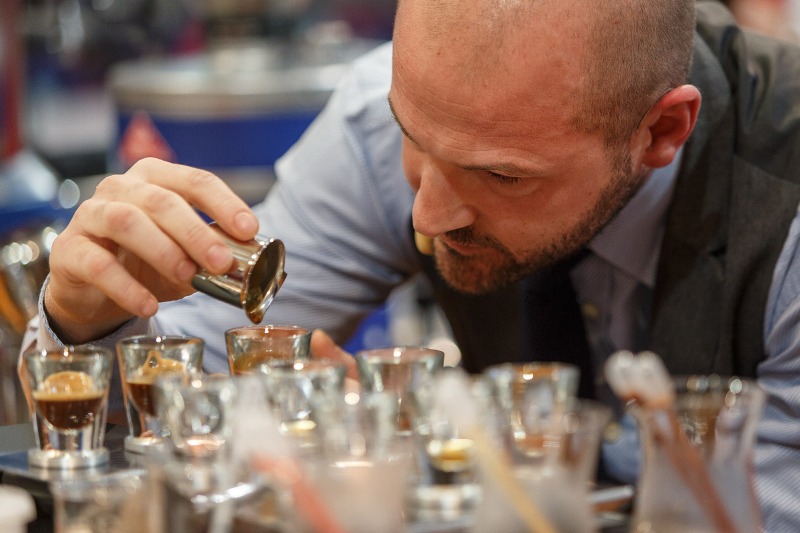 The competition is held once a year, each in a different country, in different continents. The competition attracts the best baristas in the world, and in its course they make 12 coffees: 4 espressos, 4 cappuccinos, and 4 original signature drinks – all within 15 minutes time.
During the competition, the judges give scores for taste, cleanliness, creativity, barista skills, and overall presentation.
Every barista participating in the competition prepares their own coffee mix for making beverages. For making espresso and cappuccino, the same mix must be used all four times, and different mixes can be used for the other four coffees.
Savamala Coffee Festival in Belgrade was held from 14th to 15th March 2015.
This competition is open only to the baristas who hold first place in national barista championships. Despite the fact that the profession of barista originated in Italy, not a single championship so far has been won by an Italian contestant.
At this year's World Barista Championship, which took place in Seattle from 9th to 12th April, the best barista title was won by Sasa Sestic, an Australian barista of Serbian origin. Last year's winner at the competition held in the Italian city of Rimini was Hidenori Izaki from Japan, while the best barista title for 2013 was won at the competition held in Melbourne, Australia, by Pete Licata.
In addition to this competition, there is also the World Latte Art Championship, where special attention is given to the artistic expression of baristas in a very demanding performance.
In Serbia, the barista competition has been running since 2009.
As for barista competitions in Serbia, some of the best barista title holders are Nenad Stojanovic, Dalibor Arsic, etc.
Interesting facts
·Thirty years ago, no one knew what a coffee barista was
· Coffee baristas aren't slackers and hipsters
· It takes a long time to perfect that latte art
· They prefer different techniques
· Steaming the milk (it's a science!)
· Baristas compete in coffee competitions
· Some attend barista school
· Not all coffee language is universal
· They're the experts!
Who makes the best coffee and who is Serbia's best barista?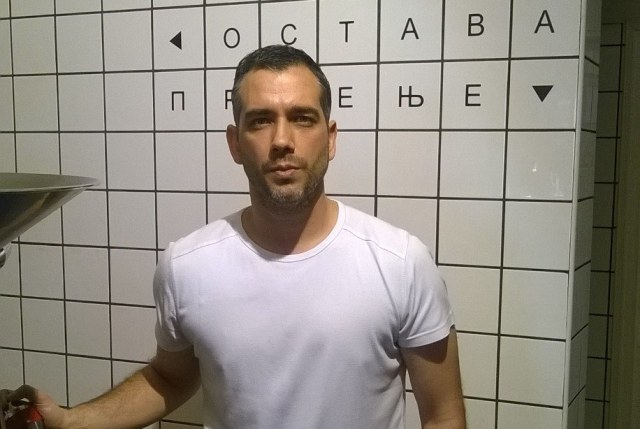 It's Nenad Stojanovic, a barista at the Przionica coffee shop in Belgrade. Nenad was a participant in several barista competitions, and in 2010 he won the title for the best barista in Serbia.
Thanks to this title he represented Serbia at the 2010 World Barista Championship in London.
Anyone for whom Nenad makes coffee will surely enjoy its taste, but the designs he creates using milk foam will also stay in their memory.
Nenad took some of his time to answer a few questions for the latest issue of SEEbtm.
1. How long have you been a barista and what made you go into this profession?
I started to work as a barista in 2008. At first I was learning the ropes in Serbia, and then also in other countries, although I believe there is still much more to learn. I started doing this entirely by accident.
My interest in the job grew more and more, and I tried to learn as much as possible about coffee, while getting education at the same time.
I was trying out various kinds of coffee and realised that they're all different and have their own distinct features. What's interesting is that before I became a barista I didn't even drink coffee, and now I'm a true addict. 🙂
2. They say that for creating a design in a cup of coffee takes a lot of practice, in addition to patience. How much time does it take you?
When it comes to drawing on coffee, it took me several weeks to master the basic techniques. As for the more complex stuff, it takes months of practice, but keeping at it leads to perfect designs.
As I mentioned, education is alongside practice very important in this work, so I'm learning some new techniques and styles, hoping to create even more beautiful and complex designs.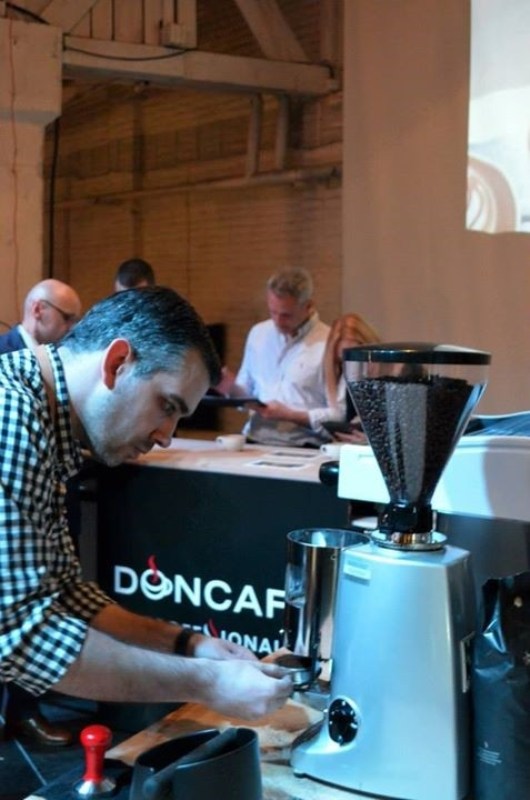 3. This year, you took part in the Savamala Coffee Festival and won the best barista title. What were your preparations for the competition like?
Like all other contestants, I prepared for the competition over a very short period of time.
My practicing actually consisted of my daily work routine, and I tried to show and offer our regular customers the things I was going to show at the competition.
I would practice a bit more at home after work, and in essence that's how I was preparing for the competition.
4. What do the best barista titles that you won mean to you?
I have to admit that the best barista title that I won at the 2010 Championship in Serbia, along with the best barista title in the Latte art category at this year's Savamala Coffee Festival in Belgrade, really do mean a lot to me.
These titles give me the proverbial wings to keep educating myself, because I also want to compete in other categories that the world of coffee offers and that way make a full circle and become fully skilled for this work.
After that, my plan is to begin transferring my knowledge to new people who would like to go into this profession.