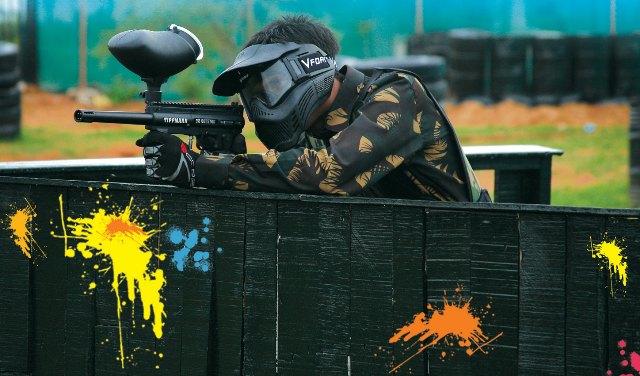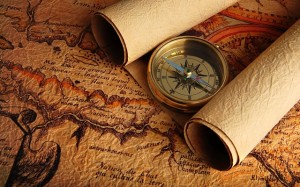 For some time now adrenalin parks have been gaining popularity in the world and in recent years their attraction has spread to the region of Southeast Europe. They are the perfect places to take a break from everyday worries and to experience a real adrenalin rush.
The park is the ideal choice for individuals who want to test their limits and for companies wishing to motivate their workers and encourage teamwork.
Adrenalin park give the individuals opportunity to overcome their fears, build their confidence and endurance. For members of a team building group the adrenalin park has the added benefit of helping them to develop communication skills, test their limits and see how well they do under pressure.
Rock climbing, high rope courses, pillar of courage, the giant swing, plateau of trust, zip line, abseiling, live table soccer, the treasure hunt are just a few of the many activities provided by these parks.
Many adrenalin parks offer rock climbing activities. The instructor-supervised rock climbing is a great way to test your endurance and coordination skills. The rocks are of varying height and it's up to you to decide which one you will try to mount.
High rope course is one of the most widespread adrenalin park activities. The pathways are overhung by wires spun between trees at varying heights. Depending on the height of the wire, there are green, blue, and red path (1.5 m, 7 m, and 11 m). The main challenges on the high rope course are the hanging bridge, crossing a net, swinging from a liana between platforms, etc.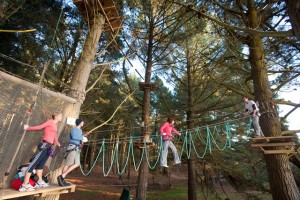 If you want to test your courage the pillar of courage is just right for you. You will have to climb a spiked pillar 8 m high, stand on the top and jump. During the climb and jump you wear a safety belt made of three elastic ropes that can stretch a meter each.
Swinging back and forth on the giant swing hanging between two columns 12.5 m or 15 m high is sure to give you an adrenalin rush.
A great team building activity for showing trust between team members is the plateau of trust. A team member climbs a 1.5 m pillar and then jumps into the joined hands of the rest of the team gathered underneath to catch him.
Zip line will give you a real adrenalin rush as you slide down a wire at not-so-low height (e.g. 150 m). Beside adrenalin rush, thing that will take your breath away is the fantastic view from up above.
Abseiling is a way of descending a rock with a rope where once you start there is no stopping until you reach the end. This is a great confidence and character building activity for individuals and a good team building activity where you show trust in your co-workers or friends holding your rope at the top.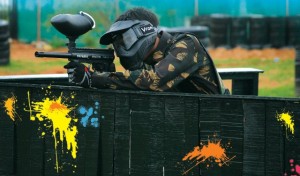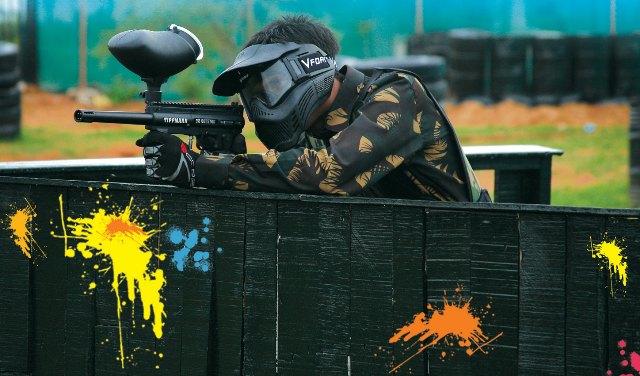 If you want to have fun as a team and improve your mutual communication, the live table football is a very good team building activity. The players (five to a team) have to work together since they are tied together to a horizontal bar and can only move towards the ball if they do so all at the same time and in the same direction. This activity can include league competitions, especially if there are numerous participants involved.
Another activity that helps build the team spirit and communication is the treasure hunt, where the team members have to join forces to find hidden objects based on an a given assignment. For this activity, orientation is very important.
Paintball in adrenalin parks is another great team building activity. This game requires two teams, so if the team building involves a lot of participants no one will be left out. This activity builds team spirit but it also brings out the team leader. The point of paintball is to carry out an assignment and to eliminate the opposite team. While the treasure hunt is a favorite among women's teams, paintball is equally attractive to men's and women's teams.
The main challenges on the high rope course are the hanging bridge, crossing a net, swinging from a liana between platforms, etc.
If you want to overcome the fear of getting lost in the grand outdoors and test your own resourcefulness, orienteering is the perfect activity for you. Here the assignment is to get to a target point as quickly as you can with the help of a map and a compass.
Therefore, if you want to get away from your daily life or overcome your fears, build character and test your limits visit an adrenalin park, its activities will gave you an adventure that you are not going to forget soon.