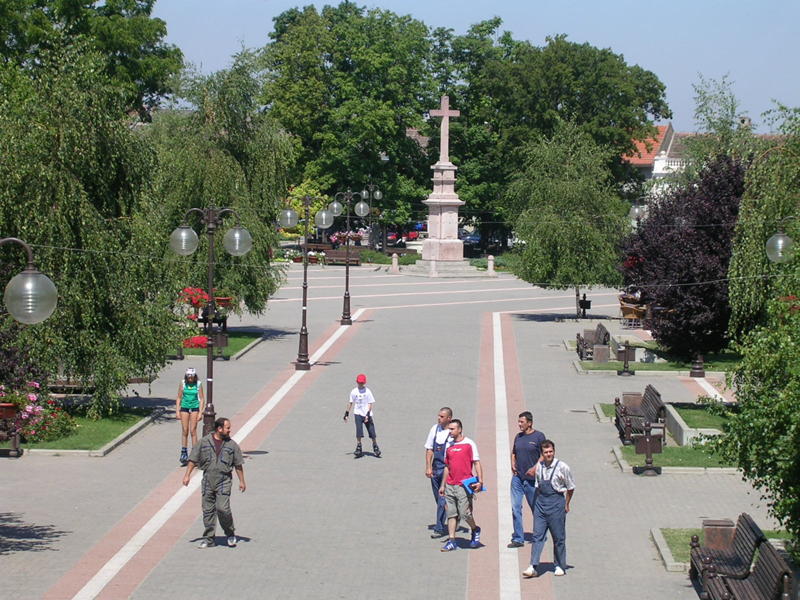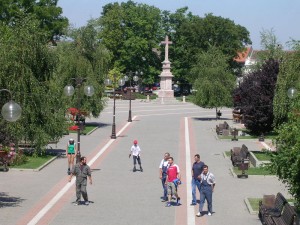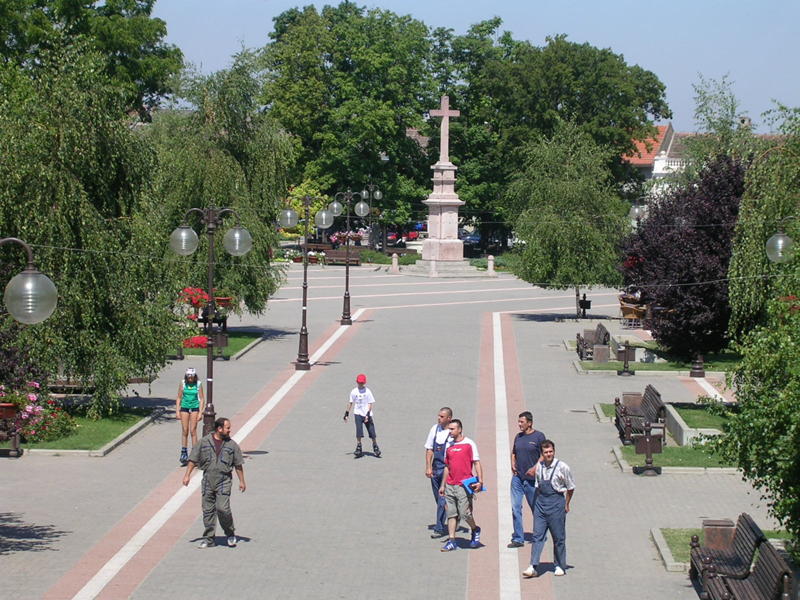 VRŠAC, a town of 37,000 population situated in southeast Banat is its ancient town with the turbulent and vehement past and rich culturaltradition. Its surroundings and nature are vivid, and it is known for hunting tourism and as a town-museum. Its institutions, churches and homes conceal immense treasures of the culture featuring the past two centuries.
VRŠAC lies in the foot of the Vršačke Mountains. The surrounding greenery, vast vineyards and numerous cultural and historic monuments is what makes this town so attractive. It is one of few towns to be deemed an oasis of peace and fresh air.
VRŠAC is situated on the major communications. Apart from the railway Belgrade—Vršac—Timisoara —Bucharest, Vršac is connected to Belgrade, Zrenjanin, Bela Crkva and Timisoara with a modern asphalt road.
VRŠAC is s town to visit and spend some time there, to experience its sights and the beauty of its surroundings and to feel the hospitality of its people.
The Villa Breg Hotel – Unique pleasure and comfort for business and leisure
The Villa Breg Hotel is settled on the Vrsac hills that can easily be spotted in vast Pannonian plane. It is ready to give You unique pleasure and unusual comfort. It is situated at the 170 m above see level, covering 7200 m2 of useful space amid beautifully arranged gardens covering 4000 m2.
Accomodation
Capacity
* 4 suits
* 36 double rooms
* 8 twin rooms
All rooms and suits are spacious and comfortable with luxury furniture and equipment. There is bathroom with floor heating, separate central system for acclimatization, fast capable Internet, LCD TV, electronic safe, mini- bar. Most of rooms have fascinating view on the town and vast Pannonian plain beyond.8 room gas got its own gardens and excellent view.
Seminars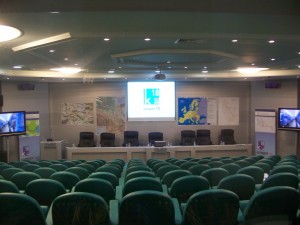 Hotel Villa Breg provides excellent opportunities for business meetings, seminars and conferences. A big Congress Hall with 140 seats is equipped with state-of-the-art presentation video technology as well as with facilities simultaneous translation.
A multipurpose Banquet Hall , with a capacity up to 80 seats , is suitable for organizing all kinds of celebrations and cocktails, and, if required, it can be rearranged to accommodate 40 persons for festive dinner. Two additional meeting halls, one with 25 and other with 18 seats, both with top-class equipment are also available. Equipped with desk top computers, the Business Center is an excellent working environment, offering guests fast internet access, photocopier and fax machine.
Restaurant
In the first-class Aeolus restaurant, guest can enjoy the magic of gastronomic work of arts comprising both national and international cuisine. This highly elegant and warmly atmospheric restaurant seats 120 people indoors and the same number on the partially roofed terrace with its garden.
Fire-place bar
Fire–place bar can seat 55 people. The pleasant atmosphere, complemented with African walnut wood and silk wall paper coated walls, has a crackling fire and a view of the town's roofs and bell-towers.
You can celebrate successfully done business or simply read the favorite book or have a chat with friends
SPA center
SPA Centre of the hotel has been designed to meet the standards of all world-class centers of its kind. It consists of two swimming pools, one indoor with heated water, and the other in the open –air.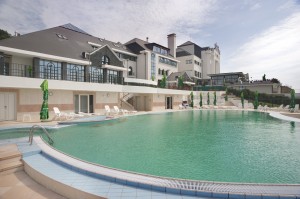 There are two Jacuzzi baths, a fitness center with state-of-the-art equipment, two Finnish saunas, one Turkish bath, three massage rooms and a café.
The center provides both therapeutic and recreational massage and presents guest with a genuine oasis of peace and relaxation.
Swimming pool in the open-air
Outdoor swimming pool was opened on 22nd July in 2006. It's 25 meters long and 17 meters wide in its wider part and 14 meters in smaller. There is Jacuzzi bath as a part of the swimming pool and also 6 hydro massagers along its edge. There is aqua bar within swimming pool and big terrace and café with great offer of drinks and food around it. The most beautiful thing is that it's situated at the 170 meters above sea level and gives you unique pleasure while you're swimming because you have the whole town and plain in front of you.
Motel  Vetrenjaca – Charm of the Banat plain
Vrsac, one of the oldest  town in Banat, located near Belgrade-83 km, Novi Sad-156 km, and border with Romania. There, on the main road from Belgrade to Temisvar in the entrance in Vrsac laying motel  Vetrenjaca, the building which is one first site beautiful and reaching our soul with charm of the Banat plain.
Motel  Vetrenjaca possesses 25 rooms which are equipped with separate regulation for central heating, climatization, TV, telephone, wireless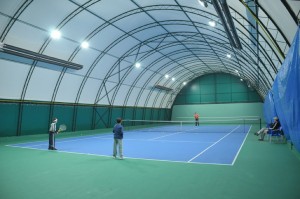 internet. Motel Vetrenjaca has available also restaurant with national and international kitchen, wine cellar, halls for seminars, celebrations, presentations etc., aqua park (it covers 4000m2 from which 1000m2 is water space), balloon halls for tennis and football, it's own parking and most important of all, very kindly staff  who will make your presence even more pleasant.
* Restaurant – two separated areas with capacity of 140 places
* Wine cellar has 50 places. The open terrace disposes capacity of 50 places and offers a wonderful view of the Banat plain
* Aqua park witch covers 4000m2 from which 1000m2 is water space