After several months of hard work and preparations, the city of Zadar and DT Croatia had the honour to host the premiere of the new BMW series 2 Grand Tourer.
The global campaign was launched on 16th April and went on for 15 days, until 30th April, 2015.
The new BMW premiere was attended by over 420 most renowned reporters from the auto industry who came from 35 countries. The reporters were presented with the new vehicle with all its advantages in the best possible way. In addition, during their two-day stay in Zadar, the reporters were also presented with the destination from the cultural, culinary, and HoReCa perspecitive.
DT Croatia has been selected as the Destination Management Company for the new BMW's global campaign, and the city of Zadar has been recognised as the right destination for this premiere, promoting also Croatia.
Global campaign for BMW

420 most renovated reporters

from 35 countires
After detailed research on destinations in Croatia, BMW decided on Zadar mainly due to its natural beauty, solid infrastructure, excellent connections, and easy access. This is the first time that a Croatian destination has been chosen for this kind of promotion.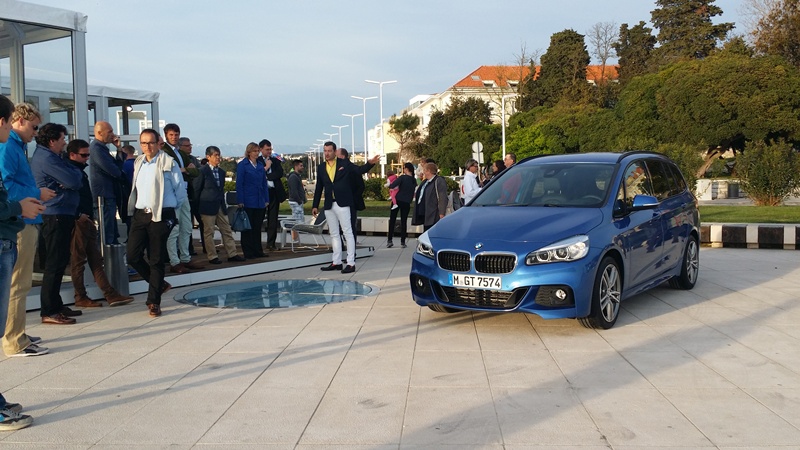 Considering that Zadar has seen big investments – in the city's infrastructure, city monuments restoration, and long-term projects that are important for the city's future – it doesn't come as a surprise that this city has become a significant location in the international business tourism segment. Alongside excellent infrastructure, Zadar also boasts high-end facilities with conference capacities, diverse gastronomy offerings, and interesting attractions and day trips for its guests.
This is the first time that a Croatian destination has been chosen for this kind of BMW promotion.
Recognising the importance of such event, the local authorities offered their full support, welcoming everyone involved in this global event.
The outcomes of the efforts and hard work by all parties supported by DT Croatia resulted in the BMW world premiere that took place in three locations in the Zadar peninsula.
For purposes of this global event, a special glass pontoon was erected in the Jazine bay at the heart of Zadar, serving as an exhibition space.