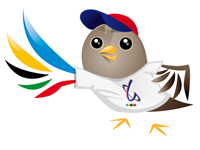 The twenty fifth anniversary summer Universiade was held in Belgrade between July 1st and July 12th 2009. This was this year's largest sports event organized in Serbia.
Some 9 thousand athletes – students from 140 countries competed in 15 sports and 208 disciplines. Serbia hosted athletes who competed in athletics, judo, football, basketball, fencing, volleyball, swimming, rhythmic gymnastics, diving, artistic gymnastics, table tennis, archery, tens, taekwondo and water polo.
Sports event of this size requires ample preparations, including building and reconstruction of sport venues. In New Belgrade, a veritable small town has been built – the University Village – where athletes stayed during the Universiade. Competitions took place on more than 60 locations, each of which needed to fulfill FISU standards.
More than 10 000 new promoters of Serbia left Universiade Belgrade 2009, as good will ambassadors who will spread the word about Serbia and Belgrade and will do more than the most extensive promotion campaign.