We've all probably traveled by airplane at least once. On business or for pleasure, on long-haul or short-haul flights. The feeling truly is special.
Our perception of a particular airline is based main ly on the outside of the aircraft itself, the cleanliness, and the friendliness of the cabin crew. All of which is most definitely relevant. Especially when you're flying first class… They've always been intriguing with appearance and service. Not only to those who can afford them, but also all of us who mostly use economy class in air travel. This inspired us to take a look at the best first ­class airlines. Get comfortable, we're taking off!
Some airplanes have bedrooms that are intended only for crew members.
Skytrax is a renowned British consulting company that ranks airline services by different criteria. Every year since 1999, they've been organizing the World Airline Awards for commercial flights, announcing the very best in different categories as ranked by passengers/customers. All airlines take part in the Oscars of the aviation industry. Best Airline, Best Cabin Crew, Best Low Cost Airline, Best Airport Services, to name just a few. And who won this year's Best First ­Class?
And the Oscar goes to…
Singapore Airlines' first-class experience was voted the world's best this year! And here's why. Flying first class on the Airbus A380 means spending the journey in a suite. This plane is a double decker, so when you enter, the stairs take you to the upper deck, where your accommodation awaits. You are separated from the long hallway by a special, artfully designed door, and the suite itself is surrounded by high walls that ensure privacy and fitted out with luxury furniture. Each suite has a big leather armchair and a fold­out bed, and all of the suite amenities (e.g., seat position, lighting, entertainment, etc.) are controlled by a phone installed in the armrest, an electronic control panel on the side, and a tablet along the window. Singapore Airlines places particular emphasis on these armchairs (which can be adjusted to different seating and reclining positions) because they make everything within arm's reach. The seat itself is upholstered in the fine leather made by Poltrona Frau, a company famous for manufacturing furniture based in Italy whose customers include Ferrari, Alfa Romeo, and Maserati, among others. The suite's fold­out dining table is aesthetically placed behind the top in a marble table located next to the armchair. It is decorated with white flowers next to a menu holder that is nicely lit by a reading lamp. The TV screen is in high resolution, touch sensitive, attached to the side wall of the suite, and placed in front of the armchair. It rotates, allowing for different positions depending on whether you want to watch television from the bed or the armchair. In addition, there's an app that lets you connect your smartphone or device to the TV and pick some of the movies on offer, play games, or listen to music. The wardrobe is masked inside the wall, providing sufficient space for smaller bags, shoes, and a jacket and a mirror on the door. Bigger items can be stored under a panel along the window, and three stylish compartments allow for storage of extra it ems. Of course, you are provided with pajamas, slippers, and basic personal hygiene products like shower gel, shampoo, conditioner, and the like, alongside Bose headphones and a small gift from the airline. When it comes to the meals, they too are in keeping with first class travel. The company works with world­ renowned chefs who run Michelin ­starred restaurants and offers a unique service called Book the Cook – choose your main course from the excellent menu at least 24 hours before lift­off.
And let's not forget the crew! Donning the kebaya, the flight attendant symbolizes Asian hospitality. The cabin crew addresses every customer by name and does everything in their power to make your flight as enjoyable as possible.
The two oldest airlines in the world are the Dutch KLM (launched in 1919) and the Australian Qantas (launched in 1920).
This year's second place winner is Lufthansa. A driver picks you up in a Mercedes Benz or Porsche and takes you directly to the plane. Also, you don't have to keep an eye on time because purchasing a first ­class ticket automatically sets you up with an assistant who reminds you and takes you through fast ­tracked passport and other controls. After you get out of the car, you enter the aircraft directly by a special walkway. The Airbus A340­600 has a total of eight seats in this luxury class, but unlike with Singapore Airlines, you share the space with other passengers and the cabin crew. If you want privacy, you can pull up the partition between your seat and the one next to you.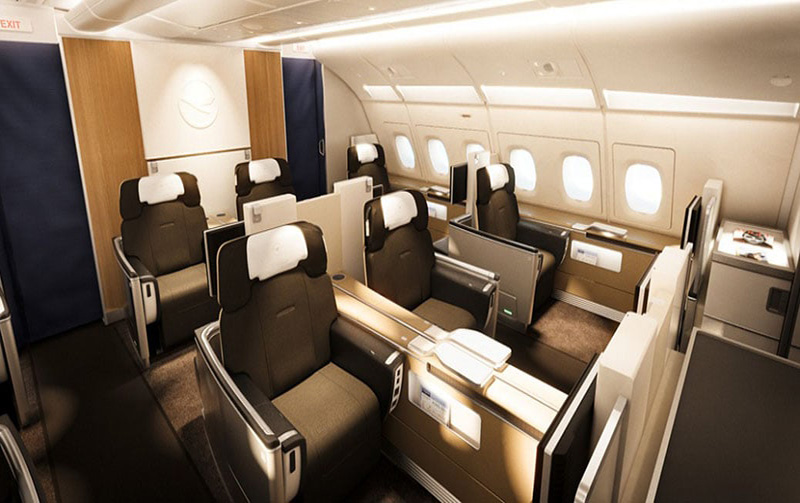 Of course, the seats are made of leather and fairly spacious, folding out into a comfortable bed. An ottoman is there to store your personal belongings. In the compartment below the left armrest are the seat controls, and below the right one is the remote control. In addition, there are sockets and a USB port. After boarding the plane, you are given a menu to see what food is on offer, and each has the name of the intended passenger written by hand.
Of course, Lufthansa too can take pride in working with Michelin ­starred chefs. In addition, the menu is complemented by an award ­winning wine list com piled by the world champion sommelier Markus Del Monego. Before serving meals, including snacks, the cabin crew sets the dining table – tablecloth, flatware, glasses, and linen napkins.After the delicious meal, the flight attendant brings you pajamas and slippers after asking your size, along with basic personal hygiene products in case you want to freshen up. Turning on the TV will prompt a broad array of movies, series, sports channels, and music networks, ensuring that the time flies by.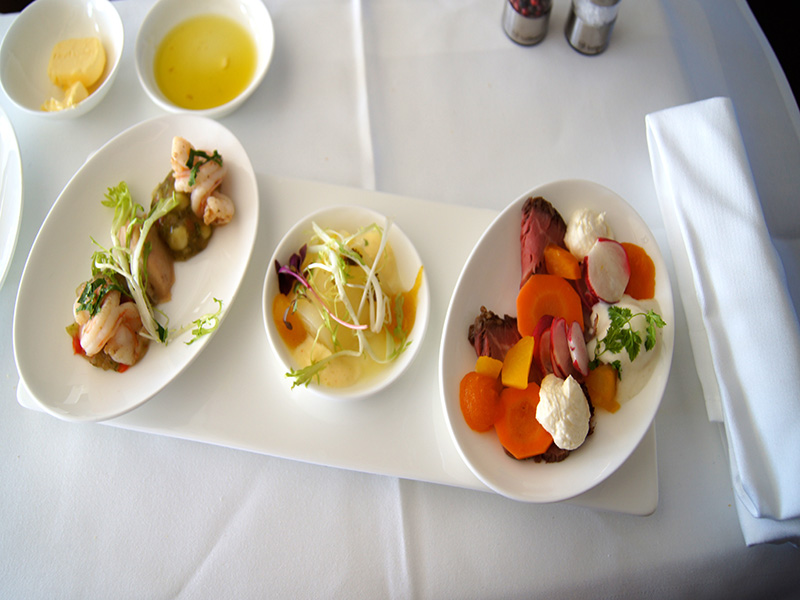 Most pilots and co-pilots do not eat the same food as the others on the plane in order to minimize the possibility of poisoning or consuming spoiled food.
Ranking third, Air France even has a symbolic name for its first-class cabin – La Premiere 🙂 Accordingly, when you get to your seat, you are greeted with a welcome message that includes, among other things, the information that you will be eating the most delicious food and drinking wine from a list compiled by Paolo Basso, who was crowned world's best sommelier in 2013. All this means that you will be served plenty of wine and cheese, just as the French do!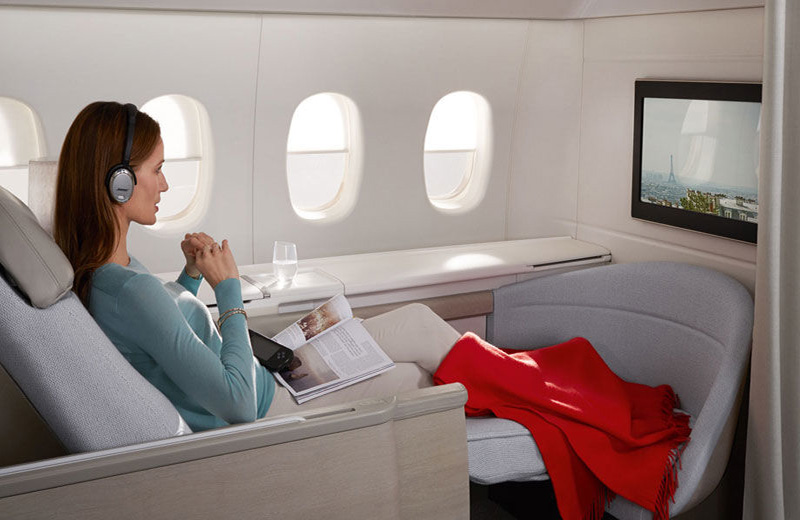 The first­ class seats are in one row only, and the 1­-2­-1 layout creates the cabin appearance. Naturally, there's everything that you need for an enjoyable flight. A large comfortable armchair that folds out into a bed, as well as another one as an extension. For privacy, you can draw the curtain between the seats. Here too you will be provided with pajamas, slippers, and a small personal hygiene set if you want to freshen up. A television, Wi­Fi, charging sockets for phones, tablets, laptops, and everything else that goes along with it are understood. What sets Air France apart is the very few seats in first class – merely four. Passengers generally noted this as the airline's special feature because it provides privacy, especially on longer or overseas flights.
The safest seats on the plane are the ones in its rear section.
Most honorable mention
Etihad Airways opened a new line three years ago between Mumbai and New York via Abu Dhabi. A first ­class ticket per route stood at USD 38,000, which was reported as the most expensive ticket for a commercial flight at the time. Passengers fly in a luxury suite named The Residence. The Residence is the only three ­bedroom private cabin offered by a commercial airline. It spreads over 1300 square feet and houses a bedroom, shower, and lounge for up to two guests. This suite is available only on the world's largest passenger plane, Etihad's Airbus A380, which has 496 seats. Passengers are also served by a personal butler and allowed to design their own menu to be served during the flight. The meals arrive on porcelain tableware and cutlery is plated with 24­-karat gold.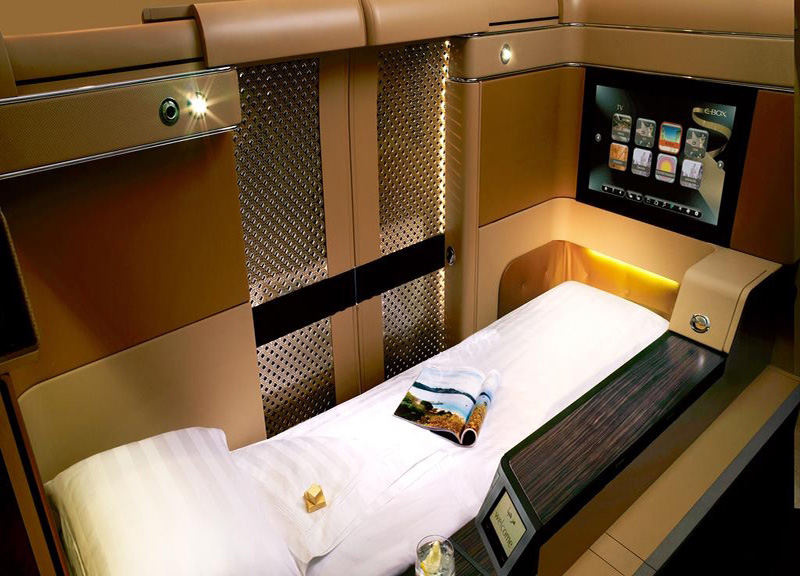 The rules in Fly Emirates
Emirates cabin crew are thought to be among the most glamorous. They are known for their appearance, which includes a red hat and a special shade of red lipstick, and cheerful smiles. Before first­ class travelers board the flight, the ca bin crew does its homework – they meet to get briefed and learn about the VIP passengers and their names, after which they start collecting information that they save on designated tablets. Among other things, these include the passengers' habits, what food and drink they like and dislike, and the purpose of their journey. At the airport and during boarding, the flight attendants wear heeled shoes, but after take­off they are allowed to change into red flat shoes. There are even rules for makeup. Nails are allowed to be painted beige or powder pink, or done in a French manicure. Red lipstick is required, lips must be contoured with red pencil, eye shadow can be black or beige, and hair must be up in a bun. We have no idea how much fun and enjoyable air travel can be. The only thing you need to have – apart from vacation days – is money. Clearly this kind of service sometimes costs tens times over the standard ticket price, the economy class price. But we most definitely would have no objections to taking a trip should the opportunity arise 🙂