According to the town planning reconstruction and expansion project,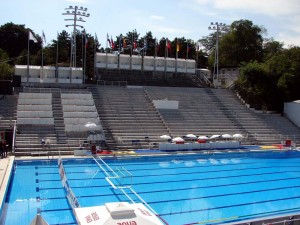 the centre for sports and recreation "Tašmajdan" in Belgrade, as well as its surroundings, should be turned into a sports complex with business buildings, hotels, a public underground garage and with an antechamber that would provide access to the caves and underground passages, which will also have a new purpose (city aquarium, night club, cinema).
The first functional zone includes: the existing object of the sports centre "Tašmajdan" with an outdoor pool, the planned hotel for athletes with catering services and accompanying rooms for pool users, as well as the planned business building along the Ilije Garašanina street.  All of these together form an access square in the shape of a trapezoid ("The Tašmajdan Gate").
The second functional zone includes: a stadium with supporting facilities and a communication transversal axis, encompassing a closed gallery with commercial content that builds a connection to the facilities along the Aberdar street and to the access square from the Ilije Garašanina street. Also the public underground garage belongs to this zone.
The third functional zone includes a section composed as "an ensemble of different ambiences". It encompasses a city hotel with commercial facilities, which looks at the RTS building (Building of the National Radio and Television), as well as the antechamber with an entrance into the caves and underground passages with the city aquarium, night club and cinema.