Recognized as one of Belgrade`s largest hotels, the Metropol Palace is ideally located in the old town, just beside the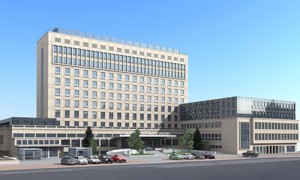 Tašmajdan park, near the business and leisure districts of the city.
Known for almost half a century as the focal point of the city cultural and social life, Metropol Palace has been offering a memorable experience for most celebrities, business people and tourists traveling to Belgrade.
Being unique for its conference and banqueting facilities, the Metropol Palace becomes the preferred venue for every international and local event, wedding and reception.
The hotel is currently undergoing extensive renovation.
The Metropol Palace is a member of the chain Classical Hotels. The fourteen city hotels, along with five future development projects of the Classical brand, guarantee an unsurpassed level of quality and luxury. Whether traveling for business, leisure, a city break or a combination of the three, you will be sure to find a Classical hotel that meets your needs.
Classical Hotels are a proud member of the N. Daskalantonakis group of companies.