The so-called event industry, including festivals, conferences, exhibitions, sports, cultural and other events are developing very quickly and becoming growingly complex and influential on the congressional tourism, as well as on tourism in general.
The state and corporate influence is growing and a wide range of needs and objectives of various stakeholders should be harmonized and met.
Sports, music and cultural events with the international participation have a strong impact on the destination where they take place, being the best way for its marketing and promotion.
The wider the range and significance of the event, the higher the percentage of the international participation and involvement of the global and regional celebrities, the bigger the interest of the global media for such an event, and at the same time the bigger the promotion of the destination itself, its culture and customs, but also its economy.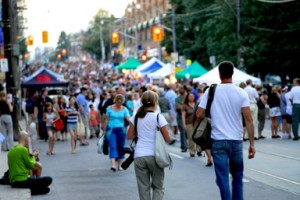 That is why when arranging the big events and festivals the influence of the state and relevant associations and corporations is very strong and present in every stage of its implementation and preparation.
The promotion of a destination is made before the very event, when its announcements and preparations take place, during the event, when reports and coverage are made on the scene, and after the event, when all participants and spectators take their impressions with them and share them with their friends, families and co-workers.
When we take into account the existence and huge popularity of the social networks such as Facebook, Twitter, LinkedIn etc, we have to bear in mind that the impressions of each event participant may be conveyed in a second to hundreds of their friends and acquaintances. Such means of spreading information and forming opinions is growingly influential, and it should not be at all neglected.
The development of tourism, popularization of a destination, filling the capacities and hiring/employing the labour are the principal benefits to be provided by an event or festival and that is why it plays an important role in a country's economy.
Festivals as Product
"The happening or event is a specific product because it is held only once a year and it has an extraordinarily strong impact on the creation of image for a destination. Apart from the significance which an event has in terms of spreading the positive vibes about a country, it also has economic function, and that is an increased consumption by tourists and creation of new jobs. To become part of tourist offer for a destination, the event must attract participants and spectators who are not part of the local community. The tourists attached to events are the biggest population, as their visit to a specific event is either a quick holiday or the third holiday in a year" – Aleksandar Šuša, Tourist Organization of Serbia.
A festival is an event, usually and ordinarily staged by a local community, serves to meet specific needs, as well as to provide entertainment. There are numerous types of festivals in the world. Though many have religious origins, others involve seasonal change or have some cultural significance. Also, certain institutions celebrate their own festival (often called "fests") to mark some significant occasions in their history. These occasions could be the day these institutions were founded or any other event which they decide to commemorate periodically, usually annually.
There is wide range of Festivals, connected to religion, history, music, sport, culture, art, film, entertaiment etc. We will select some of them, to write what they are all about.
A Beer Festival is an organised event during which a variety of beers (and often other alcoholic drinks) are available for tasting and purchase. Beer festivals are held in a number of countries.
Some of the most famous beer festivals are German beer festivals. The largest beer festival in the world is Oktoberfest in Germany. The 2nd largest beer festival in Germany and probably in Europe is the Cannstatter Volksfest in Stuttgart. The Great British Beer Festival held annually in August in London. The "GBBF", as it is known, was founded in 1977 and was attended by over 66,000 people in 2006, and 350,000 pints of ale were consumed over the five days of the festival. In Germany there are many more things to do, and examples could be found on a blog of Jenn Miller.
Others Beer festivals are in Belgrade, Serbia – Belgrade Beer Fest, which takes place every August at Ušće park, then, in Braşov, Romania, a large Beer festival is held every year in October, in Karlovac, Croatia, Dani piva, held every year, 10 days starting on last Friday in August, in Kragujevac, Serbia, Šumadija Beer Open, held every year in June and in Prilep, Macedonia, Фестивал на пивото, held every year in August.
A film festival is an organised, extended presentation of films in one or more movie theaters or screening venues, usually in a single locality. The films may be of recent date and, depending upon the focus of the individual festival, can include international releases as well as films produced by the organisers' domestic film industry. Sometimes there is a focus on a specific film-maker or genre (e.g., film noir) or subject matter (e.g, gay and lesbian film festivals). A number of film festivals specialise in short films, each with its defined maximum length. Film festivals are typically annual events.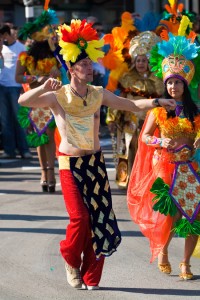 Most significant Film Festivals are in Cannes, Venice, Toronto, Berlin, Shanghai, Moscow, San Sebastián, Montréal, Locarno (since 2002), Karlovy Vary, Mar del Plata, Cairo and Tokyo.
A music festival is a festival oriented towards music that is sometimes presented with a theme such as musical genre, nationality or locality of musicians. They are commonly held outdoors, and are often inclusive of other attractions such as food and merchandise vending machines, performance art, and social activities. The Pythian Games at Delphi included musical performances, and may be one of the earliest festivals known.
Many festivals are annual, or repeat at some other interval. Some, including many rock festivals, are held only once. Some festivals are organized as for-profit concerts and others are benefits for a specific cause.
Another type of music festival is the educative type, organised annually in local communities, regionally or nationally, for the benefit of amateur musicians of all ages and grades of achievement. While entrants perform prepared pieces in the presence of an audience which includes competitors, the essential feature of this type of festival is that each participant receives verbal and written feedback, there and then, from a highly qualified, professional adjudicator — someone who they might never meet in any other way. They also usually receive a certificate, classified according to merit, and some may win trophies. The competitive element is often played down, however, as the important aspect is that participants can learn from one another. Such festivals aim to provide a friendly and supportive platform for musicians to share in the excitement of making music.
The world's largest music festival is Summerfest (24th June-4th July 2010) – 11 days, 11 stages, over 800 bands, which is held every year in Milwaukee, Wisconsin. Each year, it attracts between 800,000 and 1,000,000 spectators.
A multi-sport event is an organized sporting event, often held over multiple days, and featuring competition in many different sports between organized teams of athletes from (mostly) nation-states. The first major, modern, multi-sport event of international significance was the modern Olympic Games.
Many regional multi-sport events have since been founded, modeled after the Olympics. Most have the same basic structure. Games are held over the course of several days in and around a "host city," which changes for each competition. Countries send national teams to each competition, consisting of individual athletes and teams that compete in a wide variety of sports. Athletes or teams are awarded gold, silver, or bronze medals for first, second, and third place respectively. The games are generally held every four years, though some are annual competitions.