Park Plaza Histria Pula, an Arenaturist's hotel, was fully renovated in 2012/2013, including the hotel's entire accommodation area, reception and entrance, restaurant, convention centre with a large hall and 3 meeting rooms, lounge bar with a cinema hall, outside terrace with a magnificent sea view, spa and wellness centre with saunas, massage, relax areas, fitness centre, and indoor pool.
Park Plaza Histria Pula, a
4-star hotel

, is located in the beautiful south coast of the Istrian peninsula,

13 km away from the Pula airport

, and merely

50 metres from the sea

. The historic city of Pula is only a few minutes away.

Recently refurbished hotel rooms, a total of 368 rooms, have been wisely equipped with amenities featured by high-class hotels, with balconies boasting an enchanting panoramic view of the sea.

The congress hall may seat up to 700 guests which makes it an ideal venue for conferences. Smaller and rather private meetings are better suited to 3 meeting rooms. All meetings facilities are equipped with the most up to- date technology, and professional staff is here to make a huge success out of every event organization.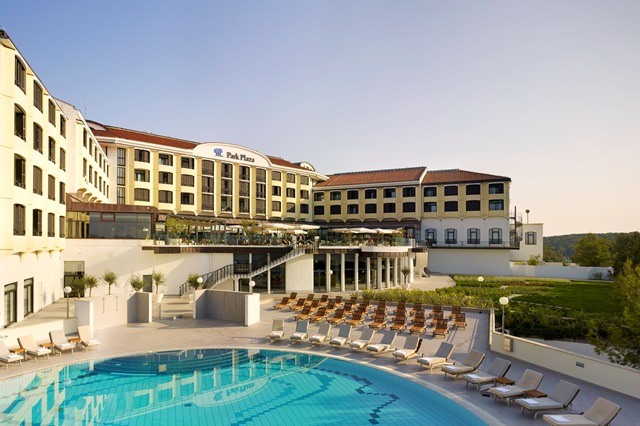 Additional amenities such as Spa &Wellness Centre within Park Plaza Histriais an added value offered by the hotel and meets the needs of trendy clients who are always in haste, on the move, under stress, and keep missing that one moment to find balance and get in touch with themselves.
Hotel also has 2 sea-water pools, one is an outdoor pool with terrace and sunbathing platform and second is an indoor pool as a part of wellness center. Spacious wellness facilities include a fitness studio, a health & beauty centre with a sauna, massage and therapy rooms and a hairdresser's.
All the visitors coming to Pula, a beautiful town of Istria, for vacation or work and staying at the Park Plaza Histria Pula, find a destination designed for a pleasant stay or for a successful business.
The 3,000 years old town of Pula represents a place where different cultures met, one historical and the other dynamic and contemporary.