Opatija is with Zagreb and Dubrovnik one of Croatia's most popular MICE destinations throughout the year.
Today even more since the country has built a modern and reliable highways connecting central Croatia to its western and southern parts. Recently, more and more companies from Serbia and Belgrade are interested in organizing congresses, team buildings, incentives and different corporate meetings in Opatija, located a pleasant 5-hour drive from Belgrade.
In Opatija, a private chain of hotels called Milenij hotels is the best choice for organizing corporate events. Milenij hotels has 3 hotels  in the chain: luxurious hotel Milenij***** and two "best value for money" 4-star hotels Milenij Grand hotel 4 opatijska cvijeta**** and Milenij hotel Agava****.
Milenij hotels have a modern congress facilities with the largest congress center Tamaris situated in Milenij Grand hotel 4 opatijska cvijeta just in the heart of this beautiful Austro-Hungarian-like town. Congress center Tamaris has up-to-date congress equipment and is adopted to the needs of modern business people.
With its multipurpose halls, spacious terraces ideal for coffee breaks and restaurants and bars with a sea view ideal for gala dinners and banquets this hotel is number one choice for many leading Croatian companies. Windays – the biggest congress of IT experts is taking place here in April, the hotel  is full of marketing experts on FESTO event in May, to name just some.
Opatija's most luxurious 5 star hotel Milenij features a multipurpose hall Milenij with 300 seating places and can be divided in two smaller halls. The unique feature of this hall is a sea view and a spacious terrace ideal for business parties and social gatherings.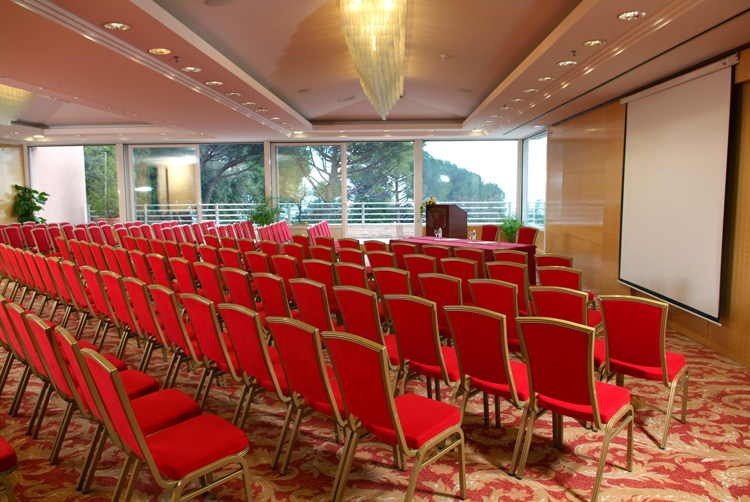 Milenij congress and banquet department can help organize any type of event, brand it and fully use it wheather for working part or for just relaxing purposes and parties. Organizing up to 450 events a year, Milenij hotels offer high quality of service and organization.
For relaxing times, Milenij hotels have two wellness centres  that have great offer of massagges (organizing pool parties in a wellness centre is also a big hit). There are several restaurants and cafes at your disposal: local dishes are served at restaurants Argonauti, Camellia and Sveti Jakov; fantastic home made cakes can be tasted  in Vienese-styled  cafes Grand and Wagner.  As a sweetest souvenir from Opatija guest usualy take hand made chocolate pralines that are made by the hotel chain and Milenij Choco.