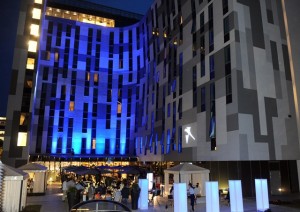 Pleasant and stylish ambient, baldachins and great food and beverages, make a terrace perfect place for hedonists and those who like to enjoy the good taste and beautiful surroundings.
Summer terrace capacity is 74 people, making it the ideal place for business lunches and meetings, organizing cocktails, and even the wedding ceremonies. Terrace at the Falkensteiner hotel offer the opportunity to taste many specialties, from rich breakfast, after which the Falkensteiner Hotels are recognizable to the exotic flavors from different countries.
Due to the high summer temperatures, terrace is a great choice for a refreshing break with a cocktail Huggo and many other cocktails and soft drinks. In the evening with pleasant music and relaxing atmosphere, everyone can afford a romantic night out or a party with friends. The friendly staff of the hotel is at your service, so that the garden has everything you need for a great feeling at the summer days. Working hours of the summer terrace at the Falkensteiner hotel Belgrade is from 07AM till 11PM.