MujEn Apartments at Kopaonik are an apartment complex consisting of Apart Hotel MujEn Lux and villas MujEn Comfort and MujEn Classic.
These villas are a combination of tradition and new age, modern architecture and mountain environment that is fully equipped for both active and passive vacation – business people, athletes, recreationists, or families. A total of 95 suites with 250 beds are available to visitors at Kopaonik all year round.
Successful company leaders know that business meetings are more productive in a pleasant setting and healthy surroundings.
That is why they choose the MujEn Lux's conference hall for their business meetings and conventions, opening the big door of MICE tourism for them.
Apart Hotel MujEn at Kopaonik offers event planners highly professional organization of different types of events– conferences, conventions, seminars, corporate celebrations, presentations, meetings, as well as exhibitions, manifestations, and per­formances.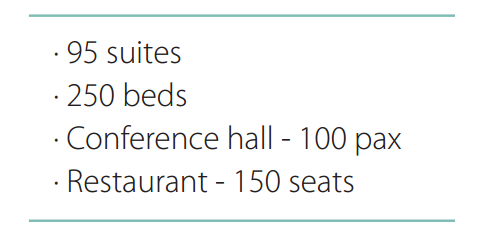 Participants can use the fully equipped conference hall, whose capacities can accommodate up to 100 people.
Guests are also offered the options of transfer, working material, formal din­ners; cultural, art, entertainment, or music programs; as well as day trips to Novopazarska and Raska regions with available support in all key languages.
There's also the Wellness & Spa center for relaxation in the infrared and finnish saunas, hot tub, steam bath, indoor pool, or tepidarium with a valley view.
You can bring your busy day to a close by indulging in the diversity of the MujEn restaurant with select authentic culinary specialties made with carefully guarded traditional cooking components.
The rich flavors and unforgettable taste of meals that complement the season give a special touch to the elegant setting with a beautiful view of Kopaonik's slopes. The restaurant has a seating capacity of 150.