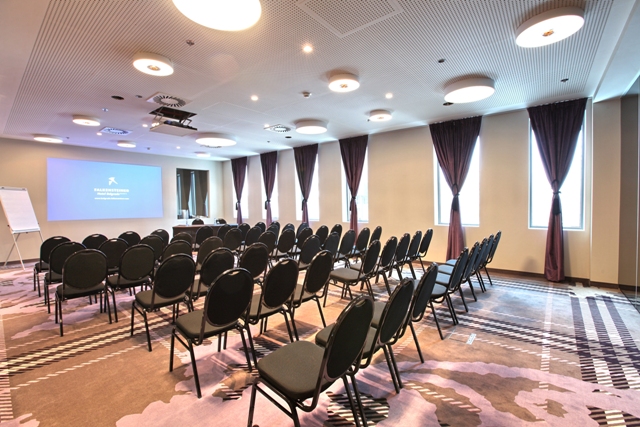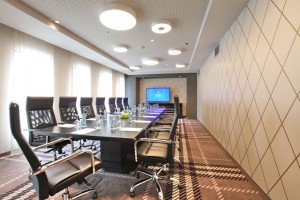 This hotel offers the first-class facilities for organization of conferences and banquets, on two floors and of the impressive area of 700m2 which includes 6 conference rooms and one banquet room, of the capacity of 20 to 360 seats in the theatre style, and a cocktail style capacity for 450 persons.There are four conference rooms on disposal of all clients, of the capacity of 160 persons, and which can be combined by means of moving walls, following the wish of clients.
There are also two meeting rooms for up to 16 persons, and each room is equipped with the latest technology, such as LED screen, DVDs, conference board, flipcharts and other requisites. Falkensteiner Hotel is situated in the heart of the business and commercial zone of New Belgrade, close to the centre of town and big shopping centres, and it has an excellent connection with the airport, which is, at the same time, a great advantage of one business hotel.
"The advantage of the Belgrade's hotel is the fact that it offers a spacious conference facility of 700 m2, it is perfect for organization of seminars, meetings, all types of receptions and banquets. The hotel also disposes of a wedding room, with golden carpet and required technical equipment", said the General Manager, Aleksandar Vasilijević.
Talking about organization of events, Falkensteiner Hotel Belgrade as one of the hotels with developed service of meeting industry, in a very short period of time become a competitive place for organization of events in Belgrade. That is exactly the reason why numerous internationally known companies decide to celebrate their important dates in cooperation with the Falkensteiner's team of experts.

One of the biggest events held in Falkensteiner Hotel Belgrade was the conference "Gluten-free days" which was visited by more than 1.000 people. Organization of the conference "Gluten-free days" was, at the same time, the most demanding event ever organized in the hotel, and the manifestation included preparation of gluten-free food for all participants.
This New Belgrade's hotel provides their services at the "turn-key" principle, where the team of experts, in accordance with the wishes and the requirements of clients, takes over organization of all types of events, from the idea to the realization.