We often form an opinion about a city or country that we haven't visited based on the influence of media, the experiences of other people, and our personal preferences.
I used to think of Dubai as brand new, expensive, and luxurious destination. A city with modern skyscrapers miraculously rising from the desert, a large shopping center, boasting a fantastic fountain like the one in front of Hotel Bellagio in Las Vegas, and that sail-shaped seven-star hotel on the beach (Burj Al Arab). For some reason, I expected the food to be finely served but bland.
Because of the cultural differences, I expected everyone in Dubai to go around minding their own business, scarcely communicating and avoiding eye contact. In short, I expected to find a highly luxurious but uninspiring city.
Then, at the invitation of Dubai Business Events, I visited Dubai. At the start of the year, my hosts organized a Fam trip for one hundred leading decision-makers and major media from the congress and business tourism sector in Europe.
[quote_box_right]Dubai will host World Expo 2020, which will last 6 months and is expected to garner 33,2 million visitors.[/quote_box_right]
The event was part of the current strategy of promoting the city as a "must experience" destination that could host conferences, meetings, and corporate and incentive events of various sizes.
Dubai = luxury
When we say Dubai, we think luxury and this is absolutely true. Dubai is one of the top luxury destinations in the world. A city with a multitude of hotels, grandiose skyscrapers, and buildings whose architecture and beauty take one's breath away and stand as superior tributes to civil engineering.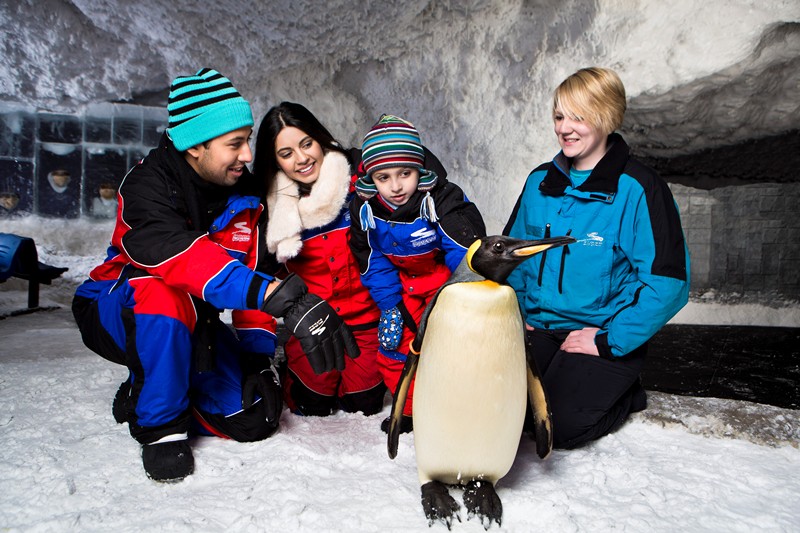 Everything in Dubai is dedicated to luxury, comfort, and the "Wow" effect, so at least once a day you are bound to be astounded, thinking "Wow!", wondering how they have managed to build these things and marveling at all the things they have.
Let's dig under the surface some more.
People
What most impressed and positively surprised me is the energy and passion the people who live and work there invest in their city.
They put so much effort in making sure everything functions well, that you feel welcome wherever you go and that you get help whenever you need it even though you are a complete stranger to them and they have nothing to gain by it.
Their positive energy is so evident that you can't but think it's what built the city and makes the oil they found seem like a secondary resource that only made the attainment of their goals and long-envisaged dreams somewhat easier.
The working force in Dubai largely comes from India and Pakistan but people come to work here from all over the world. As a result, the most widely spoken languages are Hindu, Arabic, and English, respectively.
[quote_box_left]No destination will seem incredible if the people we meet and communicate with there don't add to this feeling.[/quote_box_left]
A man from Pakistan, whom I met while looking for the shuttle bus to my hotel, confirmed this. He also offered to call my hotel and inquire about the schedule of the shuttle bus and invited me to wait in the comfort of his air-conditioned minibus until it came.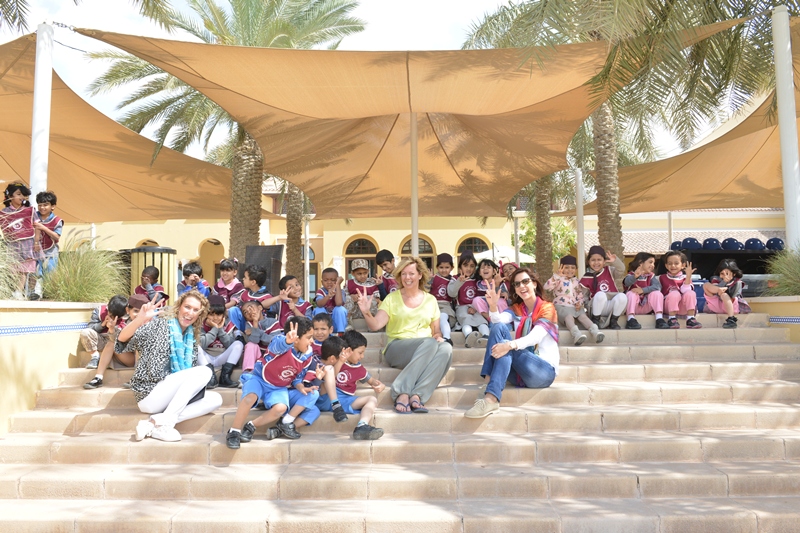 People like myself, arriving from the uncertainty of another corner of the world, are immediately assailed by dark thoughts and questions about why anybody would do that? Because he is humane? Because he is happy and grateful to the country that gave him the possibility of living a peaceful life? Because he believes the law is equal for everyone in the Emirates, ordinary people and sheikhs alike?
I wanted to laugh at this. It sounds like pure science fiction. But to them it's reality. Why? Because there is no corruption. There is no need for it.
That's why.
According to Interpol, Dubai is the safest city in the world and a report from April 2014 indicates that UAE have the lowest violent crime rate in the world.
The fact that the police drive Aston  Martins, Lamborghinis, McLarens, Ferraris and similar cars must in itself act as a deterrent for most potential perpetrators.
History
If you are looking for a destination with a rich past, historical monuments, museums and architecture from
past ages, Dubai might not live up to your expectations.
On the other hand, it is making every effort to become the center of modern culture and art.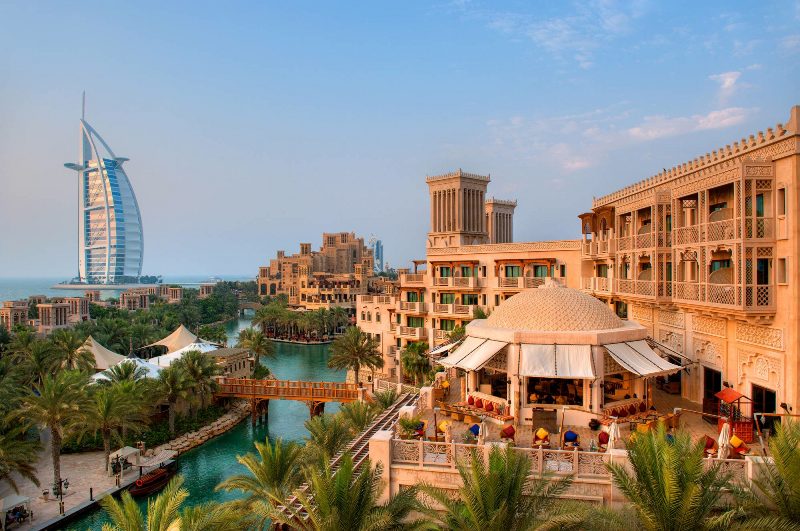 The Dubai Opera, proclaimed the city's new cultural icon, is a multifunctional, centrally-located facility
for opera, theater, art exhibitions, concerts, and sports events. It can accommodate 2,000 people and will be opened to the public in 2016.
The history of Dubai is not as long as it is interesting. In 1833, led by the Maktoum family, some 800 members of the Bani Yas tribe who had previously declared independence from Abu Dhabi settled on the banks of the Dubai creek.
This natural port soon turned out to be a good strategic position, enabling trade, fishing and, particularly, pearling.
Chinese involvement in the international pearl market with the invention of artificial pearls in 1926 and the Great Depression of 1929 forced Sheikh Saeed to find alternate sources of income. Oil was found in 1966, starting a new period of prosperity for Dubai.
In order to avoid being solely dependent on oil, whose reserves are expected to start dwindling in a few years, Mohammed bin Rashid al Maktoum made a wise decision.
The income from oil was invested in the development of Dubai as the world's future tourist and business center.
Large-scale construction made Dubai the fastest growing city in the world. At the moment, the contribution of oil in total national income is minimal. Today tourism is one of the main branches of the industry.
Impressive.
Tourism in the superlative
People are attracted by the greatest, the best, the highest, the longest, the most modern…. and this is exactly what Dubai offered them.
By engaging the best architects and experts of the world, this city moved architectural boundaries and broke records at every step of its development.
In Dubai you can see the highest building in the world, Burj Khalifa, standing 828 m above the city, with the world's highest restaurant At.mosphere on the 122nd floor.
[quote_box_left]When they decided to focus on tourism all they had was desert and oil. What could they do to attract tourists?[/quote_box_left]
The exceptional Armani Hotel, of which there are only two in the world (the other one is in Milan), also forms part of Burj Khalifa.
One of the first architectural wonders in Dubai was the magnificent sailshaped hotel Burj Al Arab, known as the Seven Star building and one of the city's main symbols providing "the best the world has to offer".
Feel free to use your imagination to understand what this means – you won't be wrong.
Dubai Mall, the largest shopping mall in the world, is the most popular attraction in Dubai.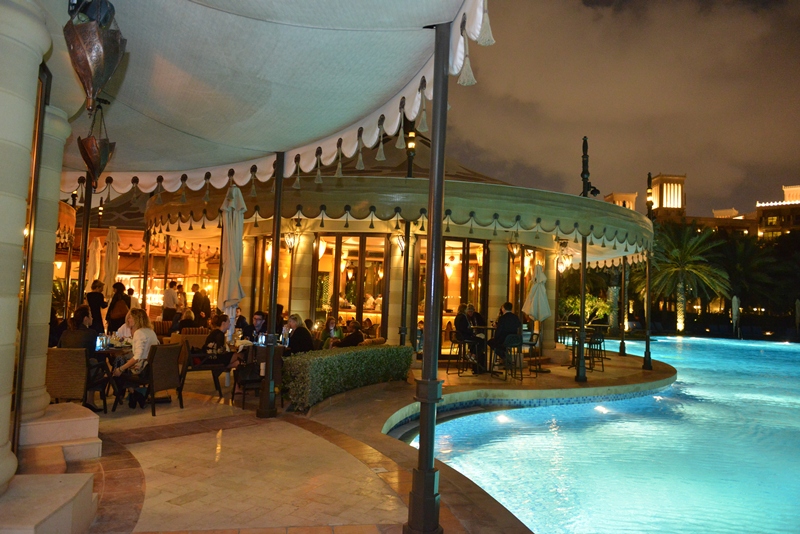 The artificial lake in front of Burj Khalifa and the Dubai Mall holds the highest fountain in the world, the Dubai Fountain, which shoots water up to 150 m (equivalent to 50 floors) and is 275 m long. The fountain was designed by the architects of the Bellagio Fountain in Las Vegas.
The largest artificial island in the world, the Palm Jumeirah, palm-shaped and visible from outer space, has become a favorite resort of the wealthy, with its luxury apartments, residences, private villas, and beaches.
This resort includes eight magnificent hotels with Atlantis the Palm as probably the most spectacular, holding a central position a top the crescent of the Palm and offering a breathtaking view. This grand, multifaceted hotel gives you a chance to swim and play with the dolphins in the Dolphin Bay and incorporates a lagoon with 65,000 sea animals, 700 m of beaches, the Aquaventure water park and much more.
Two more palm-shaped islands are under construction and another island shaped like a map of the world.
There are many more buildings in Dubai that will literally take your breath away, like the Madinat Jumeirah hotel complex modeled after an Arab fortress and connected by a channel only crossed by boat, earning it the name of Arab Venice.
Meydan City, incorporating the longest racecourse in the world, running 1.7 km long, and a hotel overlooking the racecourse and tennis academy, is home to many thoroughbred horses from the entire world.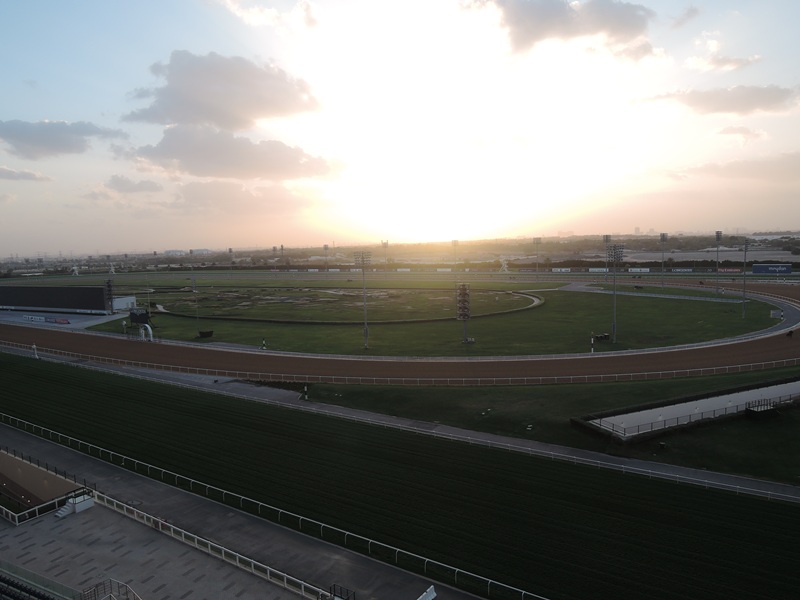 Every year, this resort is host to the Dubai World Cup, the most opulent horse races in the world, with a $ 30 million prize fund.
This year Kylie Minogue will be revving up the entertainment at the racecourse, while last year Jennifer Lopez performed here.
Activities
You can do whatever you like in Dubai. A desert safari is definitely something you shouldn't miss with campfire dinners under the stars, flying over the desert in a balloon, riding camels, driving in buggies and jeeps over the dunes, falconry (training falcons and hunting with them), and sandboarding down the dunes.
[quote_box_right]Believe it or not, Dubai is not all about shopping! You can relax and entertain yourself in many other ways.[/quote_box_right]
You can also go skiing or skating, play golf on first class terrains, play tennis, go bowling, karting, or visit the Ferrari Theme Park. Water activities include scuba diving, fishing, sailing, visits to the aqua parks, swimming with dolphins at the Dubai Dolphinarium.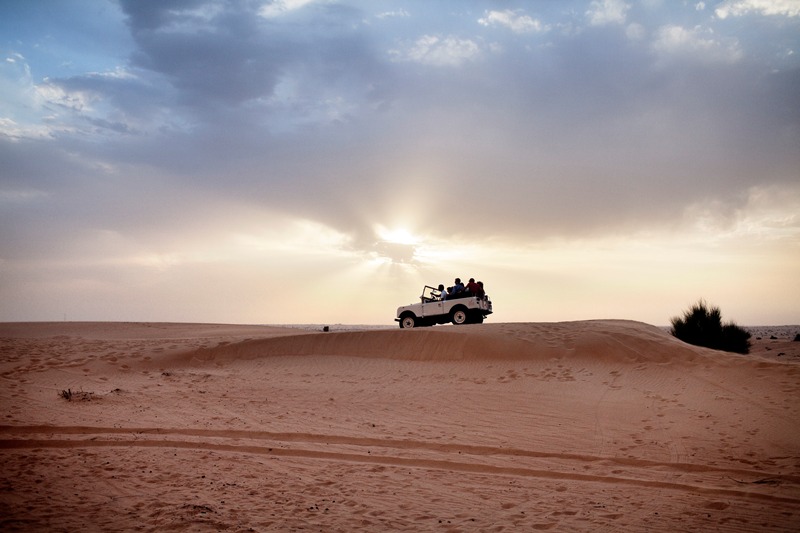 There are also horse, camel, and car races to watch (the latter at the Dubai Autodrome) or you can play camel polo (Dubai Polo Equestrian Club)… or you can watch the Dubai Tennis Cup.
Surprisingly, despite its desert environment, Dubai has several large green parks offering lots of activities and the Children's City, the Dubai International Academy City – DIAC, the Global City and much more.
Legoland is currently under construction (to be completed in 2016) as well as the Bollywood Theme Park (whose first phase will be completed in 2016).
One thing is sure – you won't be bored in Dubai.
Only for the rich?
Dubai is paradise for the wealthy. Everything revolves around luxury, comfort and satisfying every possible, and elsewhere perhaps impossible, need and desire.
What makes this city interesting for us mortals is its focus on individual and group tourism for visitors of more modest means.
There are over 200 of 3 and 4 star hotels in Dubai, as well as excellent apartments. Dubai also plans to build more mid scale hotels with the idea of accommodating 20 million tourists by the 2020, which is twice as many as today.
Dubai also has a good public transport system, allowing you to reach all the vital parts of the city by subway or bus and even taking the taxi is not expensive.
It would cost approximately 50 EUR, for instance, to watch the horse races at the Dubai World Cup in Meydan.
An unforgettable, world-class event. The same amount would be enough to drive in a jeep and experience the Desert Safari.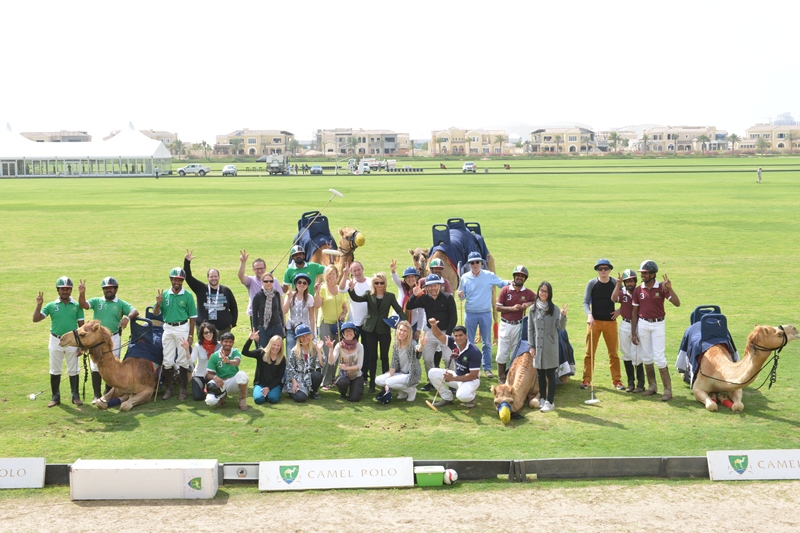 Fast food sold in street shops, both tasty and safe, costs just a few euros. You can try shawarma (the local version of the burrito, taco, or gyros) or crunchy, spicy Indian nuggets often made with mashed potato, pepper flakes, and pepper paste.
Here I have to add how tasty, fresh, fantastically prepared, seasoned, and varied the food in Dubai is. I was a little doubtful at first, if you remember the first part of this article.
[quote_box_left]Dubai's multinational character offers a wide choice of cuisines and places to eat, from Michelin star-rated restaurants to traditional food shops in the streets.[/quote_box_left]
My prejudices crumbled before Hospitality Catering by the Dubai World Trade Center, whose culinary wonders and working atmosphere we were able to experience at the invitation of Chef Harald Oberender, Director of Kitchens at the Dubai World Trade Center.
Here we had the pleasure to have lunch in their Staff Dining Room and to try some of their culinary masterpieces, which left no doubt in our minds about why most royal families choose these kitchens to cater for their weddings and special events.
We have experienced in practice, how the extraordinary decoration and explosion of tastes, turning an ordinary room into royal one.
Incentive in Dubai? Oh, yes
Now for a brief look at the possibilities and costs of business travel and event organization in Dubai.
The Dubai World Trade Center (WTC) is the main exhibition and congress facility spreading over more than a million square meters and incorporating event halls accommodating from 500 to as many as 12,000 people, which makes it especially interesting for large concerts and sports events.
There are many hotels within walking distance of the WTC that can accommodate event participants during their stay.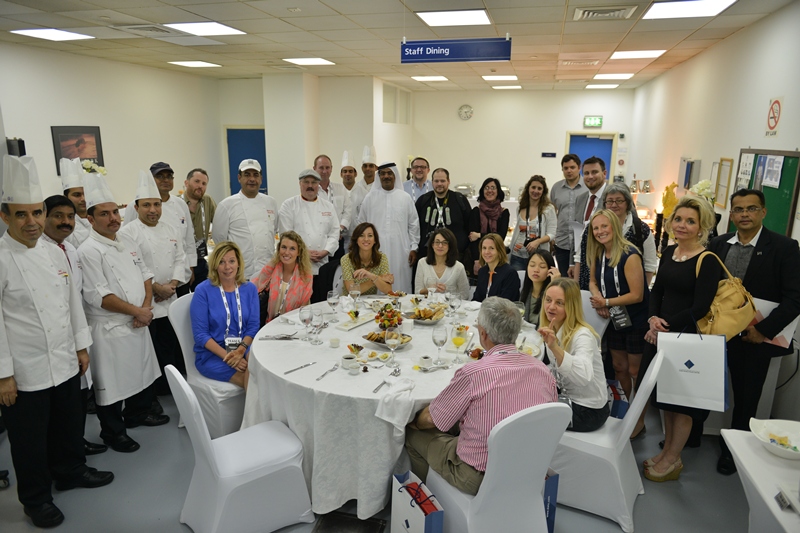 Only a few steps away from WTC are Ibis 2 and 3 star hotels, Novotel Hotel (4 stars) and many more. Room prices vary from 60 EUR to 100 EUR, in 2 and 4 star hotels, respectively.
The subway station is close, ensuring quick and easy transportation around the city.
[quote_box_right]In 2014, Dubai hosted the largest incentive trip to the Emirates involving 14,500 participants! The client was the Chinese cosmetics company, Nu Skin.[/quote_box_right]
Even companies with a modest budget can consider Dubai as a possible destination for incentive events.
For instance, delegates could be accommodated in a modest hotel with organized sightseeing tours of and unforgettable dinners in luxury hotels, such as the Palace Downtown overlooking the Dubai Fountain, the Madinat Jumeirah or at some other extraordinary, breathtaking building.
A trip like this would definitely achieve the motivational effect required of an incentive trip.
After visiting Dubai, you will believe in miracles. You will also have the feeling the future is bright and that we are moving towards it with faith, positive expectations and the fluttery feeling in our stomachs as if we were going on our first date.
And we all need that sometimes, don't we?